Happy Wednesday everyone! Half of the week is almost over, can you believe it? Time to share more pictures taken in Portugal with you today. This time it's an outfit I was wearing in Cascais, the town we were staying at during our trip. It was the outfit I was wearing on our departure day, and as you can see, it was a super beautiful day. The sun came out, and the temperatures rose so that we could enjoy the last couple of hours in Portugal outside in the sun. We were walking through the streets of Cascais until noon, grabbed a coffee and Pastel de Nata and drove to one of my favourite locations in Cascais. I will talk about this location next week. Today I want to talk about the beautiful streets of Cascais and, of course, the outfit I was wearing.
You have to walk through the streets of Cascais
Cascais is a not-so-small town about 30 minutes north of Lisbon. When we were looking for a place to stay at during our time in Portugal, we found a nice apartment there, so we decided to rent a car and stay in Cascais instead of Lisbon. To me, it was the best decision to stay there, because Cascais is such a beautiful town! It's not too big but has everything you need for a short trip. It's close to the ocean, has amazing landscapes and great restaurants and cafés. You can even go shopping in Cascais 😉 But I went shopping only once because I needed a warmer jacket. We spend most of the time in Cascais walking through the streets. Since it's not a big down, we walked the same streets again and again, but they didn't become less beautiful. Especially when the sun was shining, I could have spend hours there. All the colourful walls, the plants, the small cafés and the fresh air were exactly what I needed. We usually didn't take the car to drive from the apartment to the centre (unless it was raining) and walked the two kilometres. I could get used to this place; we were even daydreaming about buying a house or apartment in Cascais 🙂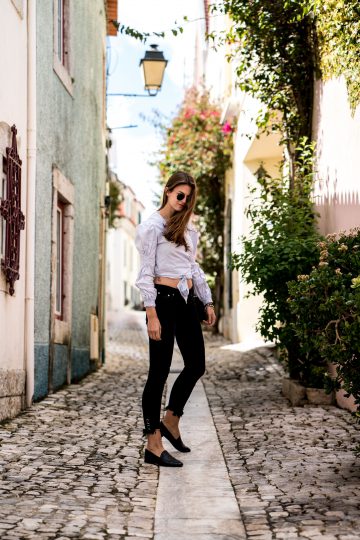 Wrap design at front
Oh, I am in love with this shirt! I bought it at Zara before we left and I just had to bring it with my to Portugal. Unfortunately, it was too cold the first days so that I couldn't wear it. But when I woke up on our departure day and saw that the sun was shining, I decided that this last day was the day I was finally wearing it. What I like best about this shirt is the wrap design at the front. Due to the wrapping, you can wear it in more than only one way. You can also wear it a little bit off the shoulder, and that's what I will try next 🙂 But that day I was wearing it in a very simple way: over the shoulders and only wrapped at the front.
I combined this shirt with a pair of black jeans I bought at Zara as well – found it in Lisbon on my birthday – and black shoes. It's such a simple outfit, but due to all the details, it is everything but boring. I really like this kind of shirts, because they top off every single outfit, don't they? What do you think of the outfit and, of course, my new shirt?