The pictures I'm sharing with you today show best what the weather in Portugal was like. I told you, that we had bad luck and that it was raining a lot. But it usually was raining for 10 minutes only, sometimes even the sun came out, and the rest of the time it was just super cloudy and windy. We took these pictures on the rooftop of the place where we stayed at. It was such a nice rooftop with a pool, and I would have loved to spend a lot of time there (because nobody else was up there and we would have had it all to ourselves). We spend a couple of hours there on our first day, because that day the sun was shining, and we came back twice to just enjoy the view and to take some pictures.
Rooftop Views in Cascais
Whenever I visit a new city, I try to find a place for rooftop views. Rooftops usually have the best view over a city and let you see it from a different angle. They also have something magical, something impressive those rooftop views, don't they? I was super happy when I found the apartment we stayed at in Cascais and to be honest, the main reason we chose it was the rooftop pool. It's just too bad we couldn't really enjoy it. But that's just the perfect reason to come back asap 😉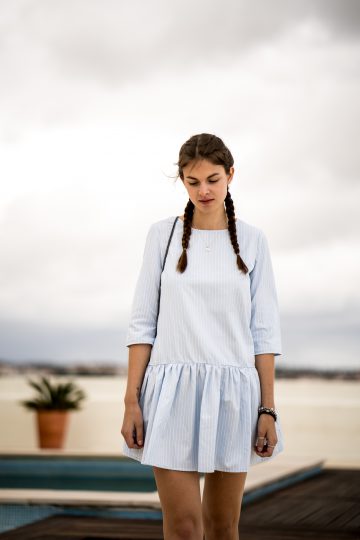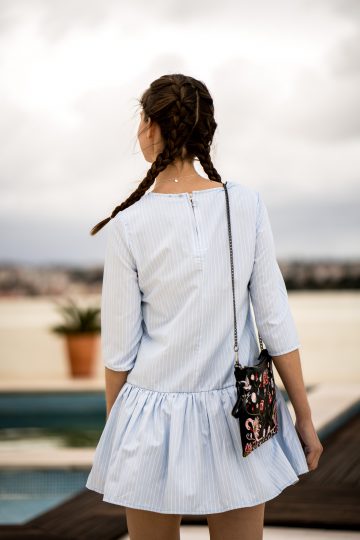 Fine stripes on my dress
Some of you might have recognised, that I have been wearing a lot of striped clothes lately. Yes, you could say I have a thing for stripes. When I chose my two Pimkie outfits for the trip to Portugal, this dress was one of the pieces that caught my eye at the very first second. I didn't know what exactly the weather would be like, but I knew that I could wear this dress not only for a day on the beach but also on a day in the city. Due to the rainy and windy weather, we couldn't go to the beach that day. We spend it in the centre of Cascais instead, walked through the streets, had coffee and Pastel de Nata – as almost every day – and relaxed a little bit at the apartment 🙂 When we came back from the centre of Cascais, we walked up to the rooftop to take these pictures. I have to confess, that it was a little bit cold up there due to the strong wind. The wind is always stronger the higher you are, isn't it? Or maybe it's just that I couldn't hide between the houses up there.
Anyways, I wanted to wear that dress that day, and I wanted to take the pictures on the rooftop to capture the amazing view! It's a very simple dress, but it's such an eye-catcher, you don't need to add a lot of accessories and details. I simply combined it with a pair of black shoes and a black bag from Pimkie. BTW, how cute is the bag? It's perfect for spring, isn't it? 🙂 Let me know what you think by leaving me a comment. I'm looking forward to reading them. xx