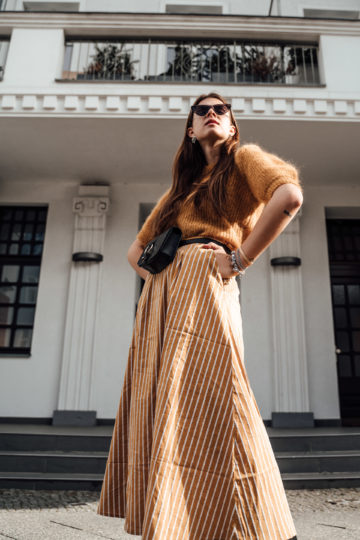 The day has come, guys. Today I am sharing the last outfit post from Berlin, and the next post here on the blog will be about our time in New York or one of the outfits I was wearing – I don't know yet with what I will start. But that's something you will see next week. In today's post, I want to talk about another spring outfit I was wearing in Berlin a few days before we headed to New York and it is all about another trend colour of the season: yellow.
Yes, I mentioned a couple of days ago that I am getting more and more colourful clothes for my wardrobe and I really enjoy wearing them. Those who follow me on Instagram might already have seen, that there are two colours I was wearing a lot lately: neon green and yellow. Both are my current favourite colours as they are exactly what I need to brighten up my mood on rainy and gloomy days. Yes, I do dress depending on the weather a lot of times. I am often wearing very simple outfits in black when it's gloomy, but other times I try not to match the weather situation and wear something contrasty.
How to wear yellow clothes
Yellow is a very bright colour, and I either wear it as a contrast to the weather or to match it. So on this sunny day in Berlin, I was wearing it because the sunshine inspired me to wear yellow. I opted for a yellow midi skirt with white striped as well as a yellow shirt in the same yellow tone as the skirt. I first wasn't very sure whether I should go tone in tone, but I ended up doing it. As I wasn't a hundred percent sure about this look, I decided to add a black belt bag and black knee-high boots to break the yellow look a little bit. It would not have been necessary, but I think the outfit looks a little bit more interesting with the bag and boots in black.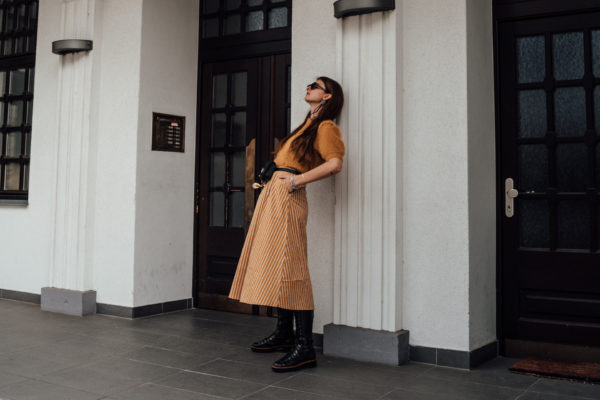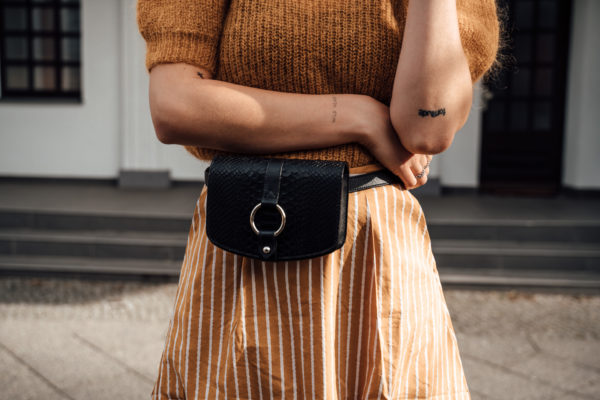 Of course, you could always go tone in tone, if you want to wear yellow. If that's a little bit too much for you, you can also combine it with white or black. Other colours or denim would also work, but then you would have a look that is as bold as when you would wear an all-yellow look. I would always keep it simple and either go for a tone on tone look, black or white if you want to be on the safe side.
If you want to wear a tone in tone outfit with yellow clothes, I would also suggest adding at least one other colour or even two. My outfit shows you that it makes such a big difference. It adds contrast, breaks the look and especially the yellow skirt with its white stripes easens it up.
You are not sure whether you should get yourself some yellow clothes? Start trying yellow accessories such as a yellow headband, a yellow bag or a nice pair of yellow shoes. You could also get a piece of clothing that has only some yellow parts in it such as the floral midi skirt I shared with you yesterday. You will definitely see a lot more outfits with yellow clothes here on the blog, so get ready for a few more outfit inspirations, and maybe they can convince you.
*Ad, brands named – Gestuz Skirt || Gestuz Top || Santoni Boots || & Other Stories Belt Bag || Chimi Sunglasses