It seems like this spring is the season of changes for me as I am currently wearing a lot of styles I probably would not have worn last year. Well, I would not have worn it as often as I am doing it this spring. Last week I already talked about more colourful pieces and how I started adding more and more to my wardrobe. And in today's post, I want to talk about midi skirts.
There was a time; I would not have worn any skirts at all as I didn't feel very comfortable wearing them. That changed a few years ago, but for a long time, I used to wear short skirts only. I've always had a problem with my calves as I just don't really like them and think that they often look to big. And I always felt like they would look even bigger than they are in combination with anything that's a midi length. You know, that I started wearing midi length dresses last year and I also got a few skirts with this length, but I didn't wear them very often until this spring.
How to combine a midi skirt and a cardigan
On a lot of those springlike days we've had the past weeks in Berlin, I was wearing midi skirts, and I put together a lot of different combinations. So not only the midi skirts were different but also the clothes I combined them with. One of my all-time favourite outfit combination – I was wearing it in Athens last year – is the one of a midi skirt and cardigan. I don't know if I would like this combination as much if I would wear a different cardigan, but with this chunky black cardigan, it definitely is one of my favourites.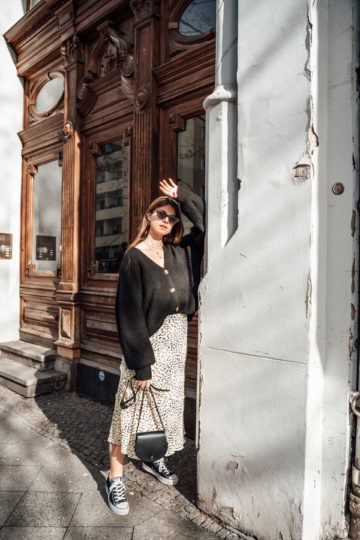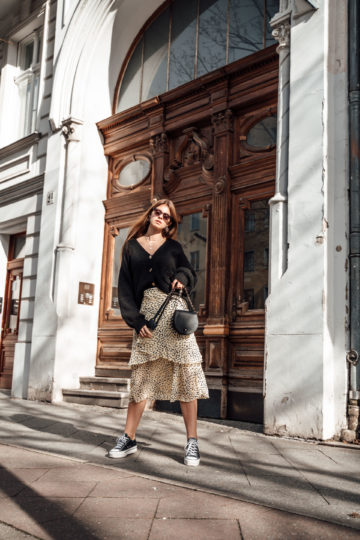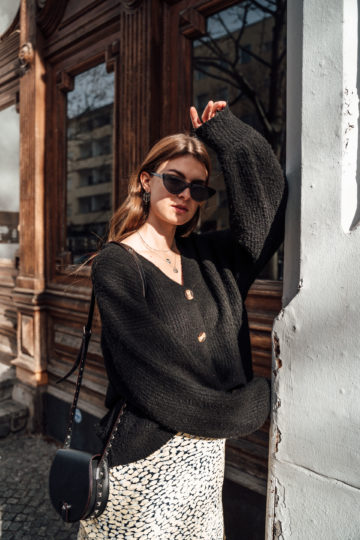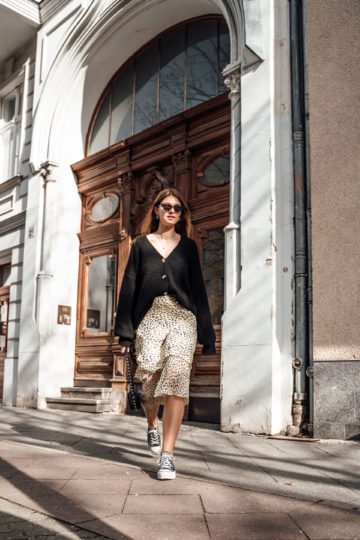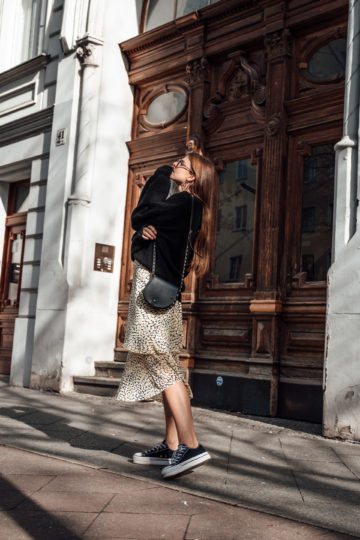 In spring, I would always style a midi skirt with something more oversized and chunky such as a cardigan, a sweater or a hoodie. It creates a really nice contrast and also will keep you warm when it can still be a little bit fresh outside.
When you want to combine a midi skirt with a cardigan, there's not that much you have to keep in mind. I would always suggest wearing a chunky cardigan and combine it with a feminine print such as this flower print to make the whole outfit look more feminine and a little bit chicer. In regards to the shoes, you can wear whatever you feel like wearing. I opted for a pair of black sneakers, but boots, as well as flats or high heels, would also work. With some midi skirts, you could even wear a pair of cowboy boots.
And don't forget to add your accessories as they will make the look. Wear a smaller back as a contrast to the chunky cardigan, put on some nice jewels including a pair of bigger earrings and don't forget your sunglasses when the sun is shining.
One more thing you might want to keep in mind when you want to combine a midi skirt with a cardigan: make sure it is a high-waisted skirt. That way you can tuck it in a little bit and make the outfit look a little bit more casual. That way you could also always eat a little bit more, and your belly would be covered 😉
How do you like this outfit? Let me know what you think in the comments. xx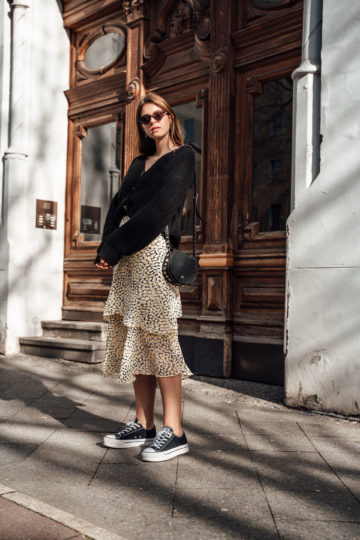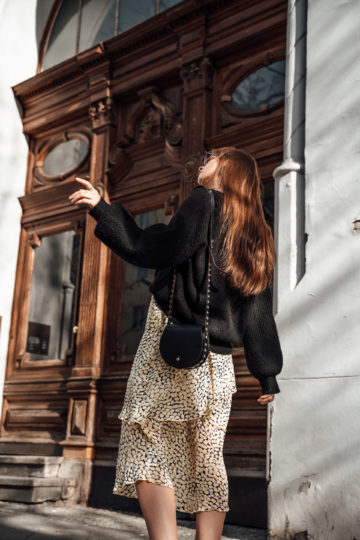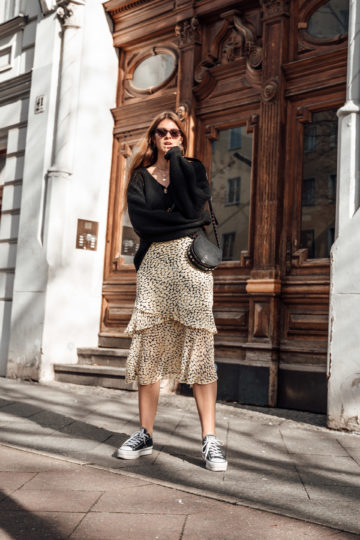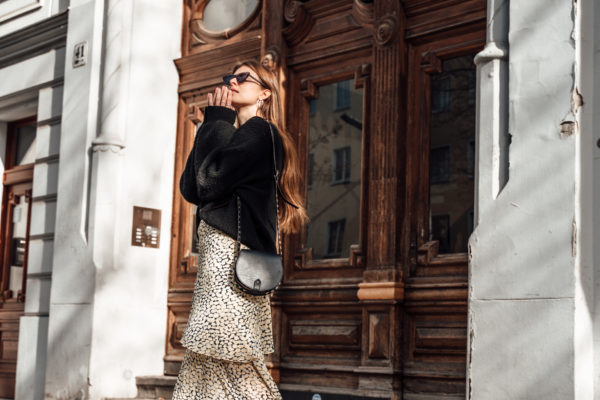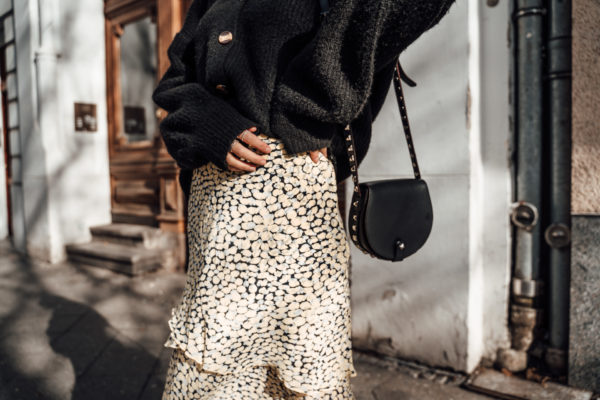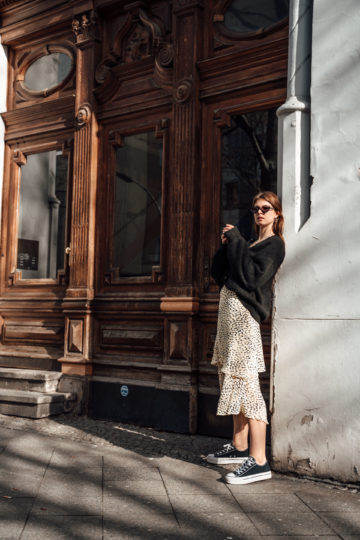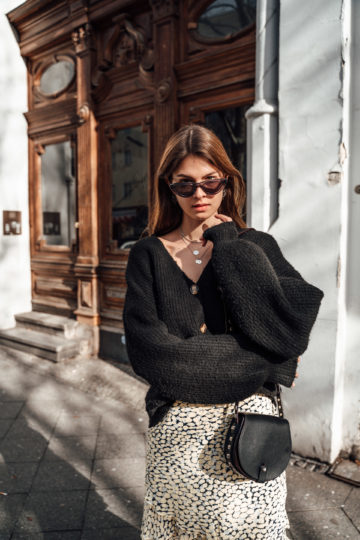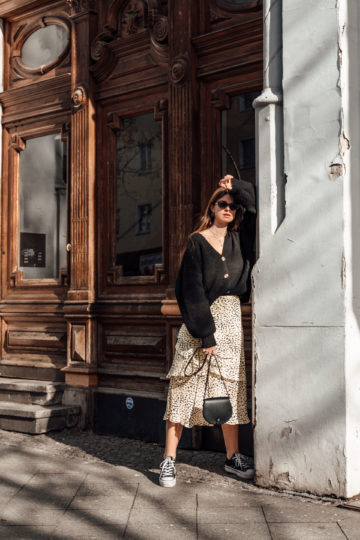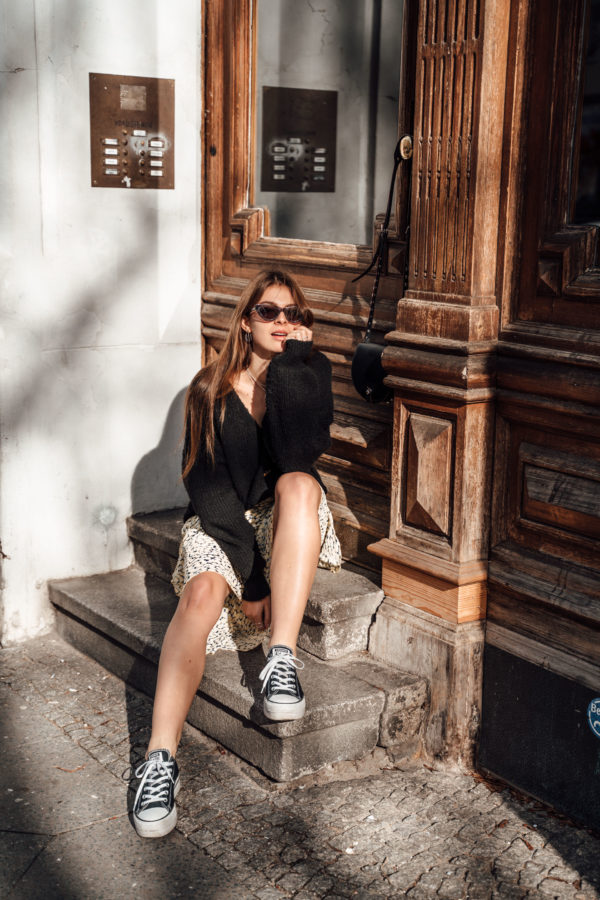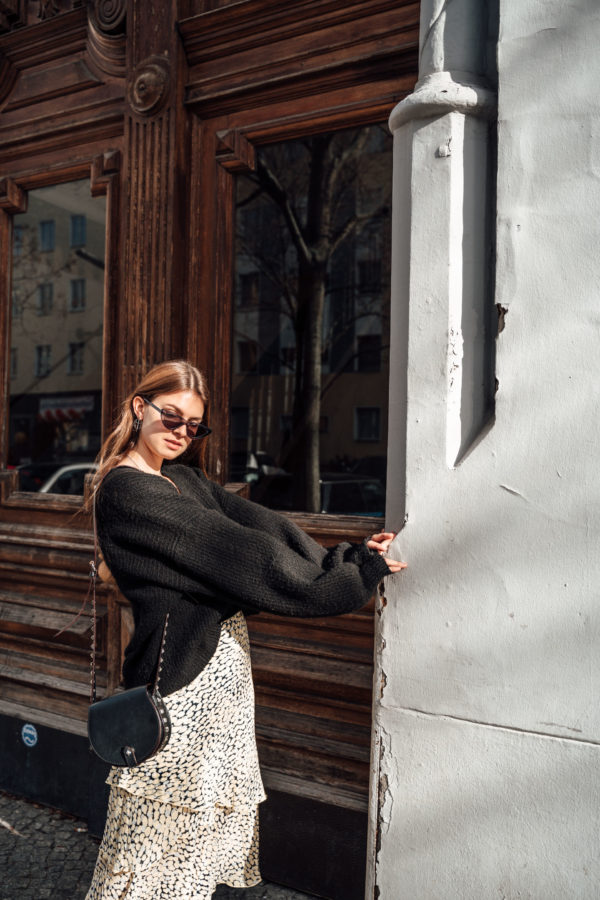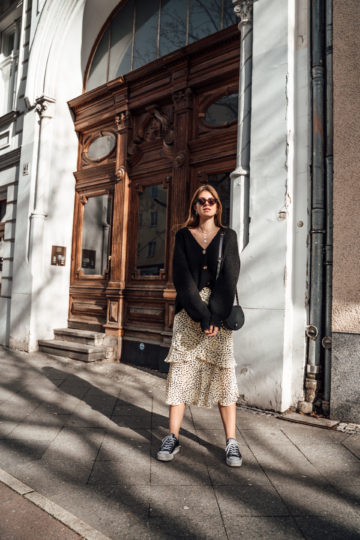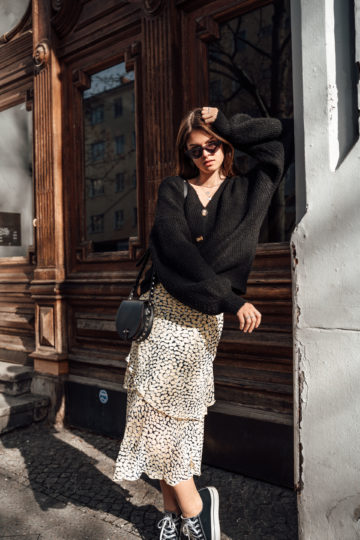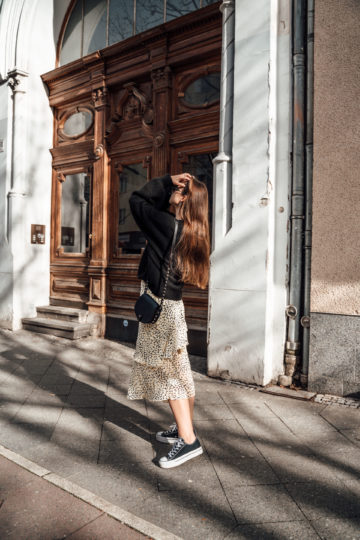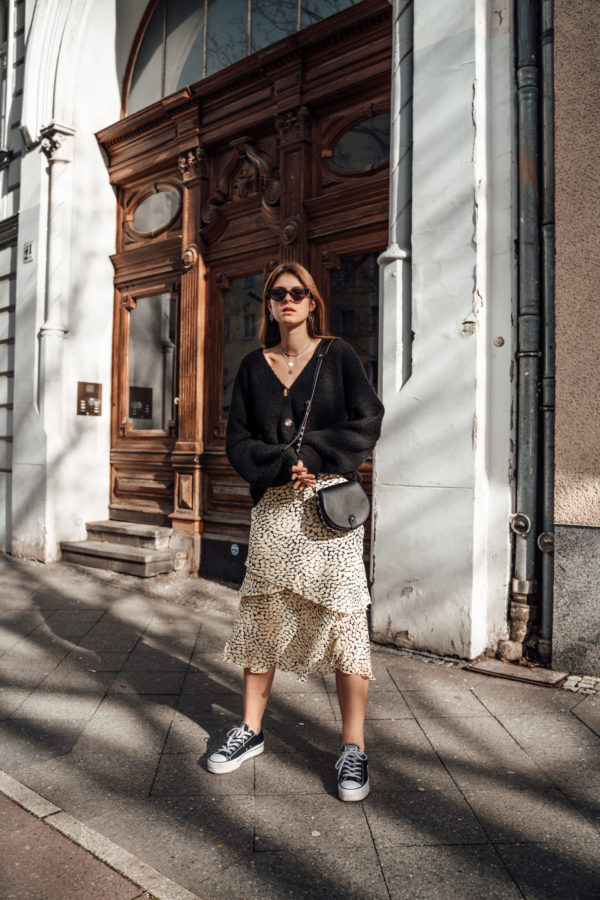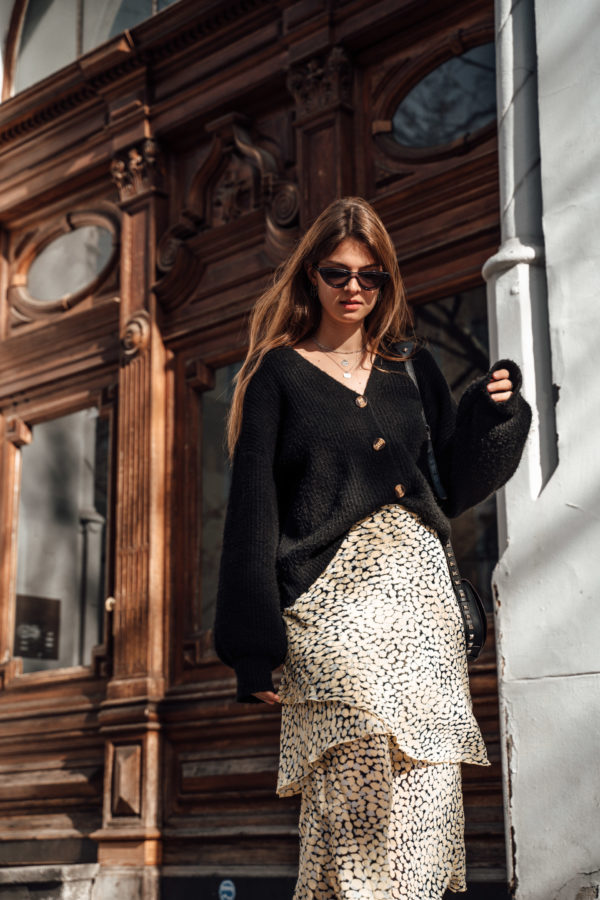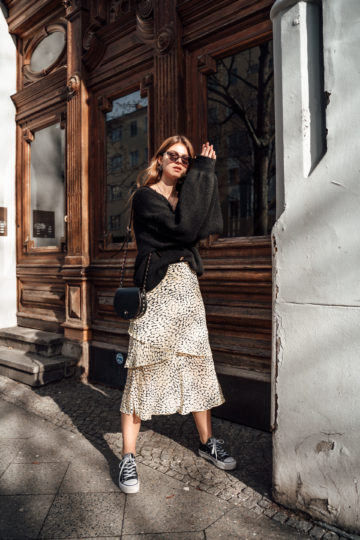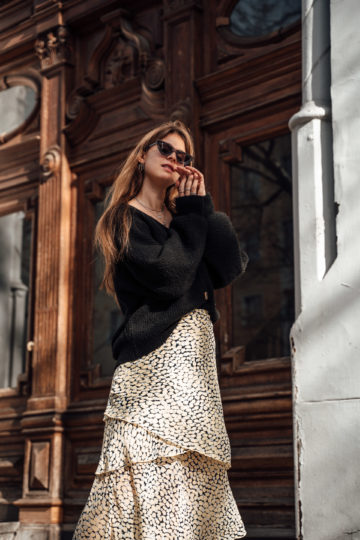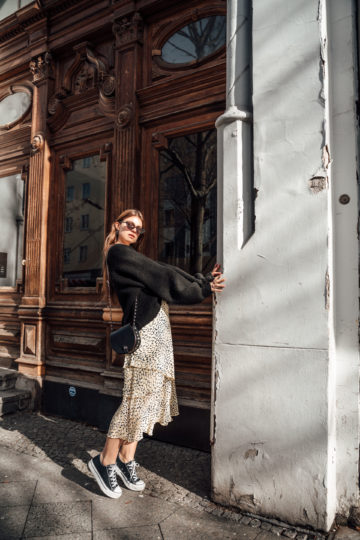 *Ad, brands named – Loavies Cardigan || Minimum Skirt || Converse Shoes || Rebecca Minkoff Bag || Chimi Sunglasses