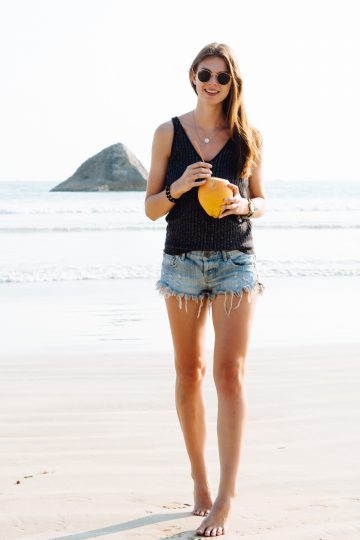 Is there anything better than sipping at a fresh coconut when being on the beach? Probably not. I really don't the coconut water that comes filled up in tetra packs or glasses, but sipping at a fresh coconut is something I could do every day when on summer vacation. Well, I have to confess, that even some of the fresh coconuts didn't taste good in Sri Lanka. But the one I had the day we took these outfit pictures was delicious. 🙂 And since we had to take new outfit pictures that day, I thought why not doing it while sipping at my coconut. The coconut worked perfectly as an accessory and added a nice pop of colour to this simple outfit.
Denim Shorts, Metallic Top and a Coconut
I mentioned before that I do not like dressing up when I'm on vacation, especially when I am somewhere hot and sunny. Yesterday I showed you one option I often chose when I had to wear more than a bikini: the white beach dress. And today I'm showing you another option: denim shorts and a simple top. The other day I was wearing a new pair of One Teaspoon shorts I ordered the week before our flight to Sri Lanka and an old metallic top from Zara. Both pieces are very simple, but the metallic yarns of the top make the outfit look a little bit more interesting. I also added some pieces of jewellery such as my Pandora and Thomas Sabi Bracelet two necklaces as well as my favourite Ray Ban sunglasses. But the eye-catcher of this outfit is definitely the fresh coconut we bought nearby the beach.

You might know, that I'm not in Sri Lanka anymore. We arrived back in Berlin on Monday, and I didn't have one second to relax. Fashion Week started on Tuesday, and due to this, I don't have time to miss Sri Lanka, the sunshine and warm temperatures. Well, I actually do miss it. But it's great to be back in Berlin as well and that it is Fashion Week. It's always a little bit stressful, but it's great to see all the people again I haven't seen in months. So if you're a little bit bored of all the summery Sri Lanka content here on the blog (barely can imagine that), make sure to follow me on Instagram. I'll take you with me during Fashion Week before I'll continue sharing all the amazing pictures we shot in Sri Lanka.
P.S.: I'll share one more Sri Lanka post tomorrow, and from Friday I'll pause and share Fashion Week content instead.