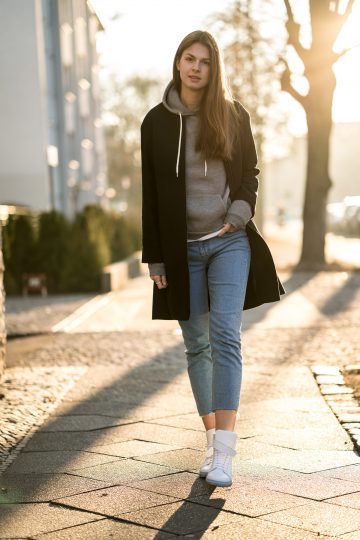 The days are finally getting longer here in Berlin, and the temperatures are rising as well. Sometimes it almost feels like spring already and I can't wait for this season to arrive finally! The other day we were taking these pictures just in front of our office. The sun was shining all day, and it was such a beautiful day. Due to the sun, it was warm enough to be outside with only a sweater on without freezing. We took these pictures in the afternoon just before the sun set. I have to confess, that we didn't plan to take any pictures that day, but it just looked too beautiful, and we couldn't resist. Mainly because we wanted to try out the new camera that day – we got it on the 31st of December, but barely used it the first weeks of the year due to our Sri Lanka travel. Additionally, it was a super busy time, and the weather wasn't always as beautiful as on the day we took these pictures.
SINNER | SAINT – Grey Hoodie
Since we didn't plan to take any outfit pictures that day, I was wearing a super comfortable outfit! When I was younger, I used to wear a lot of hoodies, because I've always been enjoying wearing comfortable outfits and never liked all that fancy stuff. 😉 But when I got older, I tried to change my style a little bit. I didn't want to wear super comfortable clothes all the time, look a little bit chicer and more feminine. That's why I banished all my hoodies and didn't buy new ones for quite a while. But hoodies are a big trend right now, so you see them everywhere in stores and online. Not that I always follow the trends, but this is actually a trend I like. Because of other than I was younger, I now know how to combine a sweater to upgrade it and make it look less comfortable and even kind of chic. But even though hoodies are in fashion right now, I didn't search the web for nice ones and buy them.
I got this one the other day at the Subdued store, and it is one of two hoodies I have in my closet. I like this one because of the SINNER | SAINT writing on the arms. 🙂 Additionally, it's super comfortable and warm. The day we took these outfit pictures I didn't combine it in a very fashionable way because all I wanted to wear was something comfortable and even though hoodies are on trend right now and you see a lot of ways to combine them in a fancy way, they're still comfortable! So here's no fancy way to wear a hoodie but a very comfortable and casual one.
I combined my new grey hoodie with a pair of Mom Jeans, white sneakers and a black coat. It was too warm for one of my winter jackets that day, but still too cold for a lighter jacket, that's why I opted for the black coat. There's actually not much more I could tell you about this outfit. That's why I would like to hear your opinion instead. How do you like this outfit? And what do you think about the hoodie trend? Do you like hoodies or not? 🙂