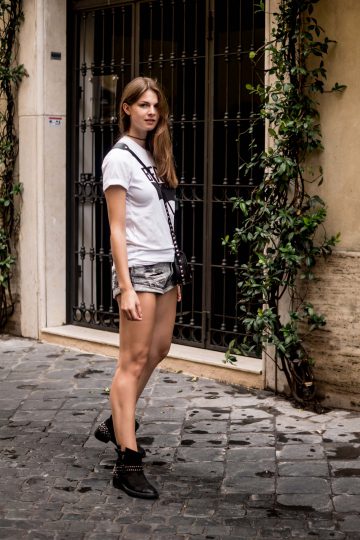 Good morning and happy Wednesday from Berlin. We're back in our hometown, arrived yesterday night and fell asleep right away and I'm already on the run again. Today is the introduction day of a workshop I'll take part at next week, and it started at 8 am – way too early if you ask me 😉 And after the introduction day, I'll go to a very exciting event: house running with Odlo. You've now idea how excited and nervous I am at the same time. Have you ever done house running?
I did skydiving once, but that's so different because you don't have to jump yourself, somebody else is making this decision so you don't have to overcome your fear when it's time to jump. x) I really don't know if I'll dare to walk down that house. If you want to know whether I'll dare or not, make sure to follow me on Instagram. I'll share this experience on Instagram stories, for sure!
But enough about my plans for today. It's time to share the first Rome travel outfit with you. I actually wanted to share it yesterday, but since we were celebrating our 8th anniversary on Monday, I just wanted to enjoy the day and didn't want to sit on my mac book and prepare this post. Therefore I didn't do any work at all on Monday and had to catch up on a few things on Tuesday.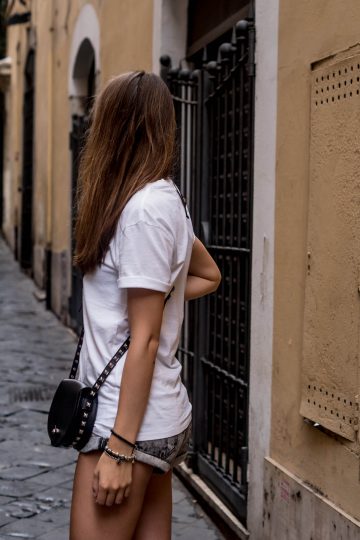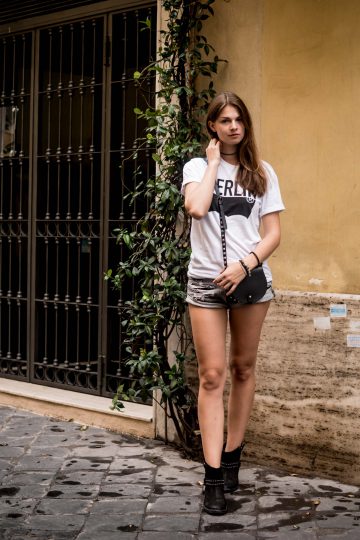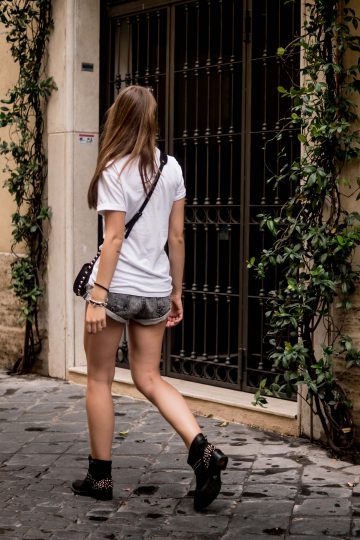 Rome Travel Outfit No. 1: customized Levi's shirt, grey shorts and black boots
We booked a very early flight from Berlin to Rome because we wanted to take full advantage of all the days we had in this city. Therefore we had to be at the airport around 5 am. But what to wear, when you have to leave the house at a time it's still super cold outside and you know it's going to be a very hot day? That's a tough question because you actually can't choose the right outfit for this scenario. All you can do is to try to create a look you'll freeze as less as possible in when driving to the airport and being on the plane and sweating as less as possible in when arriving in Rome. It wouldn't be a problem at all when you would arrive at a time your room is ready for your, but it wasn't when we arrived at 10 am. 😉
So here is the outfit I went for: grey shorts, my customised Levi's shirts and black boots. When I left home, I was also wearing an oversized grey sweater I took off when we arrived at the hotel. Thanks to the sweater I wasn't freezing that much on the plane and luckily I could take it off when we were in Rome because it was already very hot when we arrived. Some of you might wonder why I was wearing black boots. I usually travel with sneakers only, but since I was wearing the same white sneakers pretty often during my last trips as well as in Berlin, I wanted a change and chose the most comfortable boots I have to take them with me to Rome. 🙂