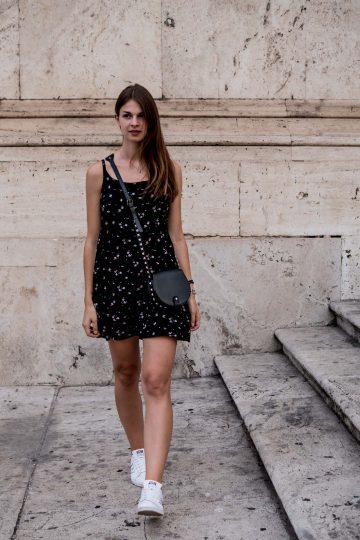 Before I'm flying to London for a day tomorrow morning, I'm spending the day at the office to catch up on all the work I couldn't do during the last days. Well, I probably won't be able to get everything done, but I'll do my best to finish as many tasks as possible. Let's see how it will work 😉 I do not only have to catch up on a lot of things, I also have to edit all the pictures we shot in Rome and to prepare the posts.
There's one more outfit post, one post about things to do in Rome and probably a post about the hotel we were staying at coming in the next days. Additionally, I have to go through all the videos we shot and edit them as well. I think we might have enough footage for three vlogs, one for each day we spent in Rome, but if not I'll create one video for the whole Rome trip. This week I'll focus on the other posts, but I hope I'll be able to share the vlogs or vlog next week. 🙂 For now, I'll leave you with the second outfit we took pictures of in Rome: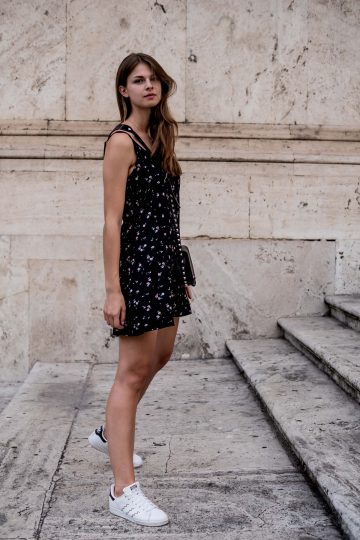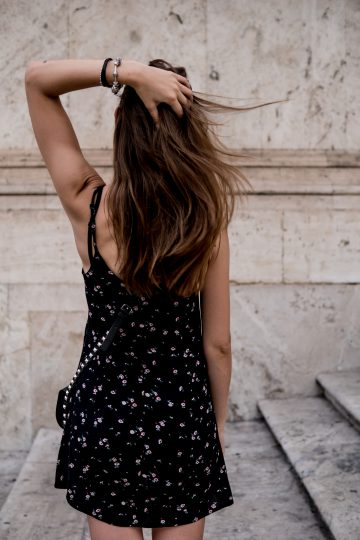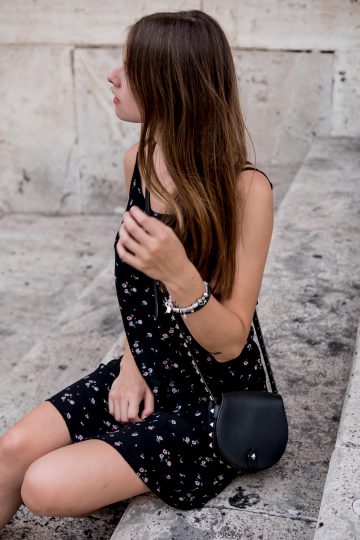 Rome Travel Outfit No. 2: Floral Dress and White Sneakers
Here they are my white sneakers I always take with me when travelling. The boots might be comfortable, but nothing is as comfortable as my Adidas sneakers, and therefore I decided to wear them on our second day in Rome instead of the boots. I had way too many clothes with me for a three-day-trip but as usual, I couldn't decide what to take with me, and I actually was very happy with all the choices I had due to my overpacking. Even though I couldn't wear the clothes I was wearing on our first day in Rome (they were too sweaty and dirty) I still had enough options for day two and three and even more days 😉 On day two I opted for a very comfortable and light outfit because it was a very hot day. I had the choice between two different pairs of shorts and a dress and I obviously chose the dress.
I was so happy I packed this dress last minute because I actually didn't plan to take it with me. But I didn't want to take only shorts with me, and so I grabbed one of my dresses and put it in my suitcase just before we had to leave and drive to the airport. Packing the dress was one of the best decisions I made.
As I already mentioned, I combined it with my white sneakers and added the only bag I had with my, my Rebecca Minkoff Skylar Mini. This bag seems to become my best travel companion 😉 I can't imagine travelling with a big bag anymore, it's so much easier to have only a small bag because you automatically carry less stuff with you. This little cross-body bag can't get as heavy as all my bigger bags and therefore it's so much better and healthier for my back, neck and shoulders.
How do you like my second Rome Travel Outfit? Please don't hesitate to leave me a comment and let me know what you think about this look. xx