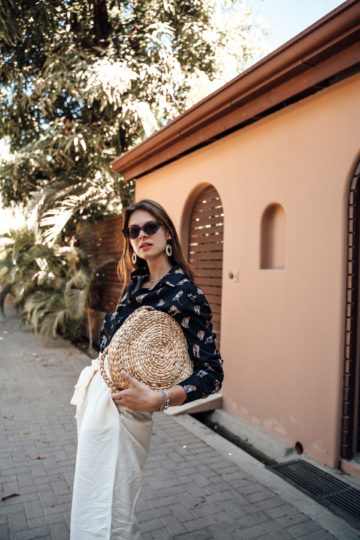 Not all the outfits I was wearing in Costa Rica were full summer outfits. Since we were in New York before Costa Rica, I also had some spring clothes with me such as these pants and the leopard print shirt. I already shared an outfit with this shirt from New York, but it was colder than expected in NY, and I couldn't wear the pants. I didn't really mind, because I knew that I would just bring them with me to Costa Rica and wear them there. I do love wearing white clothes pants when on summer vacation, and I am actually regretting, that I didn't bring them with me to Mallorca.
Now that I see these outfit photos again, I would love to wear the pants again, and I would style them the way I did in Costa Rica.
Combining white pants with an animal print shirt in Costa Rica
White pants can be combined in many different ways, and that's why they are the perfect spring and summer piece. You can combine them with every kind of top starting with an oversized and ending with a crop top. I will probably wear them a couple of times during the next weeks and show you a couple of different outfit combinations, but today it's all about the one I was wearing in Costa Rica:
For that day in Costa Rica, I combined my white wide leg pants with an oversized shirt with leopard print. It's not the kind of leopard print you might have in mind when thinking about this print. It's a different kind of leopard print, and I already talked about in this post from New York.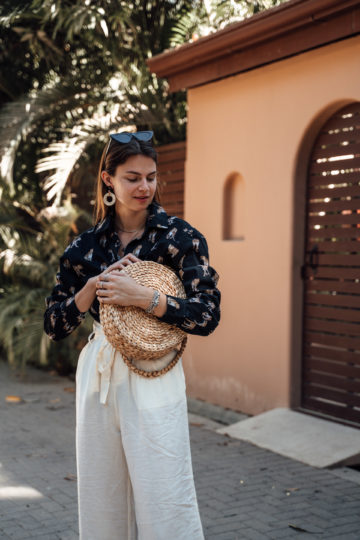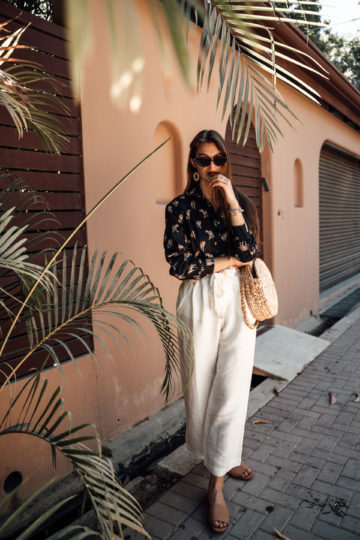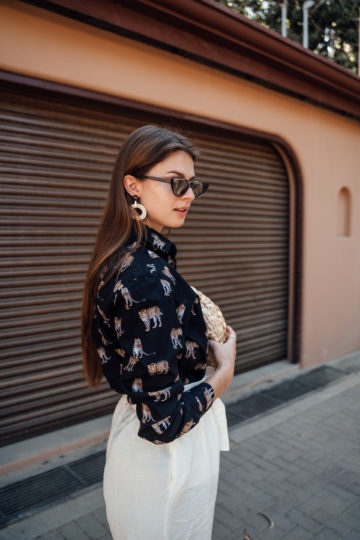 I do like this leopard print shirt a lot and have been wearing it a lot since I got it. The combination with the white pants is definitely my favourite so far as I like the contrast between the white pants and the black shirt.
I also love the comfiness of the outfit. Usually, I would style a pair of wide leg pants with a tighter top and not with an oversized shirt, but it was quite warm in Costa Rica, and I needed airy clothes. That's why I decided to combine two wider pieces knowing that it might look a little bit unflattering. But I actually think that it doesn't is an unflattering outfit at all. Thanks to the belt of the pants I could add a little silhouette and make the whole outfit look less bulky. What do you think?
The perfect vacation bag
To finalise the outfit, I added a few details such as the round bag, brown flats and a pair of bigger earrings. At this point, I want to talk a little bit more about the bag as it is from Onvacay, our new brand we are about to launch. The online shop still isn't online, but you can have a first look on Instagram to see what kind of products we will sell. The name Onvacay already gives an idea about what the brand is all about. We started sourcing and buying products when we were in Bali almost two years ago, but we didn't want to start with only a small selection of products, that's why the shop still isn't online. The bag you can see me wearing here is one of the pieces we bought at the beginning of this year. It is handmade in Bali and definitely one of my favourites. It is made of banana leaves, and it needs sunshine and warmth to keep its flexibility. The colder it is, the stiffer it becomes. It definitely is a bag with character. How do you like it?
*Ad, brands named – Rail Pants || Minimum Shirt || Onvacay Bag || Flattered Shoes || Pieces Earrings || Chimi Sonnenbrille