This week I am finally back on the blog, and I already shared one post from our time in Indonesia. As you might know, we always try to go to at least one other place than Bali when we are there, and this year it was Nusa Ceningan. Earlier this week I shared a post about our time in Nusa Ceningan and Nusa Lembongan, I told you which of the two islands we liked better and what you can do when you are there.
Today I will start sharing all the content from Bali. I have a total of seven posts planned, mostly outfit posts, but I might also share more details about our time there, what we did, why we come back to Bali again and again and maybe I will also prepare one more post: another restaurant guide for Bali. Is this something you would like to see? If so, let me know in the comments, and don't forget to share if there is anything else you would like to know as well. 🙂 For now, I will leave you with one of the outfits I was wearing in Bali; it is an all-white outfit I styled around a basket bag from Prada. Read more about it in the following.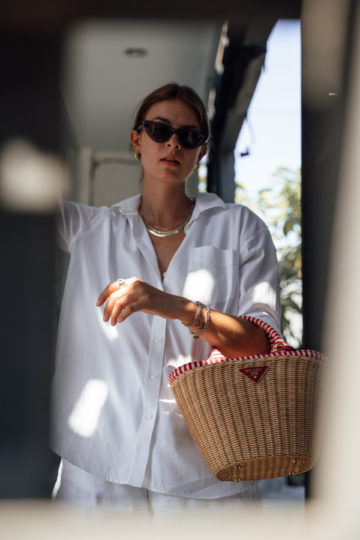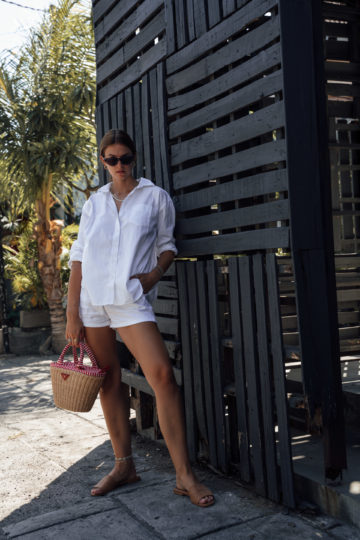 All-white outfit and basket bag for a day in Bali
Even though the rainy season has already started in Bali, we didn't have rain and due to that, it was very muggy in Bali. You already know that I was wearing swimwear most time of the day, but as we didn't spend all day at our accommodation, I had to get dressed every now and then 😉 On one of the days I had an appointment between Canggu and Seminyak and we had to go there in the early afternoon. It was still very hot and since we were driving on the scooter – in the sun most of the time! – I opted for an all-white outfit. Wearing white or other very light colors was the best option for the strong sun in Bali.
Also, I really wanted to wear this Prada basket bag that day. I wanted to fully focus on the bag and that's also a reason why I went for an all-white look. I also had other combinations in mind, e.g. with a pair of denim shorts instead of white shorts or a black dress. But I felt like I had been wearing denim shorts way too often and wearing a dress wasn't the best idea for sitting on a scooter for quite some time, so these two outfits didn't work out in the end.
To finalize this all-white outfit, I did not only add this Prada bag that is available on Farfetch, but I also put on a pair of brown sandals and black sunglasses and, that's it. It is a very simple and casual look, but it was exactly what I felt like wearing that day in Bali.
How to wear basket bags
When I think about basket bags, I always think of vacation, summer, and the ocean. And I actually mostly wear basket bags when I am on vacation. But you can also wear basket bags when you are home in the city. And a basket bag can not only be worn in summer, but it also works very well with a winter outfit – just think about a chunky white knit in combination with a basket bag.
When it comes to wearing a basket bag, no matter what season it is and where you are, there are almost no limits to your creativity. You can wear them with whatever you feel like wearing. I would always go for more neutral tones or light denim, but basket bags also work with black and more colorful outfits. How would you wear a basket bag, and how do you like the outfit I combined with the Prada bag? Let me know in the comments. xx
*Ads, brands named – Gant Shirt || Pull & Bear Shorts || Prada Bag || Flattered Shoes