Now that I am back in Berlin, I am also back at the office, and since the weather in Berlin isn't nice at all, I don't mind being inside and in front of my laptop most of the time. That means that I finally have time to catch up on things, and the first thing I did was going through all the photos we took in Bali. I edited and organized them and made a plan for the blog. The next three weeks (at least) will be all about Bali and the outfits I was wearing. I haven't made a plan for every single post yet, so if there's anything you would want me to write about, let me know in the comments.
Every time we traveled to Bali, we also went to another place in Indonesia. The first time we also traveled to Lombok, last year we were in Sulawesi, and this year we went to the Nusa Islands. And today's post will be all about our days there. The main islands are Nusa Lembongan and Nusa Penida, and in between these two, you can find Nusa Ceningan. That's where we stayed. Unfortunately, we didn't make it to Nusa Penida as it's the least touristy island with not so many hotels and everything. We were told that Nusa Penida is best for a day trip if you want to see the beautiful nature and just explore a little bit. As we stayed in Nusa Ceningan and also spent some time in Nusa Lembongan, today's post will be about these two islands. I want to share more about what we did and a few things you need to know about the Nusa Islands in case you are also thinking about traveling there.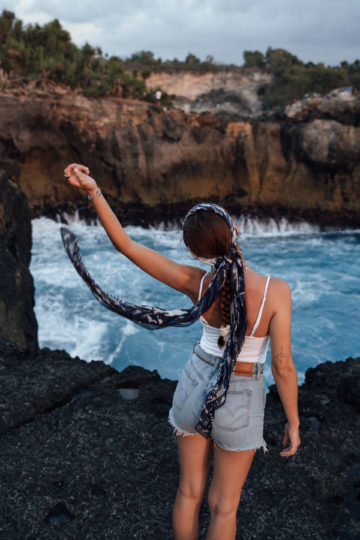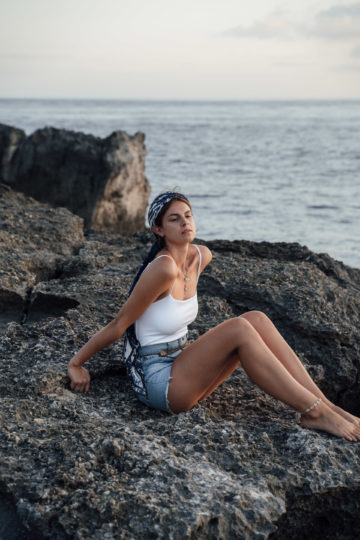 Nusa Lembongan or Nusa Ceningan? Where to stay?
When we planned our trip to the Nusa Islands, we didn't know on which island to stay on and made the decision depending on a nice place to stay. We checked several hotels and Airbnb's and finding a very nice accommodation wasn't very easy. In the end, we booked Le Pirate Beach Club because that's the only accommodation I'd heard of before. Our bungalow was very minimal and small, it is ageing, and we struggled a bit with all our luggage, but I am happy that we booked it because we liked Nusa Ceningan much better than Nusa Lembongan.
Nusa Lembongan is the bigger island, it is closer to the port, and you can get around by car. There are also more hotels and restaurants as well as leisure facilities, but due to that, it's also more crowded, dirtier and louder. To get to Nusa Ceningan, you have to pass the Yellow Bridge, which is only possible by foot or motorbike. So when you have a lot of luggage as we had, it's not very handy. There are also not a lot of cars on the island, but a few hotels do have them and offer pick-ups at Yellow Bridge.
Once you don't need to carry all your luggage, you can rent a motorbike to get around the islands. We rented one at our hotel, and the price was 70K IDR per day. That's what you have to pay almost everywhere, and I would suggest getting one if you don't want to be stuck at your accommodation.
What you can do on the Nusa Islands
Nusa Ceningan is quite small, and there's not that much to see, but still, we enjoyed it a lot. We just drove around, went to the Blue Lagoon, found some smaller beaches, and had many smoothie bowls on the beach. We had the most relaxing time for sure. And when we were a bit bored, we drove to Nusa Lembongan, which is only a short drive and explored this island as well. There you have a bit more to see. Nusa Lembongan also has nice beaches and cool spots such as Dead Pool or Devil's Tears. You will also find some nice restaurants and surfing spots in Nusa Lembongan. If you want to go surfing there, you need to go with a surfing school as the Nusa Islands don't have any beach breaks, only reef breaks.
Other than driving around, laying on the beach, eating a lot or go surfing, you can also do a Mangrove tour, cliff jumping, snorkeling or go on a day trip to Nusa Penida. It won't get boring for sure!
P.S. the photos you can see here were taken at Blue Lagoon and it looks even better in real!