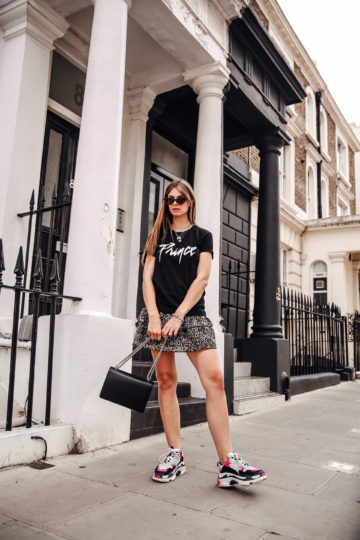 Happy Tuesday everyone! This week I will continue with what I ended the last one: outfits from London. I shared the first outfit from London on Friday, and the plan is to share three more this week. And once those three outfits are shared, I still have two more outfits left. In addition to these two London outfits, I will also have a few outfits from New York as will be there from Thursday to Monday. Oh, I love travelling, because it always inspires me and motivates me to be productive when it comes to content for the blog.
But back to the outfit from London, I want to share with you today. I wouldn't say it is my favourite London outfit, but it definitely is one of the looks I was most excited about to wear because I had this outfit idea in mind for quite a while.
Leo Print Skirt combined with a Band Shirt
It's not a secret, that I do like leo print and that this skirt is one of my favourites. Not only because of the leo print, but also because of the cut and its comfort. I enjoy wearing this skirt in summer as it is very airy. Additionally, the leo print makes it easy to put together an outfit as I could just wear a white t-shirt and the outfit wouldn't look boring.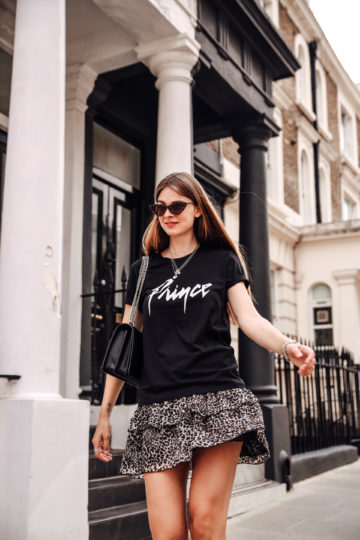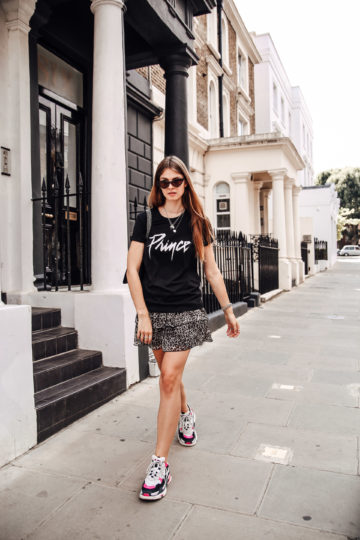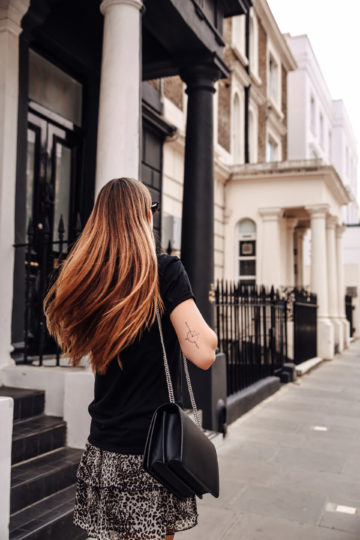 I usually wear a white t-shirt with this skirt, but in London, I wanted to try a different look. In London, I combined my leo print skirt with a band shirt. Well, it's a very simple band short, not the kind you might expect when thinking about band shirts. And I have to admit, that I first wanted to wear a different band shirt, but then I ended up keeping it a bit more simple with this t-shirt.
I do like the combination a lot. And I think I also like it better than I wasn't wearing the t-shirt tucked in the skirt. I tried that look, but the skirt is a bit too short, and when wearing a shirt tucked in a skirt I want the skirt to be high-waisted. I would wear it the exact same way again, but also would like to try a different band shirt and once that's a bit more oversized than the one I was wearing here.
Where the Balenciaga Sneakers the right choice?
And, of course, we have to talk about the sneakers here. I first wanted to wear my white platform sneakers from Converse. But we shot four different outfits that morning, and I was too lazy to change my shoes and decided to try this look with the Balenciaga Triple S sneakers. Looking at these pictures I must say, that this look definitely works, but I think the Converse shoes would look a tiny bit better. So next time I will definitely go for a pair of simple black or white sneakers instead of the Balenciaga sneakers. How do you like the outfit combination? Would you have worn these sneakers or do you also think that a different pair of sneakers might work better with this outfit?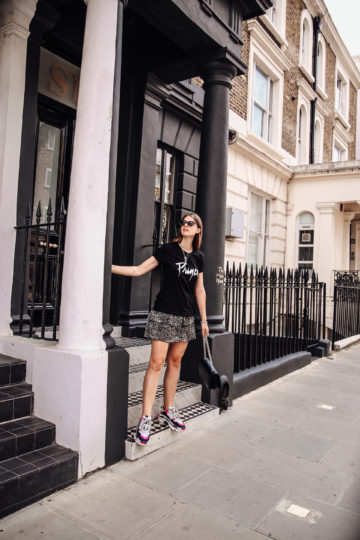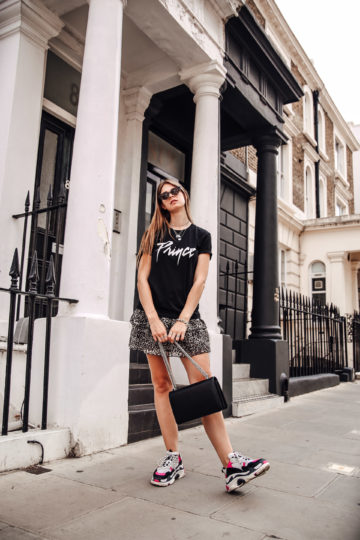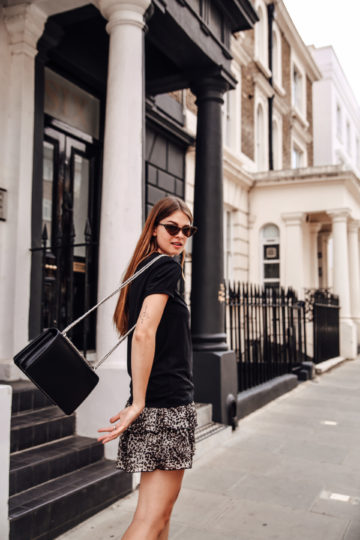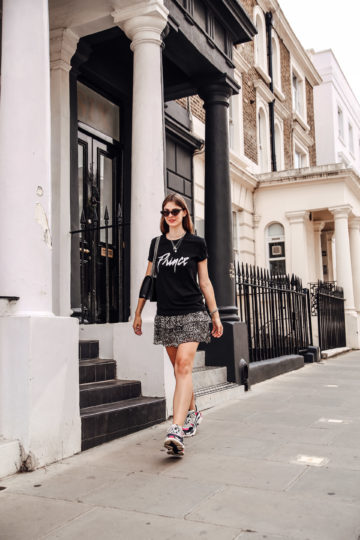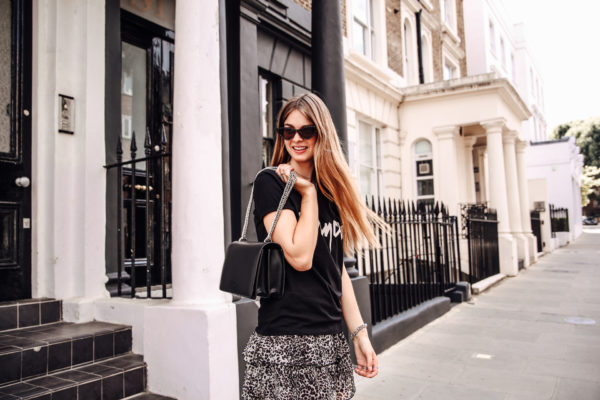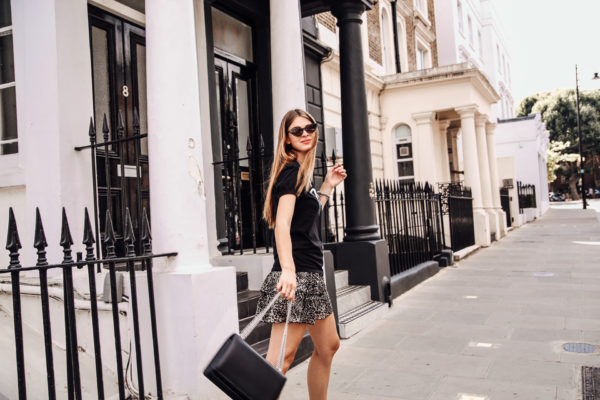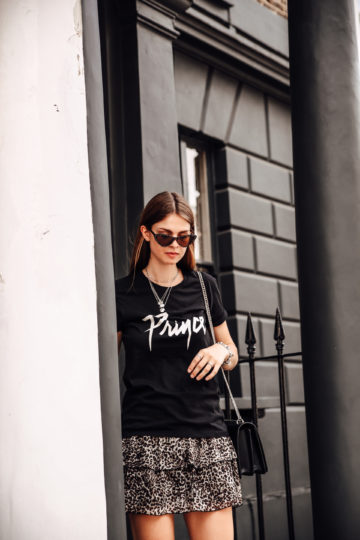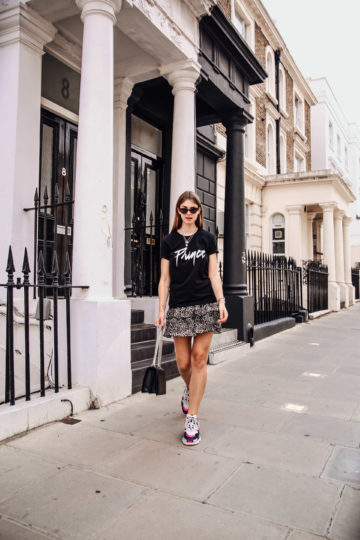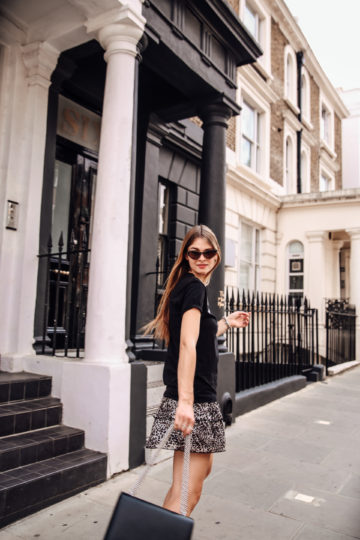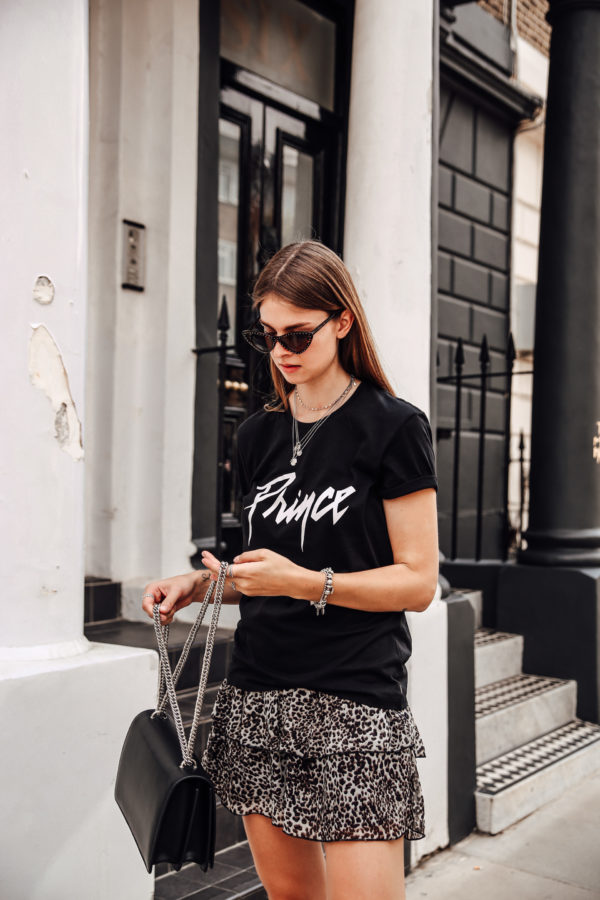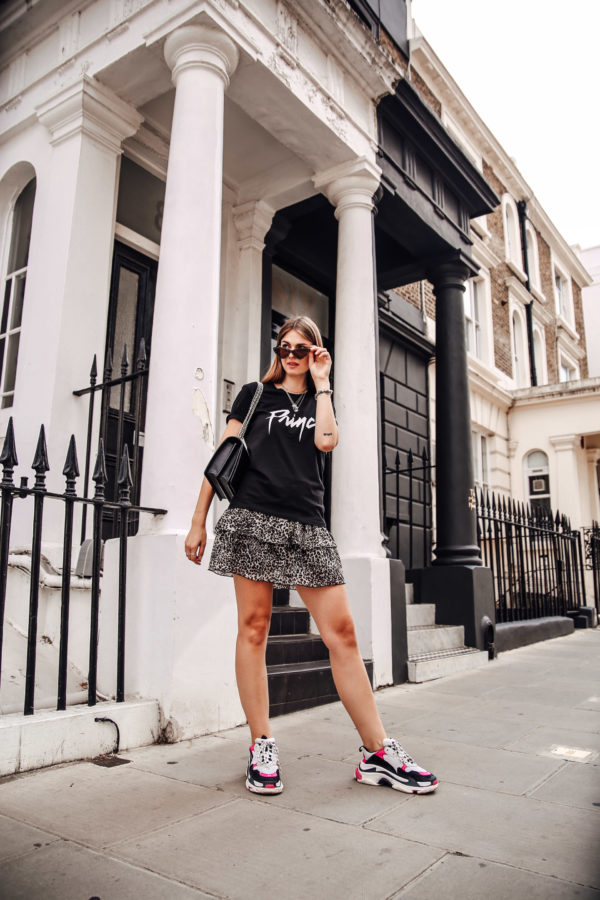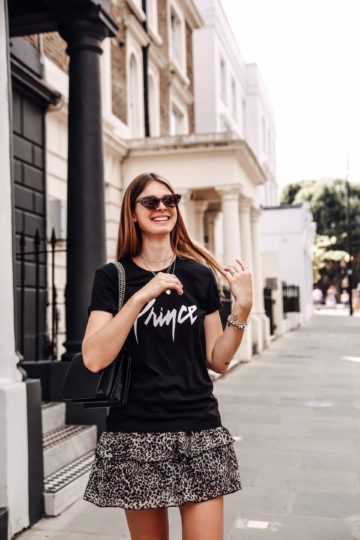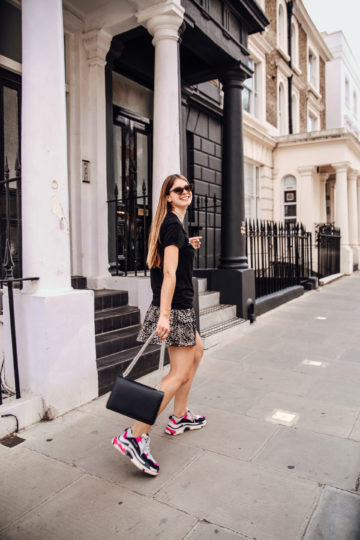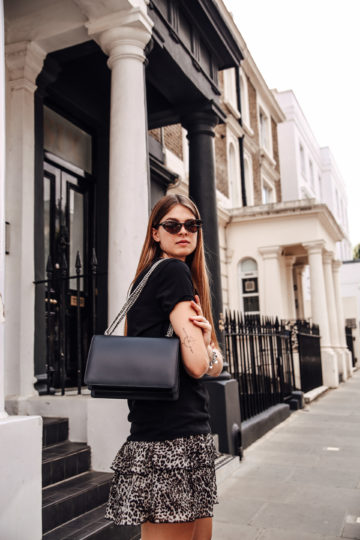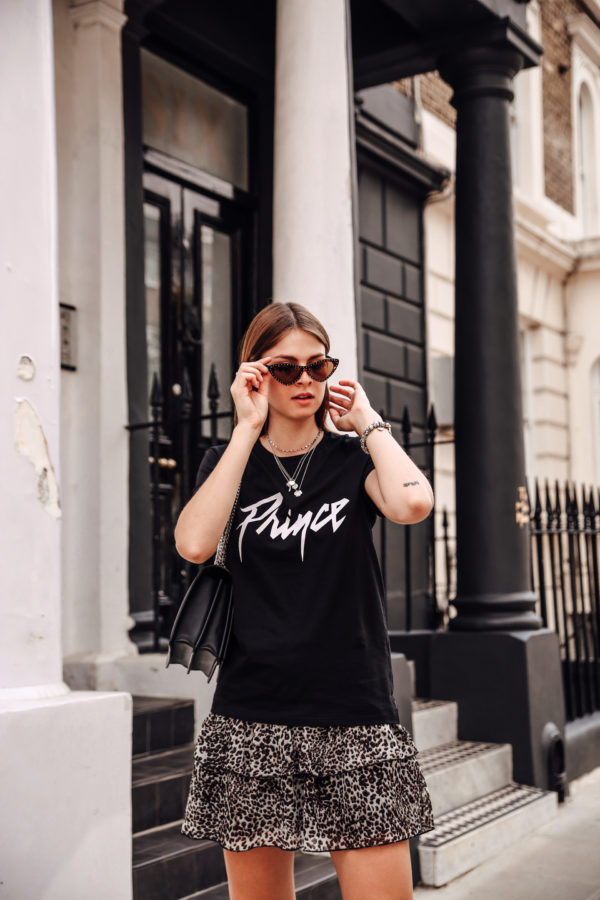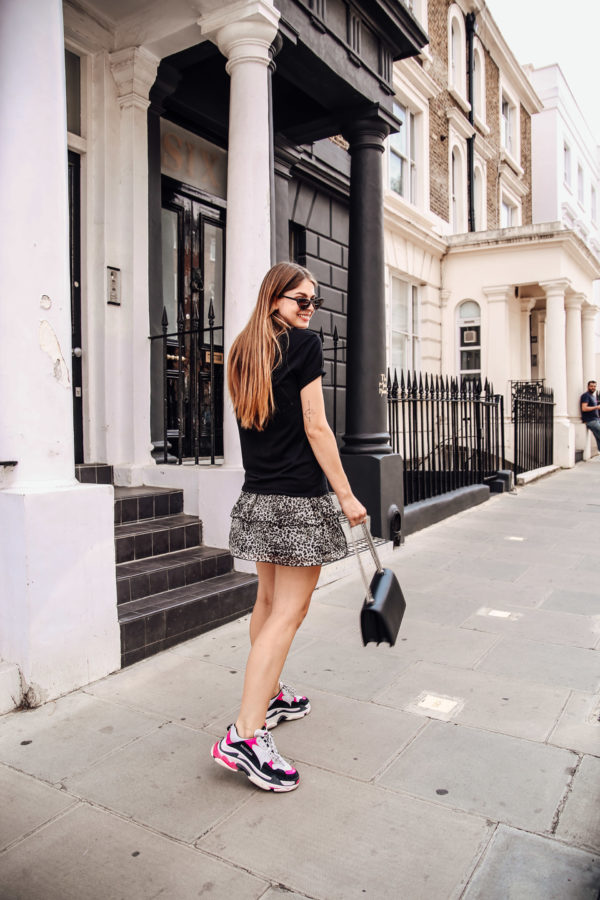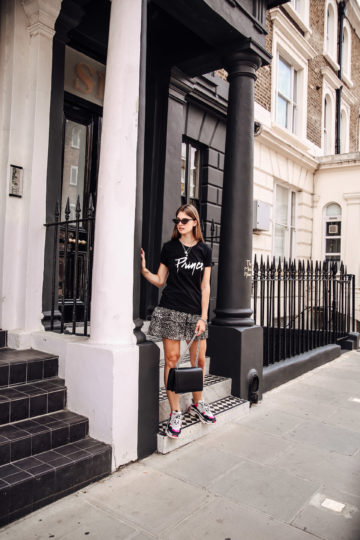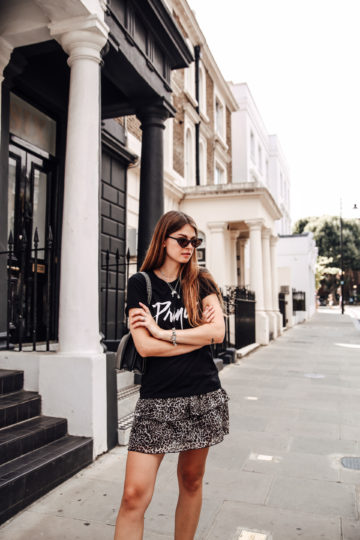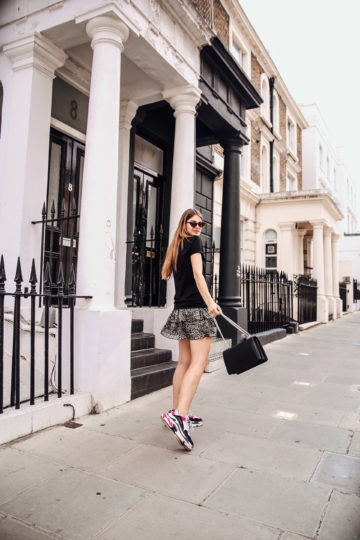 Photos: Elena Gola
*Ad, brands named – minimum T-Shirt || Loavies Skirt || Balenciaga Triple S Sneakers || Agneel Bag || Na-kd Sunglasses