It's Thursday already, and I still have so much work to get done, so much I won't be able to finish it until tomorrow. Sometimes I really could need an extra day every week. Or let's say two extra days, one more day for work and another weekend day. Wouldn't that be nice? 🙂 Anyways, the tonnes of work I have to get done are not your problem. So instead of complaining, I will share a new outfit with you today. It is one of the looks I was wearing last weekend when it was a little bit warmer but still gloomy in Berlin. We spend the day running errands most of the time but also went to one of our favourite cafés in the neighbourhood for coffee and lemonade. Since it was such a gloomy day, I decided to brighten it up by wearing a very colourful piece of clothing:
Pink Shirt with Ruffles
Pink is none of the colours I usually wear. As you might know, I always prefer black, grey and white. And, of course, I love wearing nice denim shorts and jeans. But all these colours are everything but gaudy colours. But as I mentioned before, in spring and summer I like wearing bright colours from time to time as well. And so did I the past weekend… yep, I was wearing a pink shirt. And guess what? I like it a lot! I received it a couple of days ago from Vila, and it was love at first sight, I actually wanted it since I've seen it a couple of weeks ago online. First of all, the colour is perfect for those days I really need to brighten up my looks. And secondly – you know what I am about to say – I love the ruffles! I mentioned it before, and I am still not tired of ruffles. Are you?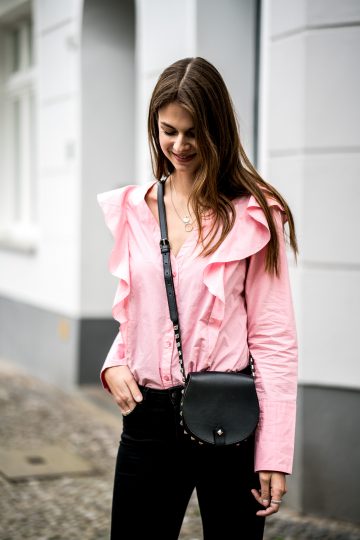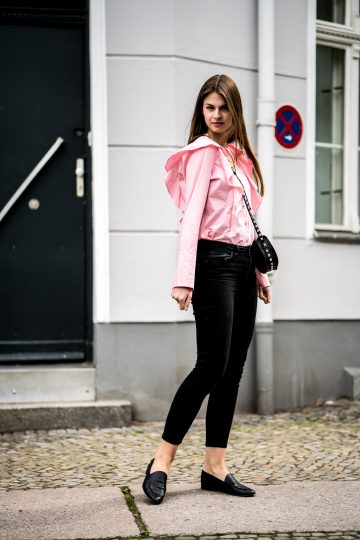 Since we were running errands that day, I wanted to keep it simple. I combined my new pink shirt with a pair of black jeans, black slippers and my Rebecca Minkoff Skylar Mini. Another great feature of this shirt is the fact which it is an absolute eye-catcher. You don't have to combine it with other eye-catching pieces. You actually SHOULD combine it with simple pieces of clothing only, because otherwise, the outfit would look fussy.
I think it will work very well with a black skirt, black shorts or even denim shorts in summer. And I would also combine it with a pair of blue or white jeans these colder spring days in Berlin. I think it might get a little bit tricky when you want to combine the pink shirt with blue jeans, but I've seen this kind of combination and really liked it. I think I will try it myself soon and maybe I will share this look on the blog as well. How would you combine this pink shirt?
How to be happy!
Last but not least I would love to share one simple trick to be happy even on a gloomy and rainy day: listen to your favourite song! It actually works – as long as it is an uplifting and not a sad song. For an extra chance to increase your happiness, try to dance to this song. I have to admit; I'm not that kind of girl that enjoys dancing. And I don't feel comfortable when people are watching me. But when you're at home, listening to your favourite song and nobody is watching you, you could give it a try! 🙂 And you will see, you will be happier that day no matter how shitty the weather is.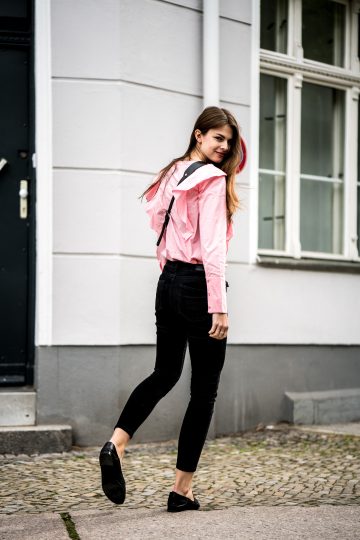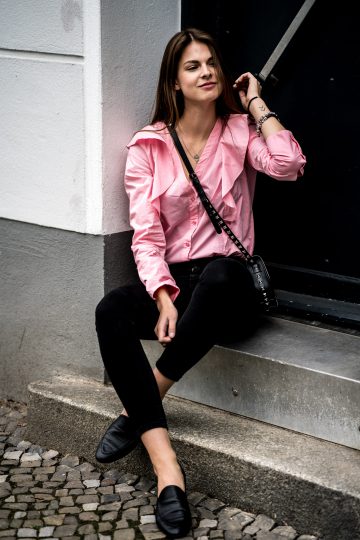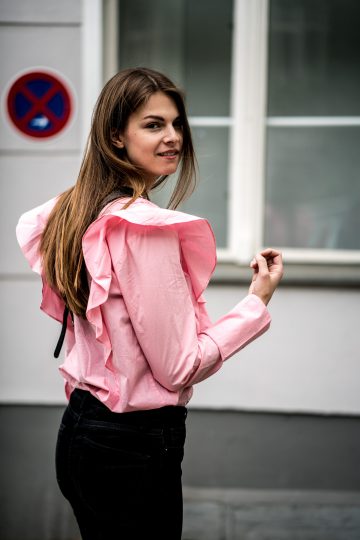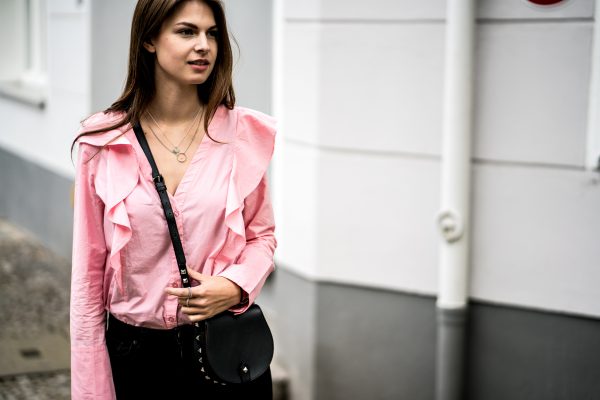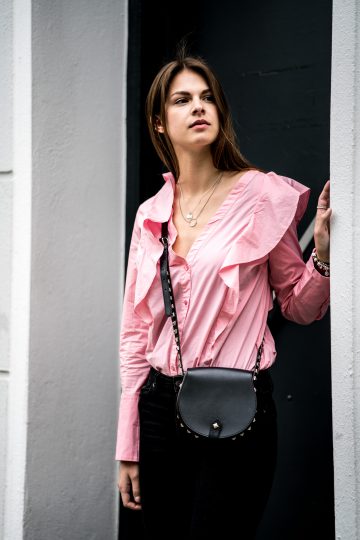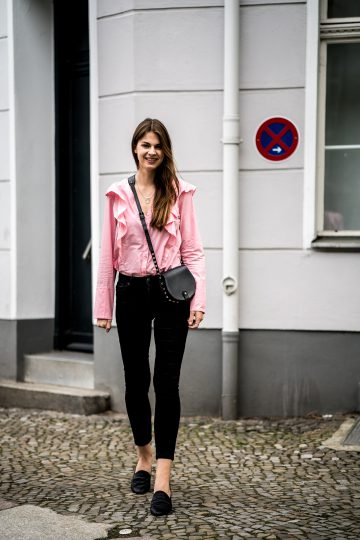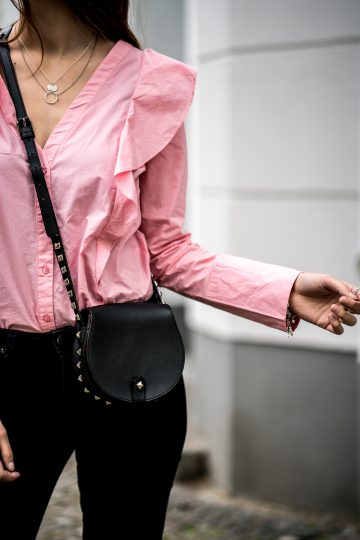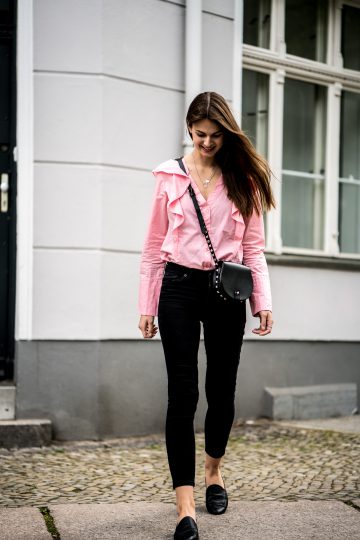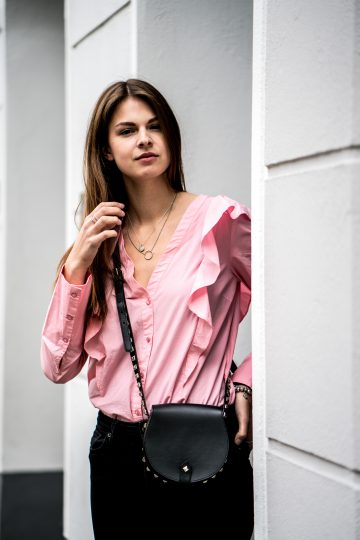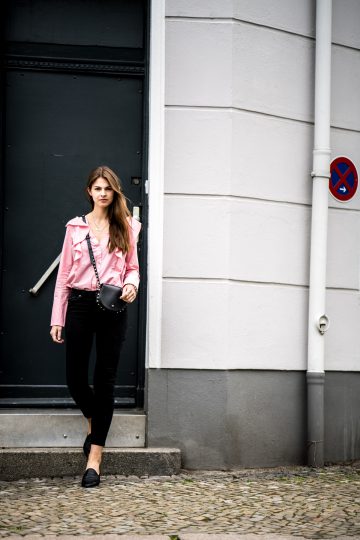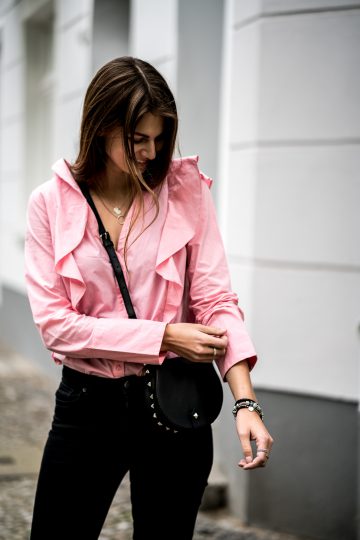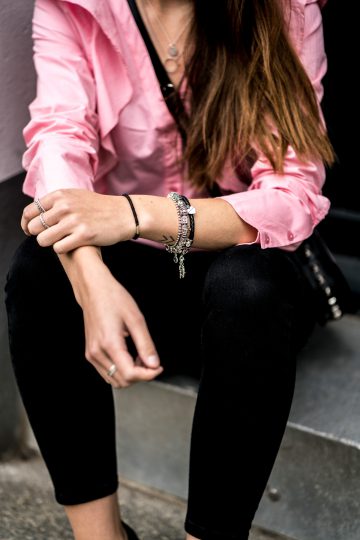 Shirt sponsored by Vila.