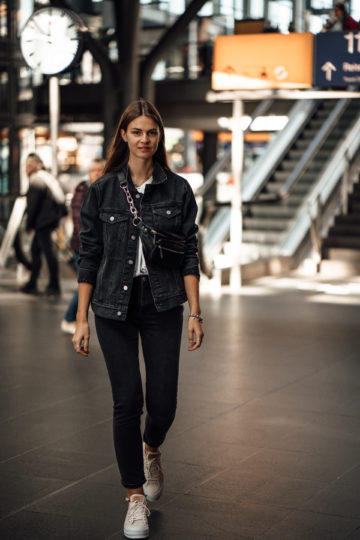 It's no secret that I do travel a lot and that I do it with pleasure. For me, it's the number one source of inspiration, and I love to put together outfits for my travels and then shoot and share them on the blog and social media. When it comes to the outfit, I wear when travelling, I usually focus on the ones I am wearing at the destination and not the ones I am wearing for the actual travel outfits. But aren't those the outfits that are even more interesting?
No matter how long the travel time to the destination is, some criteria must meet every travel outfit. There is nothing more annoying than a travel outfit that is uncomfortable or just completely impractical. And it doesn't matter whether you are travelling by plane, train or car. The criteria are the same.
I recently teamed up with the Zalando Lounge to help you put together the perfect travel outfit and share my tips and tricks on how to do it with you.
How to put together the perfect travel outfit
Probably the most important criteria for the perfect travel outfit is that it is comfortable. In addition to this, it should be suitable for both the weather at the place of departure and the destination and of course for the temperatures in the plane, train or car.
If you have an appointment right after arrival, and you do not want to go there wearing sweatpants and an oversized hoodie, but you don't have time to get changed, you also need a travel outfit that suits this appointment. For me, casual chic outfits usually work the best. But let's get straight to my tips for the ideal travel outfit, that meets all the criteria I just named:
1. Instead of a pair of leggings or sweatpants, wear a pair of mom jeans or boyfriend jeans. Alternatively, skinny jeans with a lot of stretch or cloth pants work very well.
2. Wear oversized T-shirts, pullovers or hoodies – that's the most comfortable.
3. Layer your clothes. A layered look is suitable for both warmer and colder temperatures, so you do not have to put on a thick jacket that you may not need at the destination. Instead, it's better to wear a thinner jacket and a sweater or hoodie, and optionally a T-shirt and/ or a tank top and a longsleeve underneath – depending on how big the temperature differences are.
4. For the perfect travel outfit, I would always recommend sneakers, as they are comfortable and you can quickly put them on and off.
5. Grab a small handbag and bring a piece of hand luggage suitcase. Due to that, you will avoid neck, shoulder and back pain.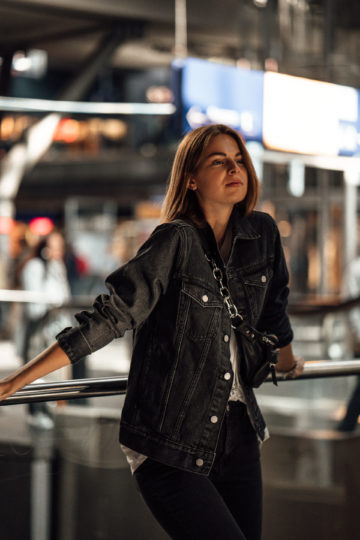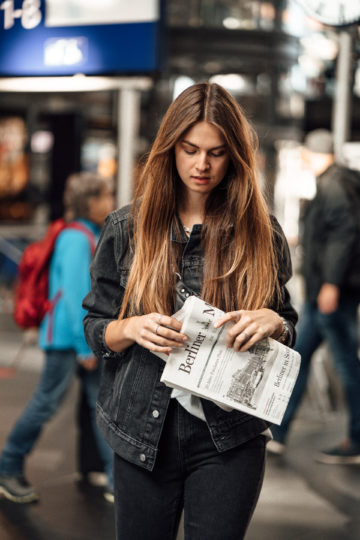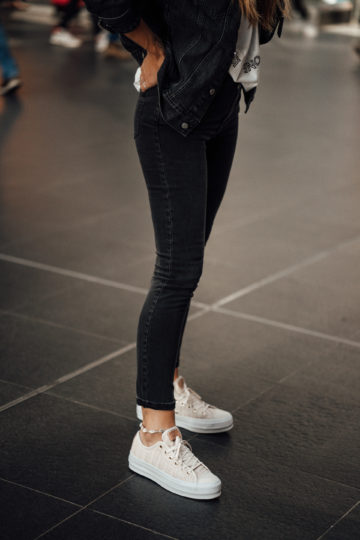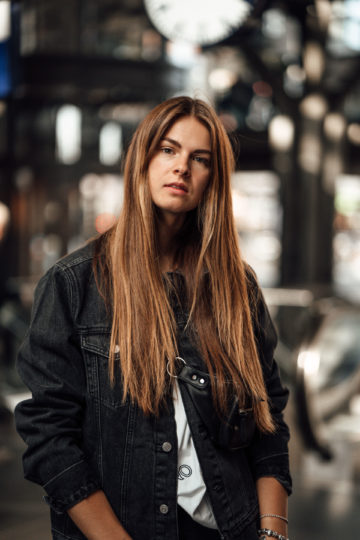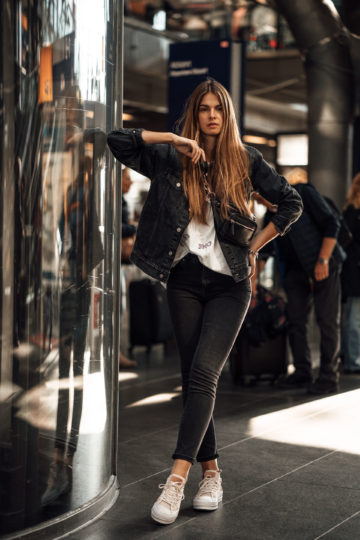 My experience with the Zalando Lounge
As already mentioned, I've teamed up with Zalando Lounge to put together the perfect travel outfit. Haven't heard about it yet? It's Zalando's Shopping Club, where you can get up to 75 percent off popular brands and even high-end brands. There are new and different discount promotions going online every day for a few days each. These discounts are available in a variety of categories including women's, men's and children's clothing, as well as shoes, accessories, sportswear, suitcases and furniture.
Among all those changing offers and promotions, I found what I was looking for. I had a budget of 100 Euro for the travel outfit, and that was more than enough. I found a pair of shoes, jeans, a t-shirt and a jacket and if I did not have the limited budget, then I could have bought so many more alternatives. The selection of the current offers was large enough for at least five different travel outfits.
The entire selection and ordering process was also very simple and easy. Some offers are directly available, others have a longer delivery time, which is because Zalando Lounge has to request the products once the promotion is over in order to be able to offer low prices. But don't worry, the delivery time is mentioned in the product details, so you know how long it will take until it arrives at your place before you place the order.
Have you already heard about Zalando Lounge or do you order in other shopping clubs? What do you think of this concept? I would love to read your thoughts and experiences in the comments. xx