When planning a vacation, you do not only have to decide where to go and what you want to do there. You also have to decide where you want to stay. And the internet is full of hotels, Airbnb, and other accommodations. It isn't always easy to make a decision; you never know if the place you choose will be as good as the pictures look or the reviews are. That's why I want to share some honest reviews about the places we stayed at during our time in Bali and Lombok. And I will begin with the hotel we stayed at in Lombok: the Coconut Boutique Resort.
The Hotel
The Coconut Boutique Resort has everything to offer you could ask for during your vacation in Lombok. If you want to spend some relaxing days at the hotel, you can relax by their pool, get spoilt at the spa and enjoy a lovingly prepared lunch as well as dinner.
But you can also stay at this hotel if you want to explore the island. They either offer day tours or rent scooters for only 50K IDR a day. For us, it was the perfect location to explore the west coast of the island, and we were happy when we came back to the hotel after an exciting day and could take a refreshing swim in the pool.
The hotel team always was very helpful no matter what we needed. We got a pick up from the harbor, they organized a scooter for us and also organized a new one in no time because the brakes of the other one weren't working. A drive to the airport wasn't a problem either.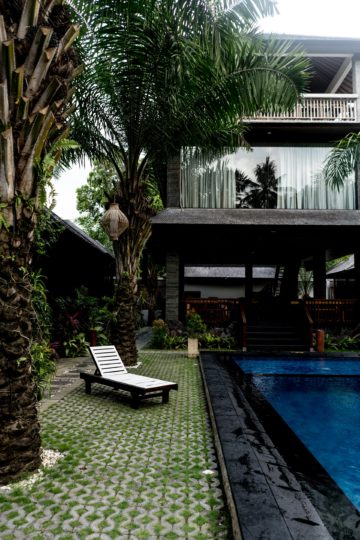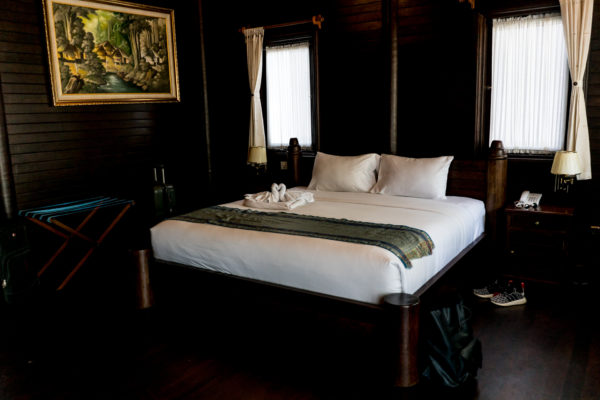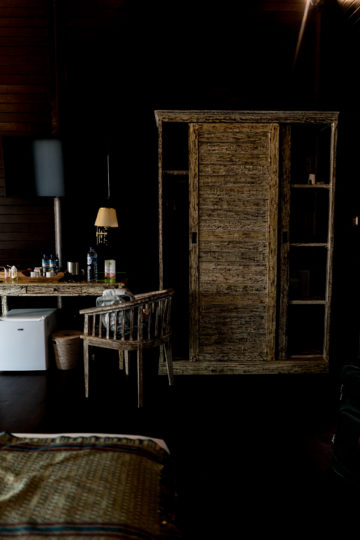 The Room/ Bungalow
When you book a room at the Coconut Boutique Resort in Lombok, you do not only get a room. You get a whole bungalow for yourself. It is not a secret that I really like boutique hotels. So I was super excited when I heard, that this hotel has only 16 rooms aka bungalows.
These bungalows offer everything you need: a comfortable bed, TV, work desk, wardrobe and a pretty outside bathroom with a shower as well as a terrace in front of the bungalow. Coffee and tea as well as mineral water are complimentary and filled up every day! All rooms also have air conditioning, which is quite important in Lombok, because it gets very hot. Another thing that might be essentials for all of you: wifi! And yes, wifi is included as well and it isn't that bad. It worked fine for me and was better than others I tried to connect my smartphone or laptop with in Bali and Lombok 😉
The Location
The Coconut Boutique Resort is located on the west coast of Lombok about 10 minutes from the harbor in Senggigi (by car). For us, it was the perfect location to explore the whole west coast, because it is about a two-hour drive to both the north and south of the island with the scooter. The only "downside" is that it isn't located in a bigger village. Due to that, there are no restaurants close by. You have to drive either to Senggigi or Mataram if you want to eat at a restaurant outside of the hotel. And both are 10 to 15 minutes away with the scooter. You also need to know, that the hotel is not located on a beach and the closest beach isn't within walking distance. But the hotel does have a big pool, so we actually didn't mind that there isn't a beach close by.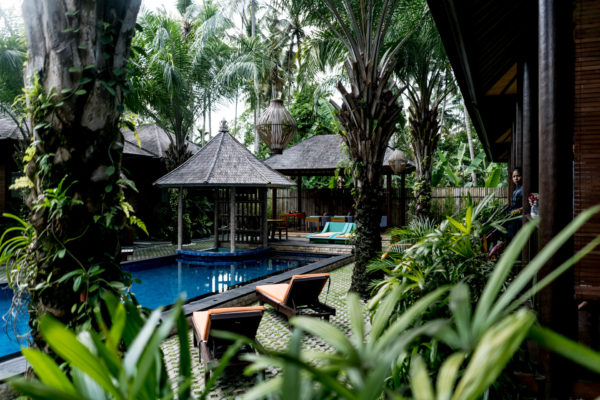 Close to the Coconut Boutique Resort is a Mosque you do hear. But it actually wasn't an issue for us, you just might want to know it before you book. Some people might be annoyed by the call to prayer.
The Food
Last but not least let's talk about the food and start with the breakfast. I have to admit, that I am quite dainty when it comes to breakfast and I wasn't a hundred percent happy with the one I got at the Coconut Boutique Resort. They offer four different options: an Indonesian breakfast, American breakfast, cornflakes/muesli breakfast as well as an English breakfast. In addition to this, you will get an egg dish (omelet, scrambled, sunny side up,…), a fruit platter as well as coffee or tea and fresh juice. I usually eat bread rolls with cheese or porridge in the morning and am not used to what they offered. I went for the American breakfast, which was a croissant, toast, marmalade, and butter. I also had the omelet and a fruit platter, and these two were super delicious and my favorite part of the breakfast 🙂 Altogether the breakfast at the Coconut Boutique Resort isn't the best, but it sates and tastes good.
We also tried some dishes from the Lunch and Dinner menu such as the Club Sandwich or their fruit salad and everything was prepared lovingly and very tasty. I would definitely recommend eating there.