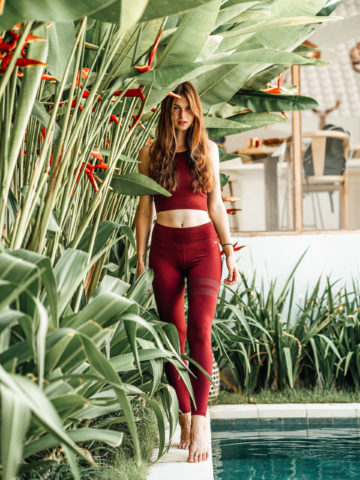 Good morning and happy Sunday from Lisbon. Yes, you read right. We neither are in Bali nor in Berlin at the moment. And in today's post I will tell you everything about our last days in Bali as well as the 48 hours we spent in Berlin before it was time to leave again and fly to Lisbon. Let's get straight into it and start with the last weekend in Bali.
I enjoyed our time in Bali so much, I forgot what day it was at one point and was surprised when I realised it was already our last weekend in this tropical island. We stayed at three different accommodations these last couple of days in Bali. On Saturday we were still in Canggu, my favourite place in Bali. We started the morning at the villa and relaxed by the pool before we headed to the beach to go surfing for an hour. Unfortuantely the conditions weren't the best and I couldn't enjoy it. We tried to surf for about an hour before we gave the surfboards back and decided to go to the beach earlier on Sunday – in hope that the surfing conditions would be better in the morning. We were quite exhausting after surfing on Saturday and didn't do much but eating and relaxing in the afternoon and evening on Saturday. On Sunday we got up at 7 am, had breakfast at the villa and drove to the beach around 9 am. We went surfing for another hour, but it was quite the same as on Saturday. I also fell that day and hurt my leg a little bit. I didn't feel like trying it anymore after that and my boyfriend was exhausted as well, so we drove back to the villa.
Once we were back at the villa we had to pack our bags and check out around noon on, because we were spending the night from Sunday to Monday at another accommodation close to Keramas beach. We were staying at one of the Komaneka resorts and guys, the private pool room we had was the most amazing room! This place definitely was my favourite accommodation and I can't wait to share more details about it soon. 🙂 Due to this amazingly beautiful room, we spent the whole day there. We even had breakfast at our room on Monday morning! Unfortunately we had there only one night and had to check out around noon.
From Monday until Wednesday we were staying in Kuta. We had not stayed there before, so we drove to the beach on Monday afternoon to see whether we could surf there or not. We also walked through the streets close to the beach and had dinner at a restaurant there. Since we had a private pool villa in Kuta as well, we spent a lot of time there and tried to relax as much as possible on our last days in Bali. So on Tuesday we didn't do anything but laying by the pool and reading before heading to the beach for an hour of surfing around noon. Surfing at Kuta beach was much better than in Canggu and I was very happy about that. It was the last day we had the chance to go surfing and I wanted to make the best of it.
In the afternoon we went to a shopping center close to the beach, where we had lunch and browsed through a couple of stores. We ended up at the beach to watch the sunset and had dinner at an indonesian restaurant afterwards. It was such a lovely last day in Bali and it made me NOT want to go home even more haha.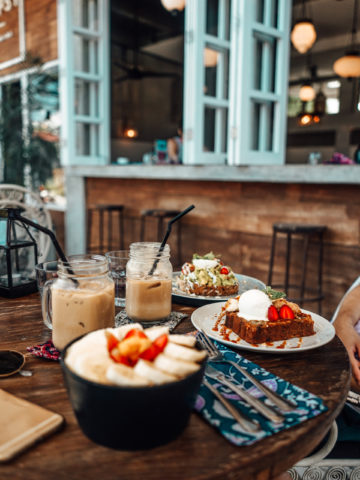 Our flight back to Germany was at 7 pm on Wednesday, but we had to check out at noon. We packed our bags, left them at the hotel and drove to a beach club in Seminyak where we spent four hours before it was time to drive to the airport. It took us 24 hours to get back to Berlin and you can't believe how exhausted and tired I was once we were home. To avoid jet lag, I didn't want to sleep before 9 pm, therefore I had to stay awake for 8 hours! It was hard, but I made it haha. I feel asleep around 9 pm and guess what? I woke up at 4.15 am on Friday. -.- So much about jet lag. We didn't try to fall asleep again and decided to watch The Walking Dead instead. We couldn't watch the new episodes when we were in Bali and had to catch up on two! Afterwards we went to the office and that's were we spent most time of the day. Nothing exciting at all haha.