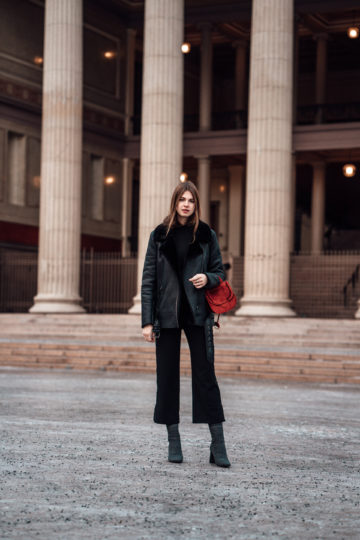 And another good morning from New York! 🙂 Well, I am probably still sleeping while you are reading this, but let's pretend it was already morning in New York. I prepared and scheduled this post on my way to New York because I knew, we would be out and about almost all day and I just wanted to make sure, there won't be a lack of posts on the blog. So while I am either still sleeping or already running around in New York (it depends on when you are reading this), you can have a closer look at the second outfit I was wearing on day two of Oslo Runway.
I mentioned before that I got changed several times during Oslo Runway. On day one I got dressed for two of the shows. Therefore I was wearing three different outfits, and on day two I just had to wrap up myself. Additionally, I really wanted to wear this red Cala Jade bag for their presentation. And if you have seen yesterdays outfit post, in which I showed you the first outfit I was wearing on day two of Oslo Runway, you might know, that I wasn't wearing the red bag that first half of the day.
Red Bag combined with an all black look
Of course, I could have worn this bag with the first outfit that day as well. BUT I wanted to focus on the bag. And in combination with a red jacket, this red bag would not have stood out as much as I wanted it to! So the only solution was to combine it with an all-black look.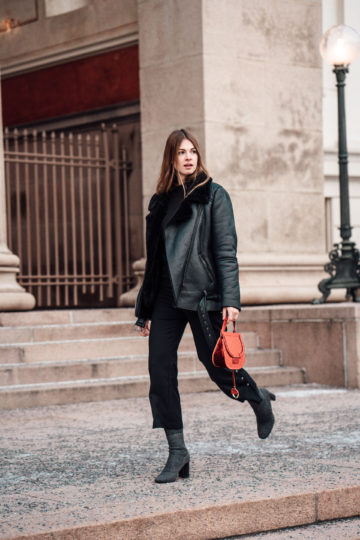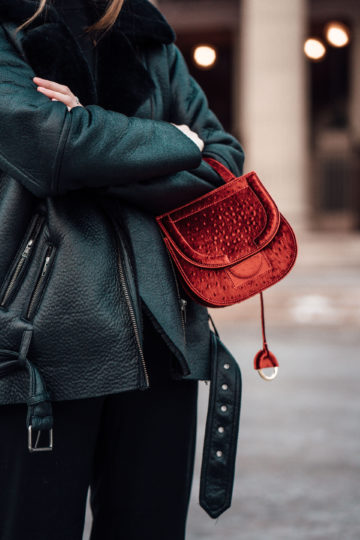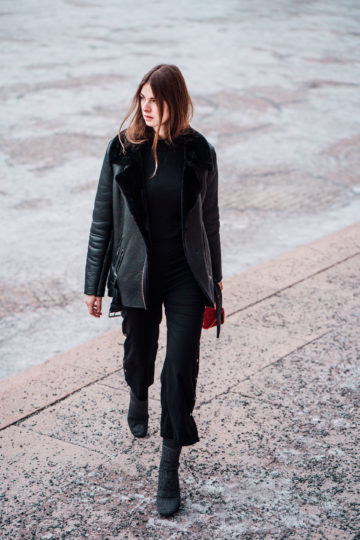 I mean, all black always works. Either when you don't know what to wear or when you want to focus on one specific piece of clothing. And yes, once again I went for this solution because it is the simplest. Well, I cheated a little bit. Instead of wearing black boots, what I first wanted to do, I went for my grey glitter boots from Zara. Still not the smartest decision, because the sidewalk was as snowy and icy as it was in the morning, but I survived the first half of the day wearing them, so I was sure, that I would survive the second half of the day without falling as well.
So let's get back to the all black outfit I chose that day. I was wearing a pair cropped clothes pants with buttons on the side from minimum, my black turtleneck with several layers underneath and my black shearling jacket. It is a simple look, that kept me perfectly warm that day. Additionally, it sets full focus on my bag, and that's exactly what I wanted to achieve with that look. How do you like it?
I shared four out of five Oslo Runway outfits so far. Next week I will share the last one before I begin with sharing everything from our trip to New York. But first of all, I would like to know: which one has been your favourite Oslo Runway outfit so far?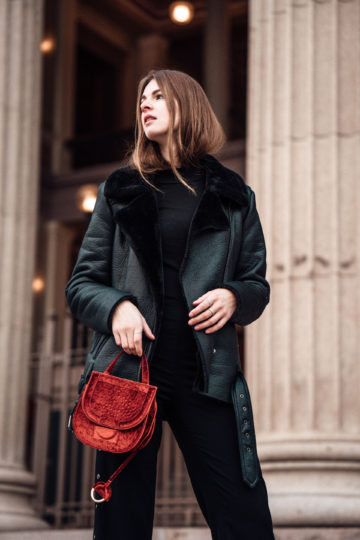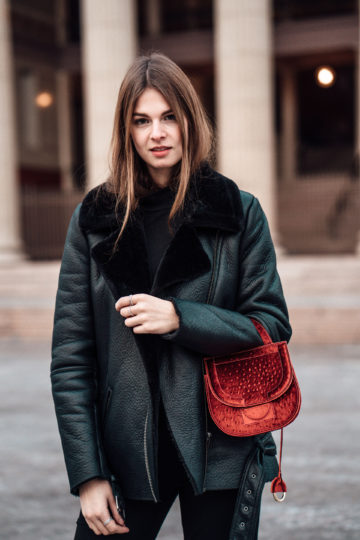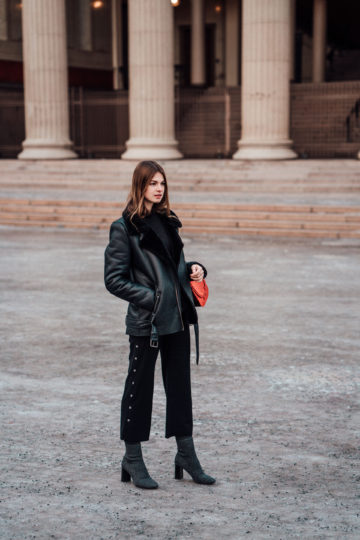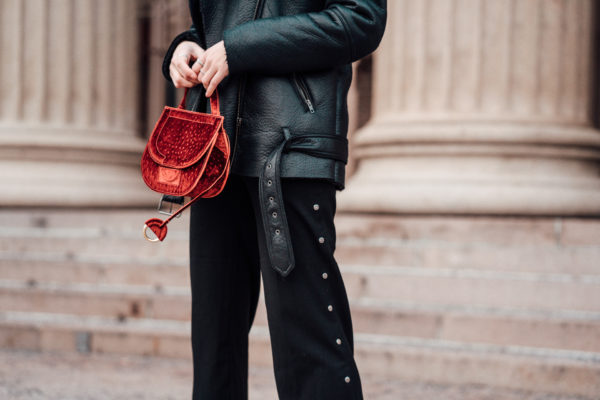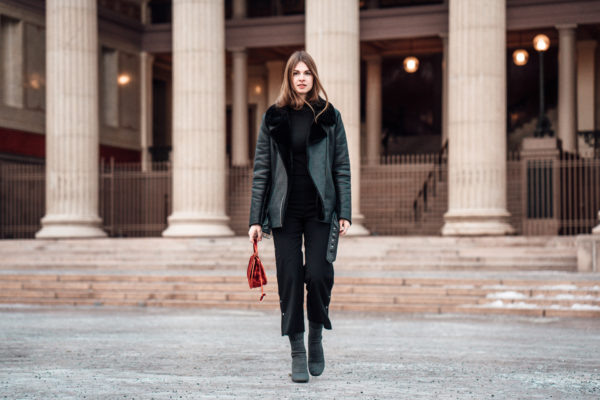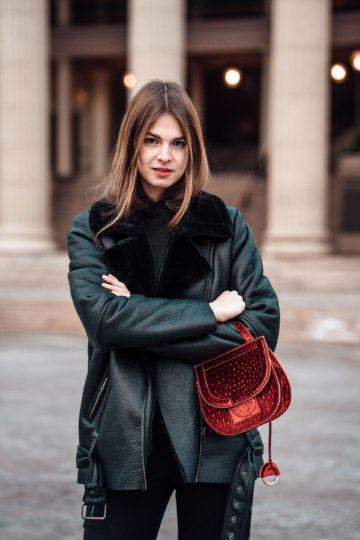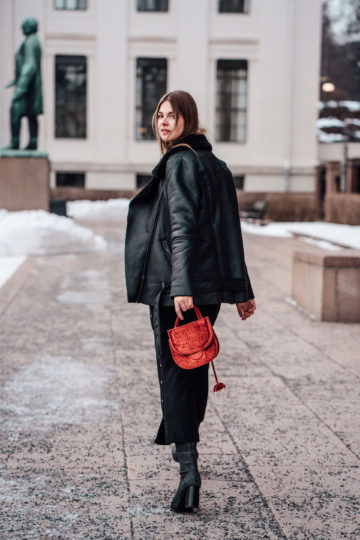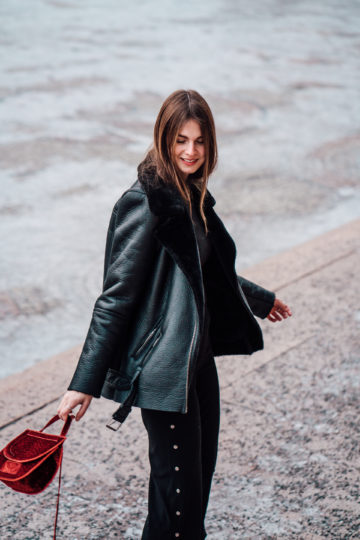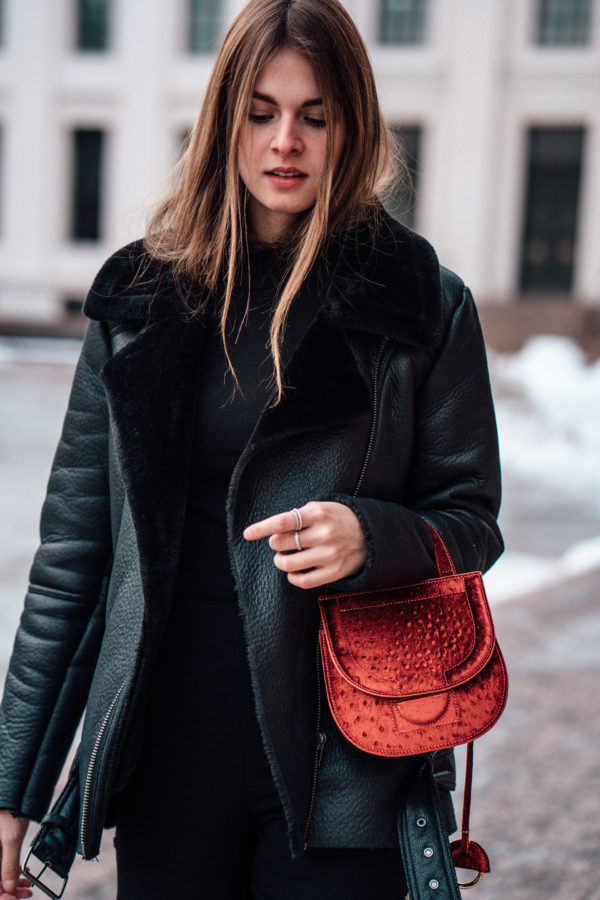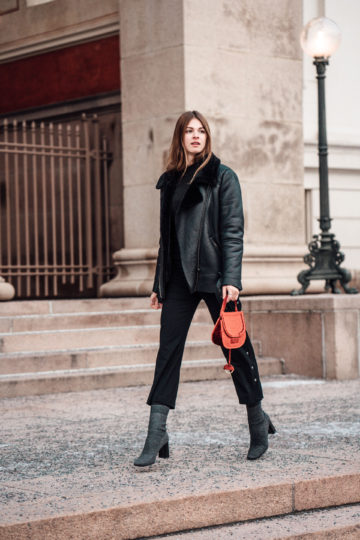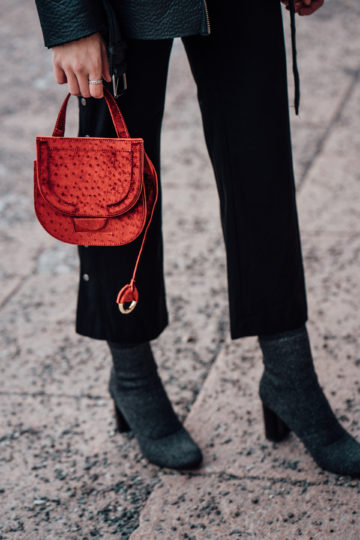 *PR Samples contained: minimum jacket || Vila turtleneck || minimum pants || Zara shoes || Cala Jade bag