When Adidas invites me to one of their events, I just have to say YES! The Adidas events are always so much fun, and in addition to this, I get to do a workout as well. 😉 Especially after two weeks of travelling and don't do any exercises or sport in general, it was great to do sports again. You probably can imagine sore my muscles were the days after… (I couldn't walk for days!).
The event started with filming some pretty cool 180° videos. It was my very first time, and I couldn't wait to see the final results. I did a couple of exercises together with a trainer and continued by myself so that they could film it. Unfortunately, I can't upload the videos here on the blog, but I'll share one of them on Instagram, so make sure to follow me if you want to see it. It's a combination of slow motion and normal speed, and I can tell you, it looks sick! You definitely need to check my Instagram to see it.

After filming these videos, I was already a little bit exhausted – I told you, I didn't do any sports for two weeks! We did most of the exercises on one site only, and this leg was already a little bit sore. x) But luckily I had an hour left before the real workout started. I had something, so drink had a look at the new training collection, which is pretty nice! You can see me wearing some of the new pieces in these pictures. The shoes are super comfortable and fit perfect. I have another pair of Adidas training shoes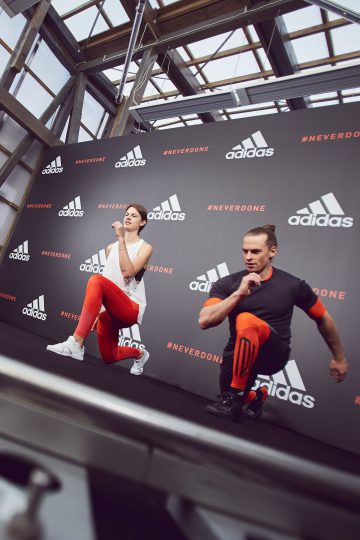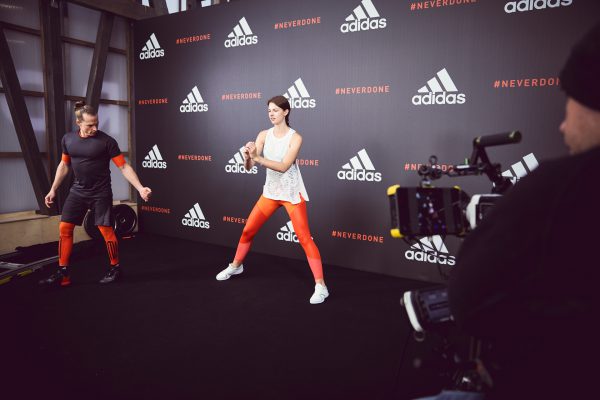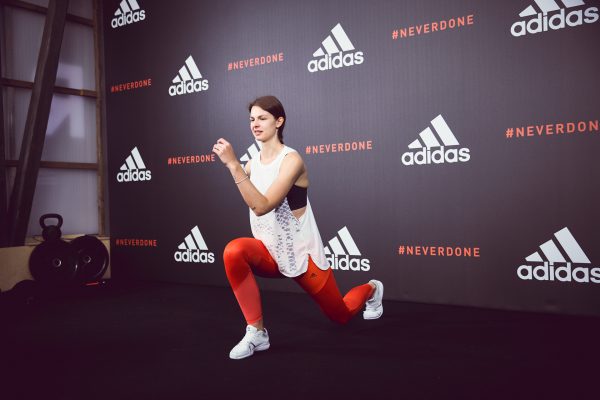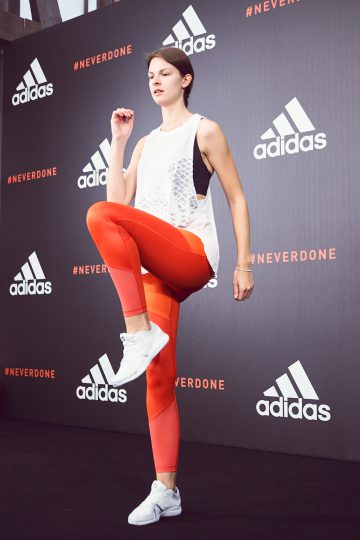 that are not that comfortable, so I'm happy I can now replace them. Regarding the tights, I first was a little sceptical because of the bright red. I usually only wear black, white or grey when doing sports, but red is a nice change. Red is actually my favourite colour even though I barely wear this colour 🙂 What do you think about the tights? Would you wear red pants to the gym or when you're going for a run? Another piece of the new collection is this white top. We also got a red shirt, but that was a little bit too much red for me, especially because I was also wearing the red jacket of the new collection. 😉 That's why I chose the white top instead of the red one.
NEVER DONE Training Week with Adidas
Enough outfit talk, let's talk about the workout and the NEVER DONE campaign. During Fashion Week, Adidas did a very special 45 minutes workout that was created by professional Adidas Athletes and Runbase Coaches. The workout was tough, but a lot of fun at the same time. I enjoyed the challenge, and I love the idea behind the NEVER DONE campaign. It means that our training is never done. We should challenge ourselves every time we do sports. If one workout is done, we can already get ready for the next one. Try to get better every time you do a workout, every time you go for a run or just every time you get active. You can always do more, boost your performance and get better. And don't forget: YOU'RE NEVER DONE!