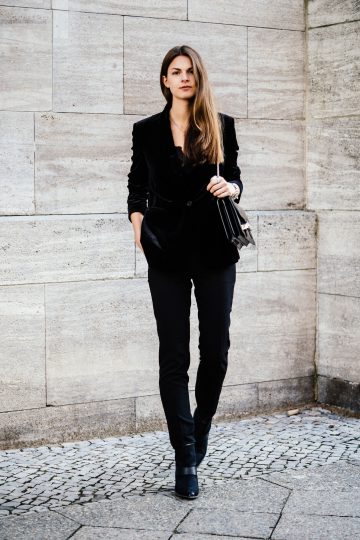 I came back the evening before Fashion Week started, so I didn't have a lot of time to plan and prepare all my Fashion Week outfit for this season. I tried to prepare everything in Sri Lanka, but when you're wearing summer clothes all day, you don't feel like planning winter outfits 😉 I was super happy to team up with Jake*s and to create one of my Fashion Week outfits with their styles. I was sitting in our hotel in Ahangama while we were having breakfast and searched the online shop for some styles I would love to wear during Fashion Week. It was a little bit weird to sit outside in the sun, looking at winter styles and trying to imagine how I would combine and wear them. That's why I kept it very simple and chose some very nice basics in my favourite colour: black!
All black Jake*s Fashion Week Outfit
All black is always a good idea, and once again I decided to go with it. Choosing the outfits to wear for Fashion Week in Berlin used to be kind of hard for me because I wanted to look perfect. In the end, I usually didn't feel comfortable and wasn't very happy with what I chose, because I saw all those beautiful people with their perfect outfits. But there was a point when I got more confident, and I decided to stick with what I feel comfortable in. I don't care about what others think about my outfit or if it is perfect, or not. As long as I feel comfortable in an outfit, it is perfect to me.
I always feel comfortable in black pieces, and I think it's because they work with everything. You can never go wrong with black. The first piece that caught my eye was velvet blazer. I have a thing for velvet and was looking for a nice blazer for quite a long time. I knew that's the key piece I need for my Fashion Week outfit and started looking for pieces to combine it with. Jake*s also has a pair of velvet pants that match the blazer, but unfortunately, it wasn't available in my size, so I went with this pair of black pants instead. It's such a classic piece, something everybody needs in their wardrobe! Both pieces are part of Jake*s Collection, a city collection of new formal basics, that also work as fashion pieces. Jake*s Collection is one of two subbrands; the other one is called Jake*s. Both subbrands focus on modern cuts and materials. The brands Jake*s itself stays for urbanity combined with a stylish sense of life.
How do you like my Fashion Week outfit? What do you think about the pieces I chose? I'm looking forward to reading your comments. xx