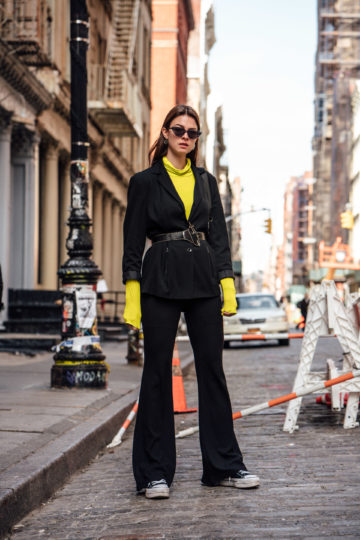 I know, you've been waiting for my posts from New York, and today I will finally start sharing all of them. I left New York more than two weeks ago, and when we were there, it still was quite cold and not as springlike as I thought it would be. Of course, I had only spring outfits packed. Not just because I expected it to be warmer, but also because that's what I wanted to photograph for you. It's finally warm enough in Germany and most parts of Europe to leave the winter jacket in the wardrobe and to get all the spring jackets out.
For one of the outfits I was wearing in New York, I focused on one of the trends for 2019: neon. It is one of the trends not all of you will like, especially not when you like to keep it simple when it comes to your outfits. But with today's outfit post I want to show you how you can dress the neon trend down.
All black outfit and a touch of neon
If you are not sure about the current neon trend, but you want to keep it a try, there is a simple way to give it a try without going all in. Wearing neon doesn't mean your outfit has to be all bright and fancy. You can add some neon details to your outfits such as neon accessories or the way I did it in New York:
You can wear a neon longsleeve underneath a blazer, so only a few parts of the piece of neon clothes would be visible.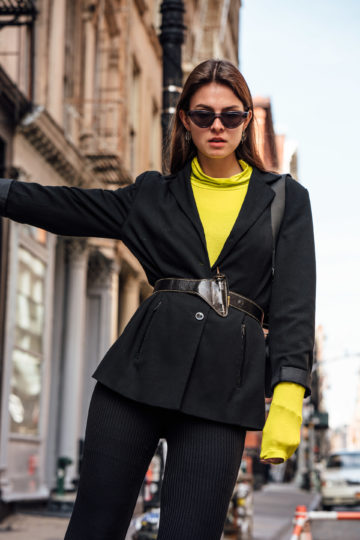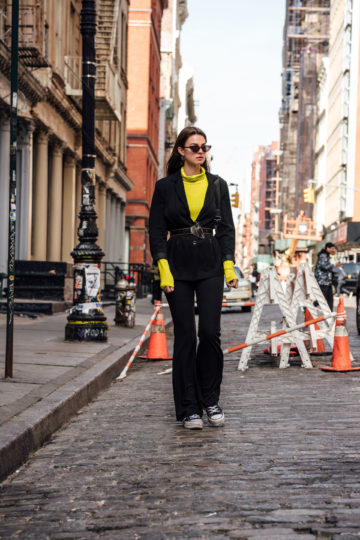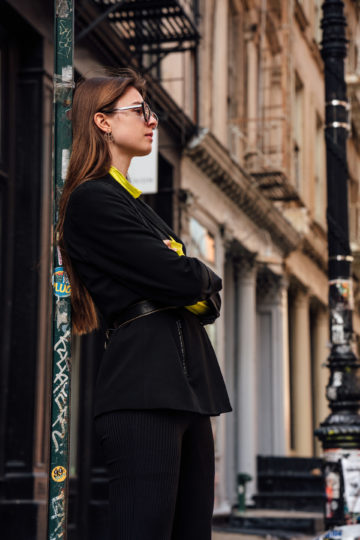 I opted for an all-black outfit to combine it with my neon longsleeve as that's the one combination that always works. Combining neon with blue or other colours would create a much bolder look, and that's not what I wanted to do. I wanted to keep it simple. At the same time, I wanted the neon to be visible, because what's the point of wearing neon when you can't see it?
Wearing a neon longsleeve underneath a sweater, t-shirt, blazer or jacket is the easiest way to add some neon details. Wear a sweater and roll up the leaves a little bit, so only parts of the sleeves of the neon shirt would be visible. Wear a t-shirt to make even more parts visible and wear a jacket or blazer to only cover a few parts of the neon shirt.
Neon clothes you need this spring
If you want to give the neon trend a try, I would start by getting a longsleeve in neon-yellow or neon-green. To me, those are the two colours that are the easiest to combine. If you are not sure about whether you will like it or not I wouldn't recommend getting a pair of neon pants, jackets etc. A T-Shirt or tank top is also a nice idea as you could always wear a tank top above the t-shirt or a longsleeve underneath the tank top to dress it down a little bit.
What do you think about the current neon trend? Do you already got a few neon pieces or are you still not sure whether you will buck the trend? Let me know what you think about it and also leave me your feedback on my all black outfit with a touch of neon. xx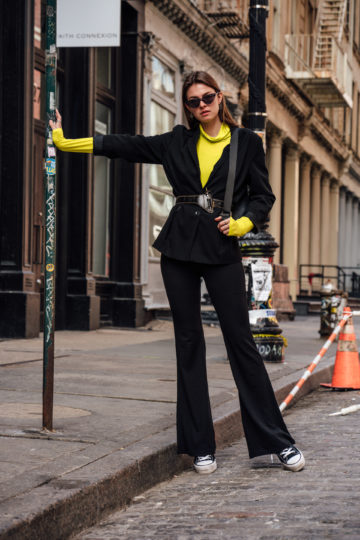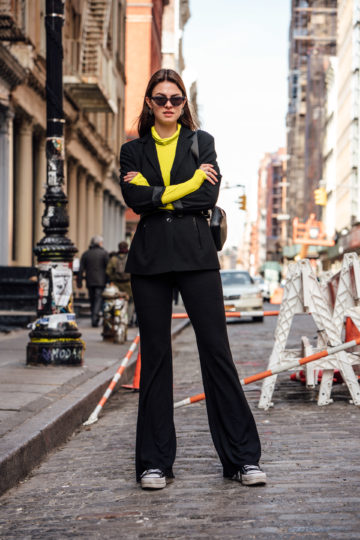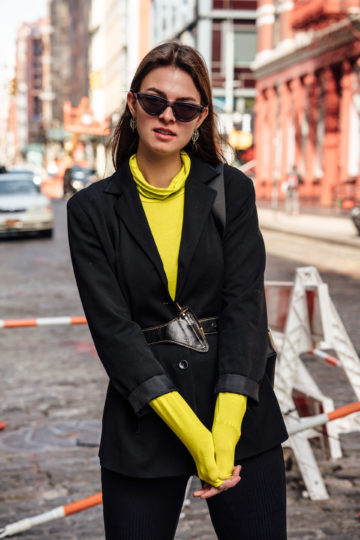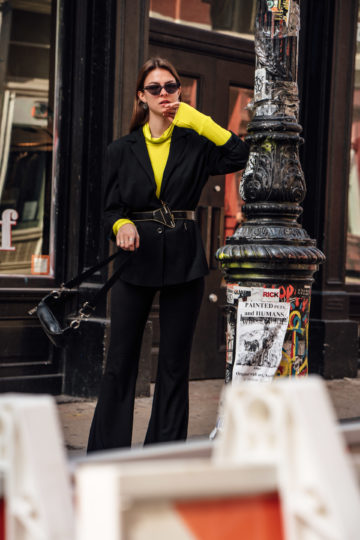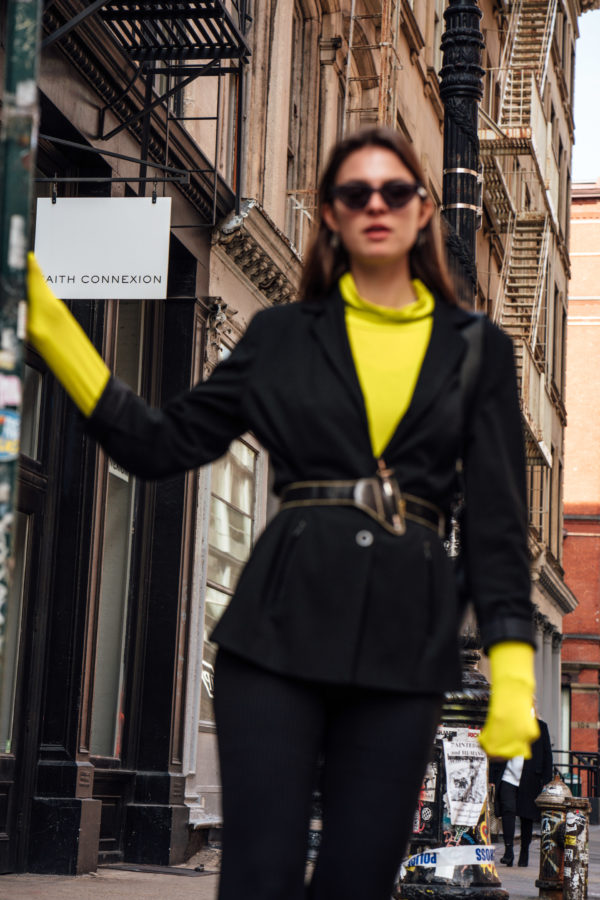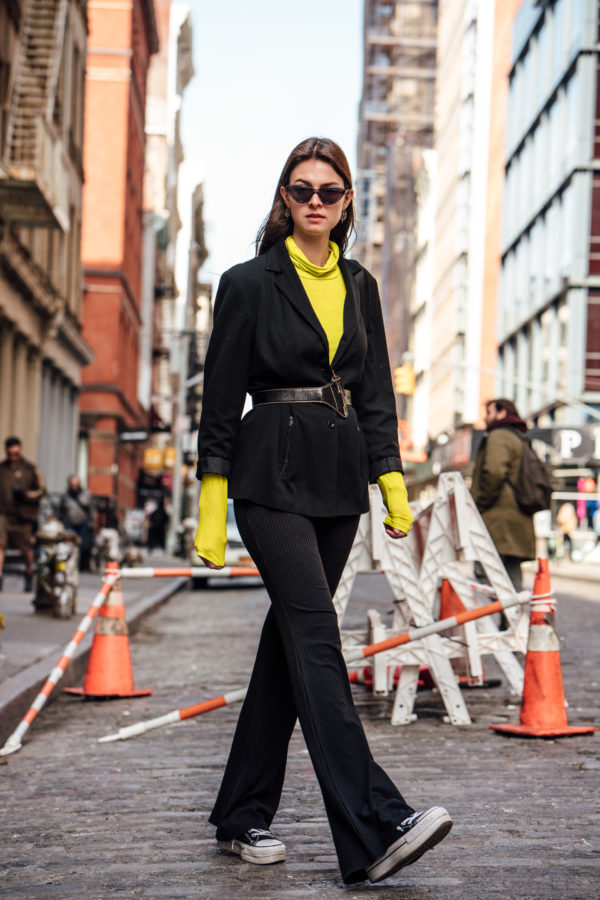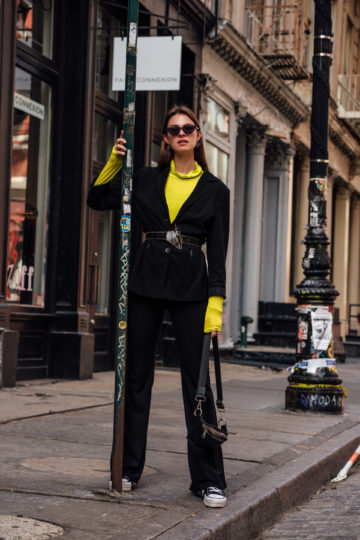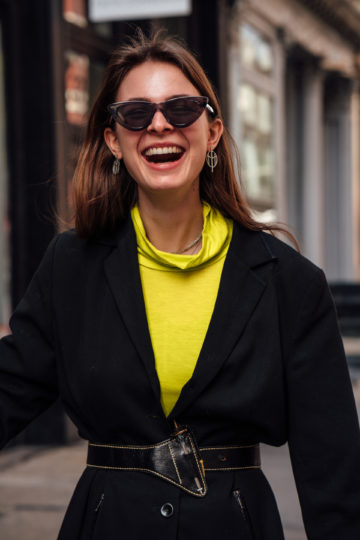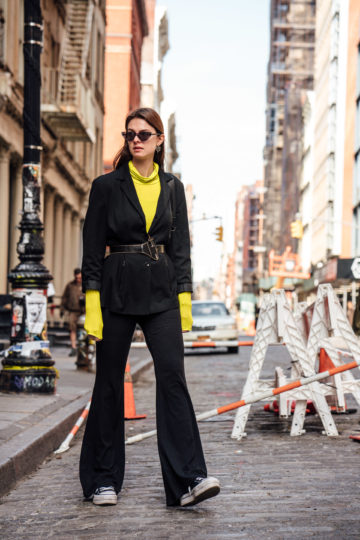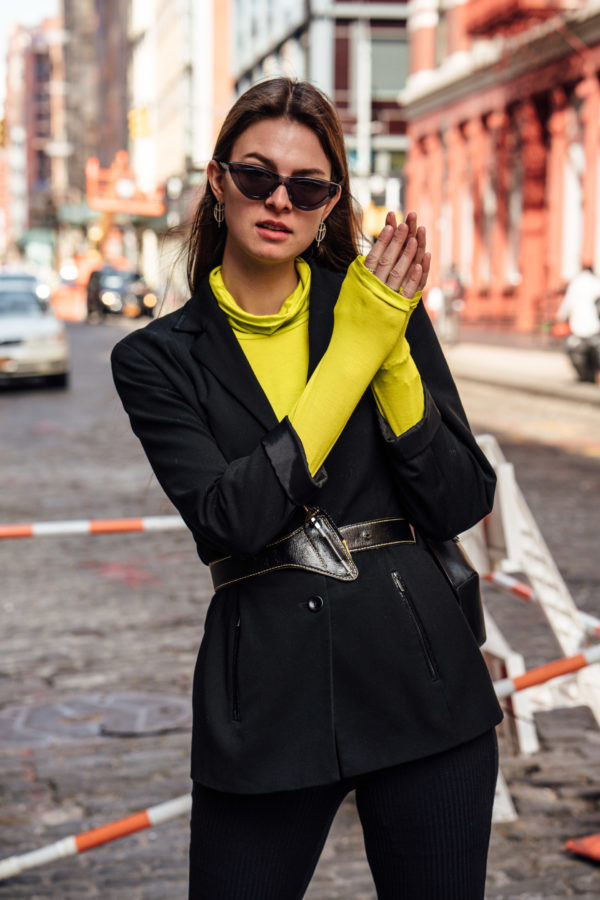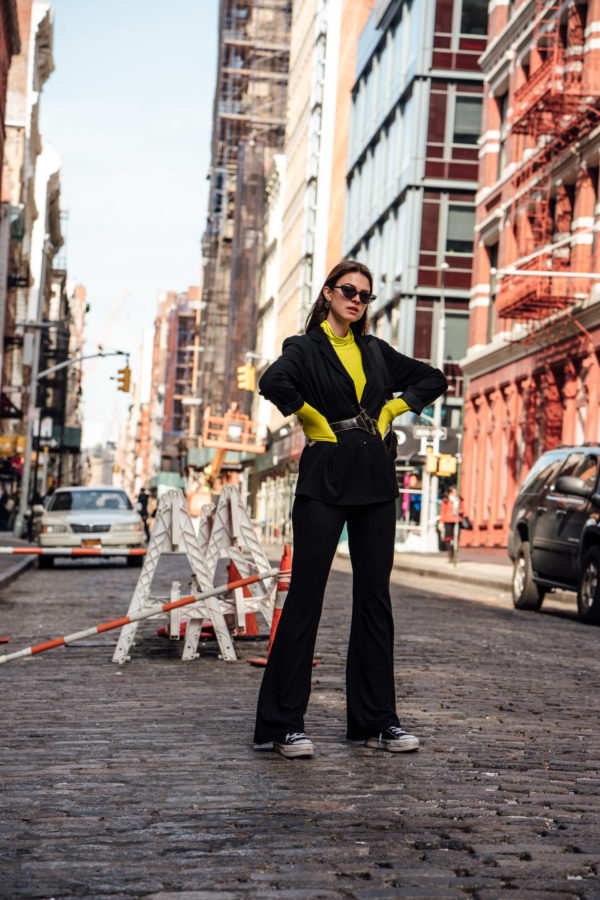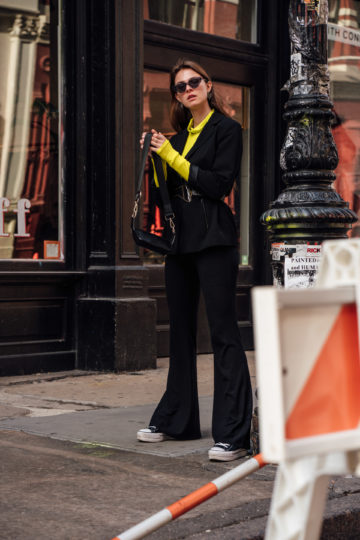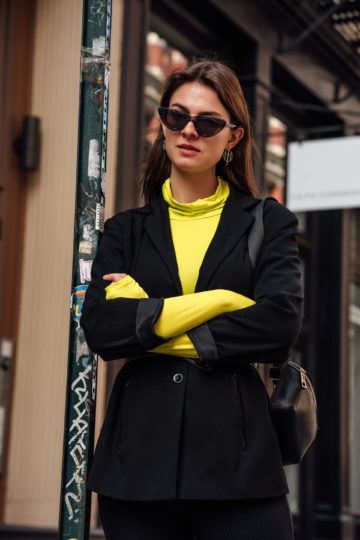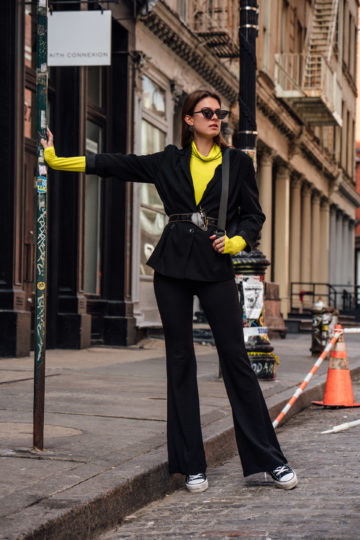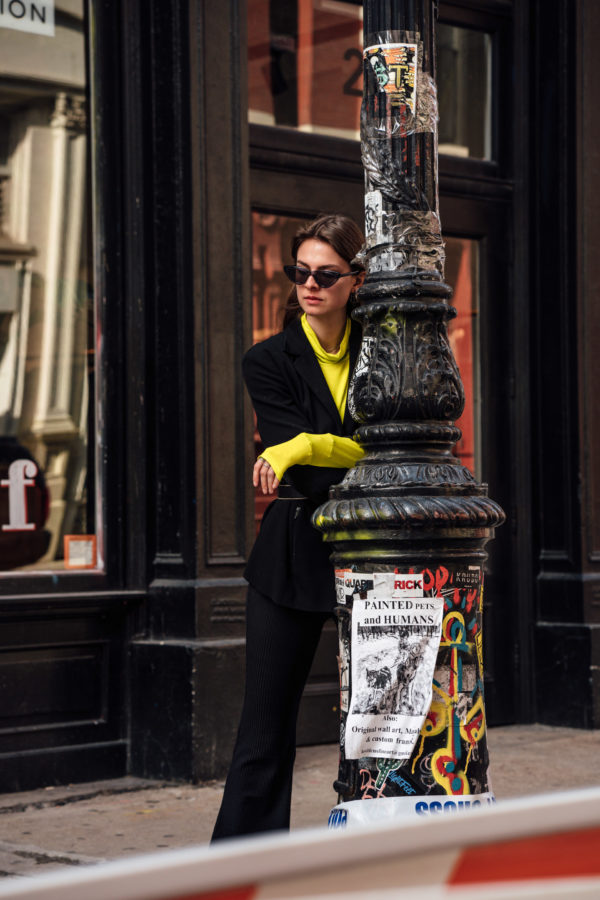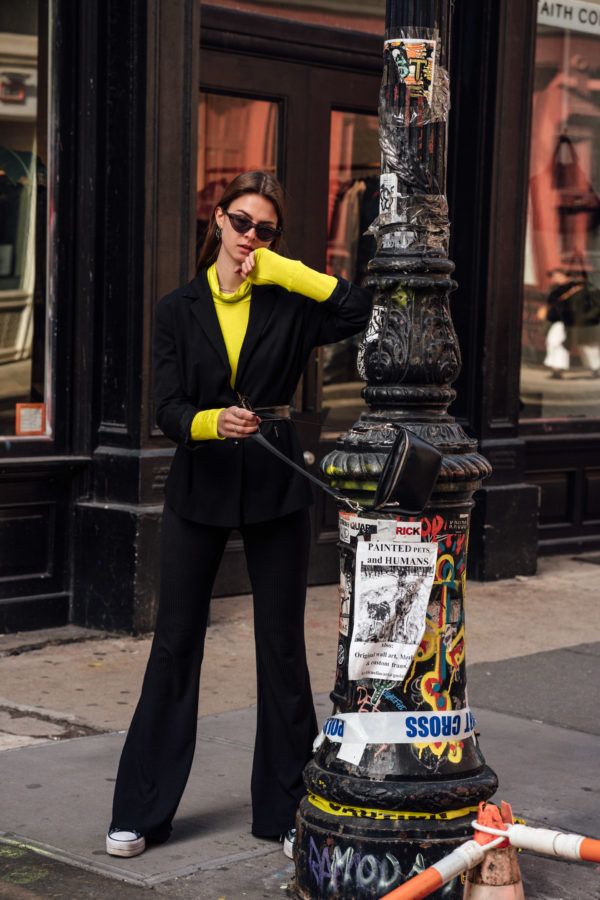 *Ad, brands named – VIntage Blazer || Noisy May Longsleeve || Loavies Pants || Vintage Belt || Converse Shoes || Chimi Sunglasses