Now that my interior, as well as the beauty post, are online, I can finally share the last outfit from Berlin Fashion Week I have left. 🙂 I can't believe Fashion Week was about a month ago and that it took me so long to share all the outfits I was wearing with you. And guess what? Next week I will be in Copenhagen for Fashion Week, which means that even more Fashion Week outfits are coming. But as might know, I am always putting outfits together that are not only suitable for a fashion week but also for everyday life. I would rather wear something super casual than something I would feel kinda dressed up in.
So this last outfit from Berlin Fashion Week is definitely something I would not only wear for this occasion. It was a very comfortable and casual yet quite fashionable look as it is all about some of the current trends such as Cowboy Boots and neon-coloured clothes. Read more about it in the following:
Neon green suit combined with cowboy boots
Those of you who follow me on Instagram might have seen a lot of outfits with neon-coloured clothes already. But on the blog, I haven't shared that many so far. I was wearing a neon green top during Berlin Fashion Week, and I think that's the only outfit I shared on the blog. Due to that, I haven't shared a lot about this trend, and that's something I want to change today as I am really into neon at the moment and I am sure it is one of the trends that will stay a bit longer.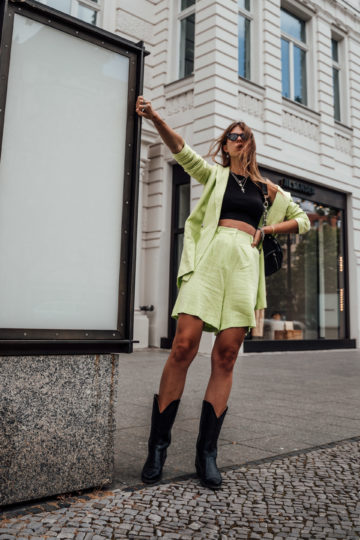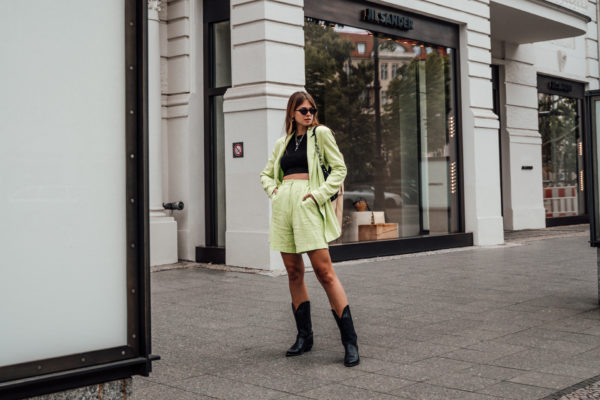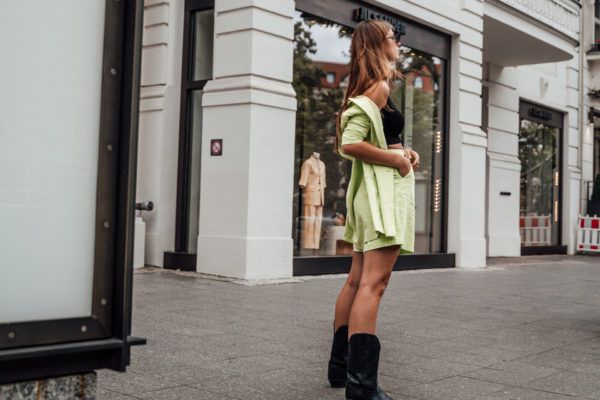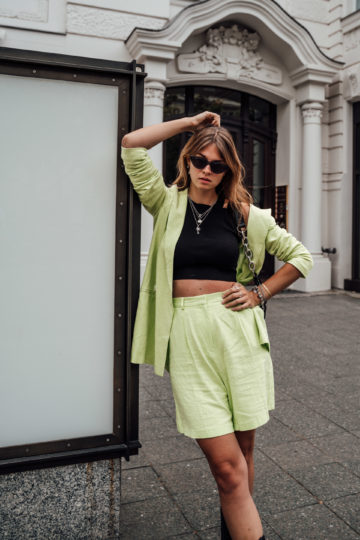 I must admit that I first wasn't a big fan of this whole neon trend as I wasn't wearing a lot of colours. But as I got more into colourful outfits, I also got more into neon and started wearing a few neon-coloured outfits. When I was in Cape Town at the beginning of the year, I brought a light neon green bodysuit with me. I was only wearing it once, but I liked how the photos we took turned out, and I got myself a few more neon-coloured clothes.
For Fashion Week I just had to wear some of these neon-coloured clothes, so in the end, I did it twice. I was wearing a neon green tank top for an event (you can find this outfit here) and I was wearing this neon green suit on another day when I went to two blogger events and didn't need to wear something super fancy and fashionable. I felt like wearing something comfortable that's not too simple. And as I had just received this neon green suit I thought it would be the perfect occasion to wear it.
I must admit, a neon green suit is everything but casual or simple. It is very eye-catching and quite fancy. But you can even combine a suit like this one in a casual way, so it becomes suitable for your everyday life. I decided to combine it with a black crop top as well as black cowboy boots. When you want to wear a neon green suit, I would suggest to keep it a bit simple when it comes to combining it. Wear basics and colours such as black, white or grey and there's not a lot you could do wrong.
How do you like this outfit? Would you wear a neon green suit? Let me know what you think in the comments. xx
*Werbung, Markennennung – Asos Zweiteiler || Noisy May Crop Top || Berska Gürteltasche || Boots via Black Palms the Label