The best trips are those where you don't plan every single detail and just go. That's precisely what we did this year, and we ended up at some of the most amazing places. Before we left, we just had booked our flight to Hong Kong as well as the hotel in Hong Kong, and we already knew, that we wanted to go to Indonesia after Hong Kong. But no flight and no accommodation were booked.
When I was sick at home the days before our departure, I had a lot of time to stroll through Instagram, and I found a pretty amazing looking place in Indonesia I wanted to check out. I talked about it with my boyfriend, and even though the first wasn't quite sure, I finally could convince him. So after our five nights in Hong Kong, we headed to Indonesia. And to get to that place we had quite the journey to take. We first had to fly to Jakarta, then took a flight to Gorontalo (on Sulawesi) followed by a two-hour car ride and last but not least a 25-minutes boat ride. Don't even ask how long it took us to get there haha. But we made it!
Where to find Maldives Style Water Villas in Indonesia
Okay, so far I've just talked about what a journey it was to get to the place we stayed at after Hong Kong, but I haven't really talked about that place. So here you go: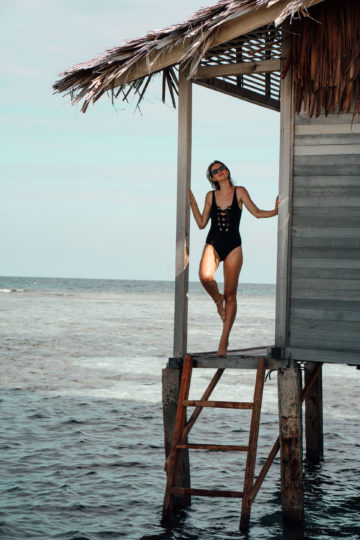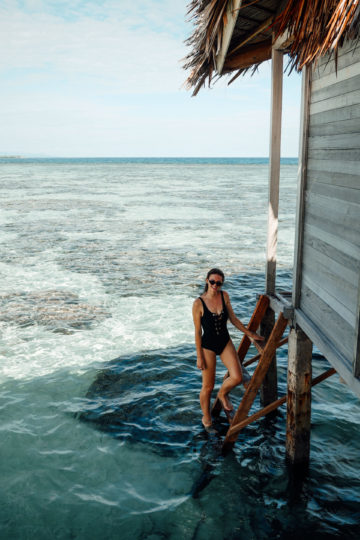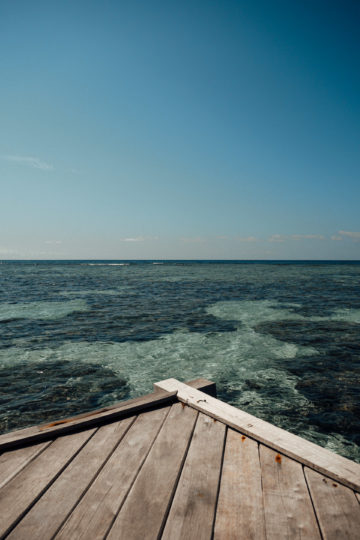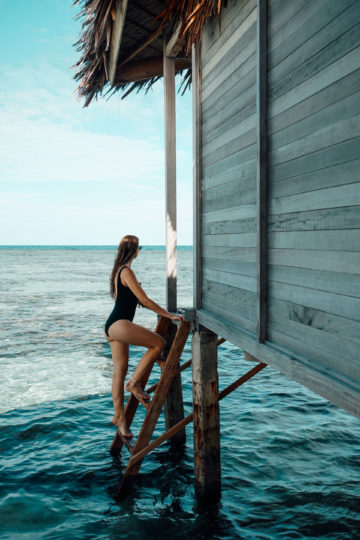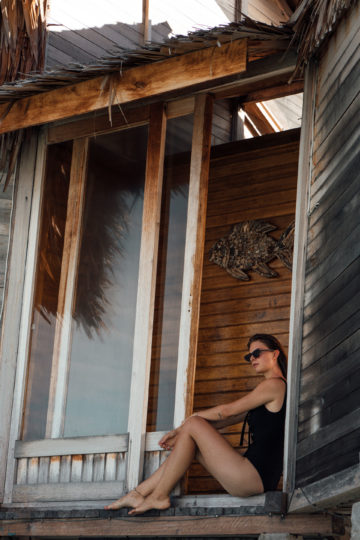 The place is called Pulo Cinta Eco Resort, and it is located on a sandbank south of Gorontalo, Sulawesi. Since there is only a small sandbank, you sleep in water villas that look like the Maldives Style Water Villas we all know very well from several Instagram pictures. I haven't made it to the Maldives yet, and I am not sure if I want to go, but I do love those water villas, and I was so happy when I found this place in Indonesia.
What to expect when staying at these water villas
The resort is quite small. They have a couple of water villas, a restaurant located on the sandbank and that's actually it. There's not much you can do but eating, sleeping, snorkelling and swimming. It is the perfect place to relax a little bit and just focus on enjoying some time off.
I have to admit, that we weren't quite sure what to expect and that not all the reviews were positive. You definitely shouldn't expect luxury when going there. One of the things we didn't know beforehand was that there isn't warm water. I first didn't like the fact, but then I actually didn't really mind. The water wasn't freezing cold; it just wasn't comfortably warm. Other than that they have everything you need such as a toilet, a comfortable bed and even a TV. The only thing missing was wifi, but we just bought a SIM card when we were in Jakarta, and that worked perfectly fine.
The last thing I would like to mention is the fact that you can't just leave the island and go somewhere else. You are basically stuck there. You can't just leave the resort and get yourself something else to eat or drink, and you can't buy whatever you might need or want to buy. So make sure to bring EVERYTHING you might need on this trip. (Of course, if there were an emergency they would help and take you somewhere where you could get whatever you need! There are always boats ready to leave just in case you need to.)
Speaking of the food and drinks, you get breakfast, lunch and dinner. The food always was very delicious, but after a couple of days, I would have died for a pizza or pasta. But that's just because there wasn't that much variety in food. Also, you need to know what to ask for, because there isn't a menu. They do prepare a couple of things for you if you just ask for it such as a fruit platter or fresh juices.
With all those things you should be aware of, I also want to mention WHY it is worth a trip: nature! The water is amazing. You see plenty of sea life when snorkelling there, and it's perfectly relaxing. I would definitely come back for some days off and pure relaxation. 🙂 Also, is there anything better than sleeping on the water, listening to the waves and breathing the fresh air?!
Okay, enough said. I actually didn't plan to write that much about that place haha. But you guys loved it when you saw it on Instagram, so I thought I should share an honest review with you guys. Let me know if you have further questions and I would love to answer them. xx