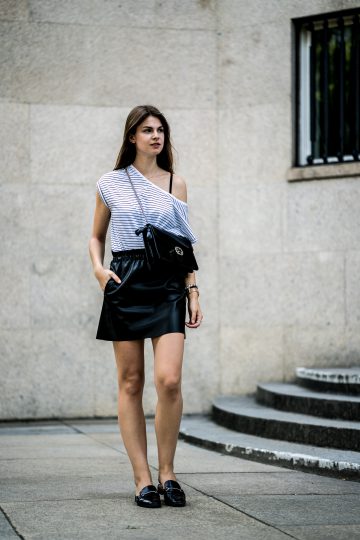 Happy Monday, I hope you guys had a great weekend! What were you up to? Did you have the time to relax and recharge your batteries? Or were you on the road all weekend? I had a very peaceful weekend and enjoyed the perfect weather to the fullest. We also had the time to take new outfit pictures so that I can share some very summery outfits with you this week. But before sharing the outfits we took pictures of this weekend, I want to share an outfit I was wearing about a week ago. The day I was wearing this outfit was a very warm and sunny day as well, and the skirt actually wasn't the best choice. Of course, not because it was a skirt but because of the thick fabric. The skirt is made of fake leather, and it's not the best idea to wear fake leather on a hot day in Berlin, believe me.
Anyways, I really like this outfit and will wear this kind of combination more often during summer, but not when we have almost 30°C here in Berlin 😉 In the following, you can read more about the outfit combination and have a closer look at the pictures we took:
Leather Skirt x Striped Tee
I already mentioned the (fake) leather skirt I was wearing that day. I found it at Zara the other day, and the price was pretty good so that I couldn't resist. It was lying in my closet for quite a while because it either was too cold to wear a skirt or I just didn't feel like wearing it. I have to admit, that I also wasn't that sure about how to combine this fake leather skirt first… in the end, I decided to combine it with this oversized striped tee I got from Zara as well.
It is a very simple but classic outfit combination. Sometimes (or let's say often) it is better to keep it simple and not to overdo it. Of course, I could have combined the skirt with a super fancy top, something way more eye-catching… but that wouldn't have been me. You know, that I like to keep it simple because I feel most comfortable in this kind of outfits. That's why I also didn't add a lot of accessories; I was just wearing the pieces of jewellery I am wearing almost every day as well as my Gucci bag and my mule sandals from Marks & Spencer (from last year).
Why it is worth it to invest in a designer bag
You see me wearing this Gucci bag quite often because it is one of my favourite bags! I am one of those persons, who don't need a lot of bags. All I need are a few high-quality pieces I know I will still be wearing in 10 or 20 years. That's why I think it is worth it to invest in a designer bag (especially when you can get it on sale). If you want to buy a designer bag and it is something you have to save up for, make sure you choose a style that is timeless. Don't buy a bag that is in trend only one season, because you probably won't wear it anymore the next season. You also shouldn't buy a bag everybody is wearing, because you will get bored of the style pretty fast. Take your time when choosing a designer bag, rethink your decision over and over and only buy it when you see yourself still wearing it when you're older. You should also check if the bag works with a lot of outfits, because if not, you probably won't wear it that often… Buying a designer bag can be a waste of money, but not if you're keeping these things in mind 🙂