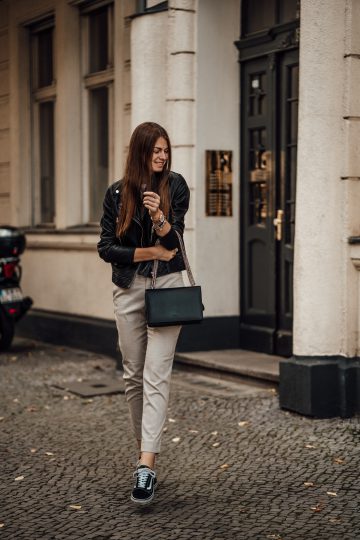 Happy Thursday everyone! Today is the last day at the office before we are driving to Hamburg tomorrow. We will be there for an event, I can't tell you more about at this point, but tomorrow I will take you along via Instagram Stories, so make sure to follow me and have a look. 🙂 And since we won't have a full day at the office tomorrow, I have to get a lot of work done today. My list is three times as long as it usually is and I hope I will get at least 50 percent of it done today haha. The only problem is that I am still not feeling a hundred percent well and this sucks. But anyways, I will have enough time to relax when we are in Bali in less than two weeks – oh, I can't wait!
While I am trying to be productive and get work done, you can have a closer look at one of the outfits I was wearing at the end of the past week. It is all about how to style a leather jacket in a casual chic way, and I hope you will like the outfit as much as I do:
Combining a leather jacket with beige pants, a white tee and black sneakers
I am sure; you own at least one classic leather jacket because it is one of the wardrobe essentials everybody should own. And you probably own it, because of you just like the look of it and how it adds this rocking look to every single outfit you combine it to.
But most people are not game enough to combine it in a girly or chic way. Most people combine their leather jackets with black jeans and a white tee. With basics and mostly sporty styles. How about you? How do you style your leather jacket?
I want to show you how to style your leather jacket in a casual chic way today, and it is super easy. You need some casual pieces as well as some chic pieces. The casual pieces you can see me wearing here are the black sneakers as well as the white t-shirt. Regarding the chic pieces, I opted for a pair of beige dress pants. Some more chic details are the pieces of jewelry I am wearing every day and the bag. But that's it. It's great what a big difference the pants make. Imagine this outfit with a pair of black or blue jeans; it would be an entirely different outfit. It wouldn't look chic at all; it would look casual and sporty!
You see, you usually need only one chic piece of clothing (it should either be the pants, the top or jacket) to put together a casual chic outfit you can wear at the office, to a meeting or when having lunch or dinner at a restaurant – whenever you need to wear this kind of outfit. And the best part is, that the outfit will still be comfortable and wearable 24/7. Don't you agree? How do you like the look I put together last week?