We talked a lot about me not being interested in current trends. Of course, I get influenced by them as well since they dominate the newest collections of the brands and can be found all over the internet and in stores. But I do not only wear what is in fashion; I mostly wear what I feel most comfortable in. And when that's something that is not in fashion, I don't care about it and will wear it anyways. I usually don't even know what is in fashion right now. Of course, I know some trends, especially the ones I wear myself, but that's it haha.
The reason I am addressing the trend topic today is the outfit I want to share with you today. The key piece of this outfit is my new camouflage pants, and I know that you either will love them or you will hate them. The opinions are divided when it comes to camouflage, but I always liked this print. And I know that it was in fashion last year, but I don't know if it still is in fashion. I will wear it anyways and tell you more about the outfit I put together in the following:
Camo pants, white sneakers and bomber jacket
I have to admit, when you are usually wearing black, white, grey and denim it is challenging to put together an outfit were camo pants are the key piece at first. But I thought about it a little while, and the outfit you can see me wearing here is the first idea that popped up in my mind. I wanted to keep it simple because I was spending that day at the office and wanted to wear something comfortable.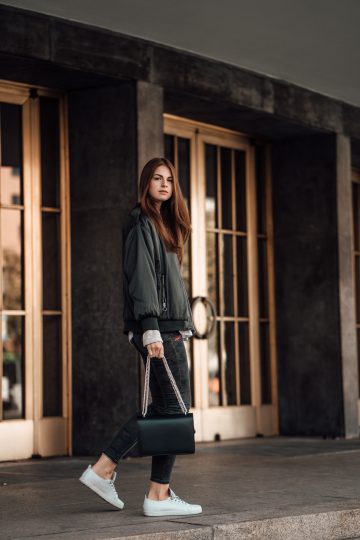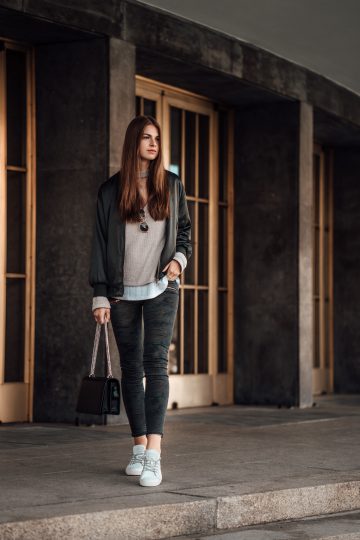 Therefore I combined my new camo pants with white sneakers, a beige sweater, and a green bomber jacket. I chose the sneakers for the comfort, the v-neck choker sweater for the comfort too but also because it adds some more details to the whole look and last but not least the bomber jacket, because it matches the camo print 😉 The bomber jacket also is super comfortable, and it's one of the pieces I can't live without in autumn. I am actually looking forward to wearing all my bomber jackets more often now that it is getting colder in Berlin. And I have to admit, that I already ordered a new one. Not that I already have enough bomber jackets in my closet…
The camo trend
To answer the question, if the camo trend is back, I would like to say that it never was gone, if you ask me. Of course, we didn't wear lots of camouflage pieces in summer, but that's because it is not a very summery print. I am sure that we will see camouflage more often in autumn and winter again and I can't wait to wear all my camouflage pieces again. One piece of clothing I am most looking forward to wearing again is the camouflage bomber jacket with the Whatever print on the back I got from Zara last year. So no matter, if camouflage is still in fashion or not, I will wear it for sure and if you like it as well, don't care about the trends and wear it! Wear what you feel most comfortable in and what you like.
Guys, don't hesitate and leave me a comment. Let me know whether you like camouflage or not. Will you wear it even when it is not in fashion anymore? And how do you think about trends in general?