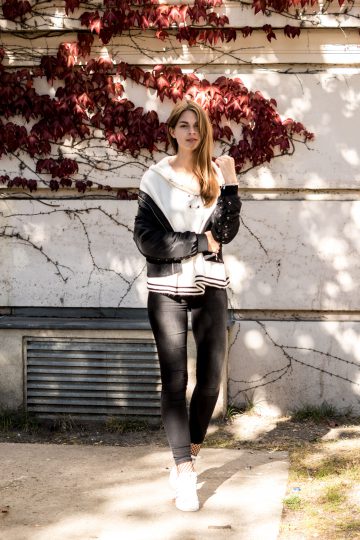 Happy Tuesday everyone! This week I'll share a lot of outfits with you because we still have a couple of looks left from the days when it wasn't rainy and too cold. I mentioned before that we're currently trying to take advantage of every single moment it's not raining. It's actually pretty hard but this way we managed to shoot enough outfits to provide you with new inspirations this week. 😉 Have you already seen the first outfit of the week I shared yesterday? It's a very casual outfit, perfect for warm and sunny autumn days. Today's outfit is a casual one as well, but it's a little bit warmer and has a lot of details, that make it look more interesting.
White sweater with lacing front
It was love at first sight when I saw this sweater online at Marks & Spencer. I like all the details: the lacing front, the hood and the stripes at the seam. Once again I ordered it in a bigger size (got large), because I thought it would look much better oversized. And doesn't it look pretty nice? When you have a sweater (or another piece) that is rich in details, you don't need a lot of other details to add to your look.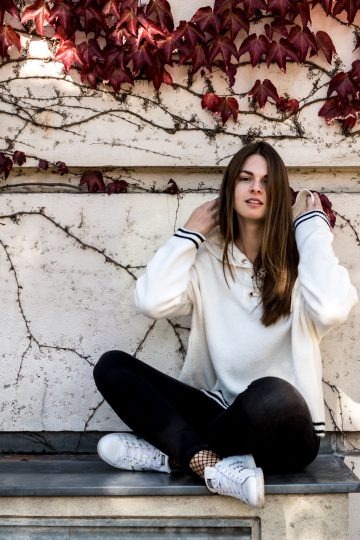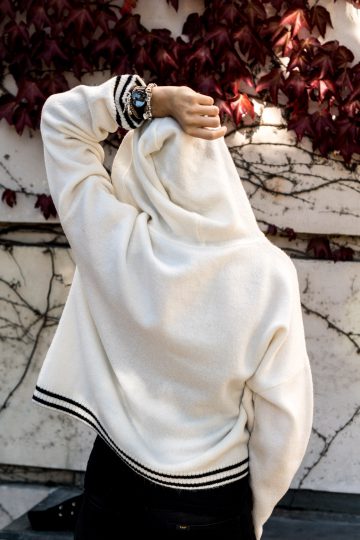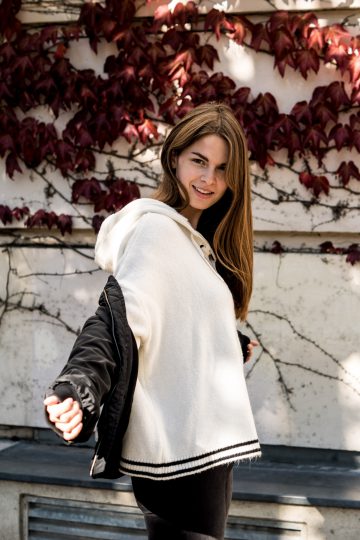 Therefore I went for a dark grey pair of jeans, white sneakers and a black bomber jacket. Well, even though you don't have to add a lot of details, I did it this time. The jeans are very simple, but the bomber jacket has a lacing detail as well, and I added fishnet socks.
What about the fishnet trend?
You've never seen me wearing fishnet socks or tights because it's none of the pieces and trends I usually wear. But I somehow like it a lot and wanted to try it at least once. And guess what? I really like it. I first wasn't sure about it and wanted to take them off, but in the end, I decided to keep them on and give it a try. I'm already thinking about other outfits I could wear, next time I either will combine the fishnet socks with blue jeans or black shoes… how would you wear them? Would you even wear fishnet socks?