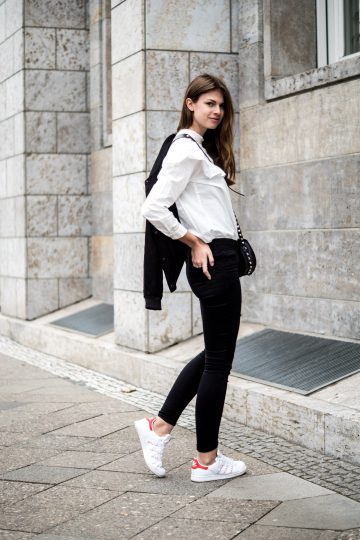 I didn't have the time to take pictures of my outfits during Fashion Week, but that's why I decided to wear them the weekend after again. Fashion Week is always a super busy time, and since I went to most of the events and shows without someone else, I didn't have someone with me to take outfit pictures. Furthermore, it gets dark way too early (BEFORE 4 pm), or it didn't even get light at all. The weather at the weekend wasn't better, it was super dark all day when we took these outfit pictures, but what can I say… it's winter in Berlin. That's why I'm so much looking forward to sharing the last pictures from Sri Lanka. I think I'll start next week, but for now, I have this Fashion Week outfit I combined in cooperation with VILA for you. I hope you'll like it as much as I do.
Black and White Fashion Week Outfit
I mentioned it before, and I'll say it again: you can never go wrong with black and white. Yesterday I showed you my all black Fashion Week outfit and today's outfit isn't all black, I added a couple of white pieces, but it's still a very simple look. I was wearing a pair of black pants, a white shirt, black bomber jacket and white sneakers. Those pieces are all basics; everybody should have in their closet! The bomber jacket is one of my favourite pieces of this outfit because it's a leather bomber jacket! You might know, how much I like leather jackets AND bomber jacket. So is there anything better than a bomber jacket made of leather? It was love at first sight, and I couldn't wait to wear it!
Some of you might wonder why I was wearing sneakers. Well, you probably don't, because that's what I usually do. BUT I first couldn't decide whether to wear white sneakers or black boots. I was wearing black boots the day before, that's why I went for the sneakers in the end. The whole outfit would probably look a little bit more chic and classy with a pair of black boots, but I like contrasts, so I'm happy with my decision to wear sneakers. What would you wear? A pair of black boots or white sneakers?
Not an ordinary white shirt
And now it's time to talk about this pretty nice white shirt! How amazing is it? I have a lot of white shirts in my closet, but this one is quite special. I absolutely love the ruffle detail, because without this detail it would be just an ordinary white shirt. I'll probably wear it more often in spring and maybe even in summer, depends on how hot it gets here in Berlin. I think I'll combine it with boyfriend jeans, denim shorts and nice skirts… Oh, I already have so many nice outfits in mind. Let's hope it'll get warmer soon, so I can combine it with all the looks I have in mind.