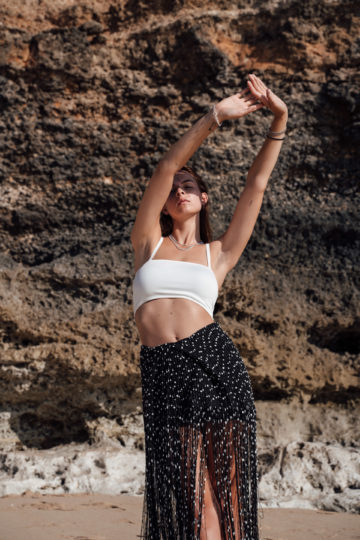 Happy Friday, everyone! I am ending the week the way I started it, with a new post from Bali and guys, this was one of my favorite looks and shooting! I'd planned a few outfits in advance and even had a few locations in mind and we actually found the perfect place in Uluwatu, Bali to take the photos I had in mind. I am so, so happy with the results and I hope you will like them as much as I do. 🙂
So, as I just mentioned, we took these photos in Uluwatu. It was our very first time in Uluwatu and I can tell you I really enjoyed our time there. The beaches in Uluwatu are a dream, but I will tell you more about it in the next post (another one from Uluwatu will be online on Monday if everything goes as planned). For now, I will share a few more details about the outfit I was wearing and let you know where exactly we took these photos.
Jacquemus Skirt combined with a white crop top
This skirt makes me realize even more how important it is to have a few very eye-catching pieces in the closet you can always combine with basics, but you would still have a non-boring outfit in the end. I wish this skirt were mine, but it was just borrowed for our travel. 🙂 When I saw it online, I knew I need to bring it with me. I also knew that I would photograph it in Bali, preferably on the beach. And what can I say, that's what we did.
Most of you probably know this Jacquemus skirt; it was all over Instagram this summer. It is just the perfect eye-catching summer piece, in my opinion. I love everything about it: the cut, the details including the fringes and the dots. Believe it or not, it is also very comfortable. I only was constantly worried that I would get stuck with the fringes somewhere.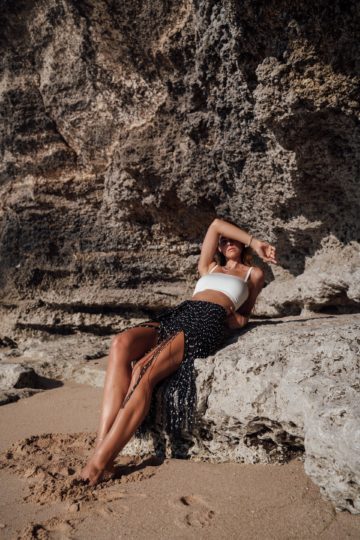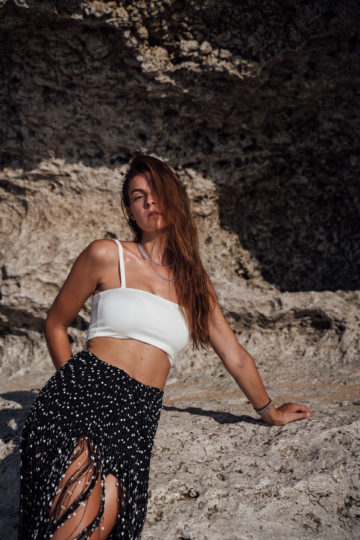 As it is such an eye-catching piece, I decided to combine it with a white crop top and nothing else. And since I was wearing it on the beach in Uluwatu, I didn't need anything else but these two clothes (and a bikini underneath). If you want to wear a skirt like this in the city, I will combine it with an oversized t-shirt or a button-down shirt. Shoes-wise sneakers would make a very nice contrast, but high heels or slides would also work very well. Or imagine wearing this skirt in combination with a cozy sweater and knee-high boots in autumn or spring. How would you combine it? Let me know in the comments.
Dreamland Beach, Uluwatu
We took these photos close to Dreamland Beach in Uluwatu. I have to admit that I first was very skeptical because Dreamland beach is quite crowded and touristy. But if you walk a little bit further, you will get to calmer parts, that are always way more beautiful. I think the part we ended up is called Hidden Beach. I will share more details about all the beaches we went to in Uluwatu next week, so stay tuned and let me know if there's anything you would like to know about this part of Bali.
*Ad, brands named – Jacquemus Skirt || Verge Girl Top