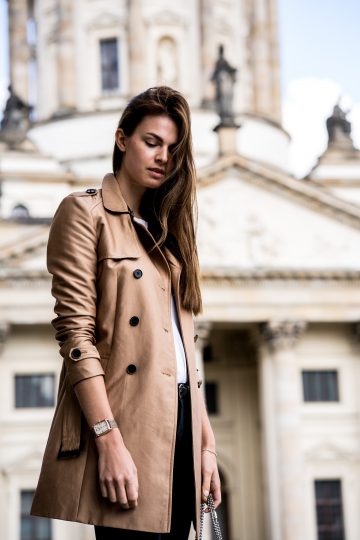 In today's post I would like to talk about icons and classics because they are the most important when it comes to putting together timeless wardrobe essentials. When I was younger I used to buy everything I like and I didn't care about quality or how many season I would wear the pieces. The older I get, the more important it is to me to have pieces in my wardrobe, that are not only timeless, but also made of a high quality. You don't need ten pairs of black jeans, when you can own two pairs, that fit perfectly and have a high quality. The same is true for watches. I would even say it is more important to own one watch, that is a timeless icon and made of a high quality, than many different models. And speaking of watches, I have reached the main topic of today's post: the Kalpa Iconic from Parmigiani Fleurier.
Parmigiani Fleurier's iconic Kalparisma Collection
The Kalparisma collection was designed by Michel Parmigiani in 1997 based on the golden ratio. The iconic teardrop-shaped lugs, called Kalpa, remain a reference in terms of ergonomics and comfort ever since even though it is an ongoing passion of Parmigiani Fleurier to experiment with the brand's iconic codes. The Kalparisma collection is a result of these experiments. It is the first collection that is dedicated to women only. It is not only a slimmer and smaller version of the men's model, it has been completely redesigned, adapted to women. But it also houses an automatic movement, Calibre PF 331, and features the iconic tonneau-shaped case.
The Kalparisma is available in two main versions: The Kalparisma Nova and the Kalparisma Agenda. You can see me wearing the Kalparisma Nova in these pictures, which got its name from the small star at 6 o'clock. What you can't see in the pictures is, that the star rotates with every second. It is only a little detail, but a detail that makes the watch even more special.
Combining icons and classics
When I put together an appropriate outfit for this iconic watch by Parmigiani Fleurier I had something chic and classic in mind. I wanted to keep it simple and focus on the watch. The clothes should either make the watch stand out even more or expressly underline it. So I ended up wearing a black jeans, a white t-shirt and a trench coat, that is such a classic! Wearing my trench coats was one of the things I was looking forward to this autumn. It is a classic piece you can never go wrong with and it tops off every simple outfit. In this case it also works perfectly with the watch. Both pieces add the chic touch to a very simple outfit combination and that's what timeless wardrobe essentials should be all about: topping your outfits off and making them look appealing. When you have these kind of essentials in your wardrobe, you don't need much more to look well-dressed.
That's why quality over quantity is true for the fashion industry as well. Don't just buy clothes becauce you think you need something new. Buy clothes that will last for not only one season, clothes that will be able to tell stories, clothes that will be "by your side" a whole lifetime. And that specifically applies to watches.