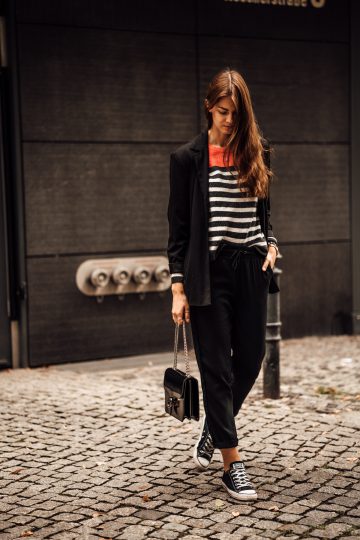 After sharing an outfit I wasn't a hundred percent sure about yesterday, it is time for the kind of outfit I enjoy wearing the most: a casual chic outfit. It is the outfit I was wearing on Tuesday, a quite busy day at the office. It was the day before I headed to Hamburg and therefore I had to get lots of work done and to prepare a couple of things. Our Bali trip is coming closer, and that's the reason why my daily tasks are two times as many as they usually are – if two times is enough haha. But as you know, I enjoy what I am doing and working a little bit more when there is an upcoming trip, isn't something I mind. The only downside is that I am doing nothing that would be worth sharing on social media. It is even hard to take the time to take new outfit pictures. BUT, as I mentioned before, that's why I put shooting new content and writing new blog posts on top of my to-do list.
But enough about that, let's get straight to the outfit I was wearing earlier this week. In the following, I am sharing all the details about it and the reason why I enjoy wearing these outfits so much.
Casual chic outfits are my favourite kind of outfits
It's no secret that I could wear this kind of casual chic outfit every single day. Why? Because it is super comfortable yet chic. 😉 Another reason is that I can usually wear these outfits with many different shoes. On Tuesday I was dressed in a pair of black sneakers because I spent all day at the office.
And I would for sure exchange the sneakers into a pair of high heels when having a meeting. For an event, I might wear a pair of black boots and in summer some nice flats or mule sandals. This outfit would work with all these shoes.
The comfort and the variability are the main reason why I like wearing casual chic outfits. But how to put together a casual chic outfit? That's actually quite easy. You need some chic pieces of clothing in addition to the ones that give you comfort. In this case, the sneakers, as well as the sweater, are the comfortable pieces of this look. Well, the pants are comfortable as well, but they look chic. For the chic touch I added the black blazer and, of course, my black Gucci bag and that's it. Of course, I was also wearing the pieces of jewelry I am wearing every single day. You can also add them to the chic pieces of this outfit.
You see, putting together a casual chic outfit isn't much of a challenge. There are many other possible combinations, but a sweater, sneakers, a blazer and pair of chic pants always work. You can put together a casual chic outfit no matter what is in fashion right now. The pieces you can see here are basics you can find in stores and online every single season, every year. And I think that might be a third reason why I like the combination so much. Whenever in doubt, wear these pieces, put together a nice casual chic outfit, and you will be well dressed 🙂 How do you like this outfit?!