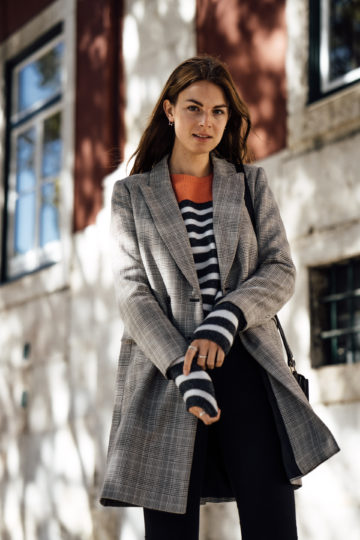 Finally, we are coming closer to what getting dressed for colder temperatures such as the ones we have in Berlin at the moment looks like 😉 The day we took these pictures was our last day in Lisbon and the day we drove to Cascais. It was a little bit colder in the morning, that's why I decided to put on my coat. Other than that I also didn't have enough space in my suitcase to pack the coat hahaha. But since I felt a little bit under the weather, I really didn't mind putting it on. I also got this coat in Lisbon, and since I wanted to get a coat like this one for so long, I didn't want to wait any longer to wear it finally. Oh, there are so many reasons why I decided to put it on hahaha. And yes, you will see me wearing it more often during winter and early spring season in Berlin. To be honest, I am wearing it today as well, and maybe we will take some outfit pictures later today so that I can share another outfit post with this coat soon. 🙂
But for now, I will leave you with these outfit pictures and, of course, I will tell you more about the outfit combination I chose. It actually is a very simple outfit, but there is one thing I need to mention. Continue reading the following, if you want to know what it is:
Combining a plaid coat with a striped sweater
The caption hints the one thing I want to talk about: the combination of plaid and stripes. Those who have been following me for a while now know, that I always keep it simple and that I usually would have combined the coat with a black sweater and not with this striped one. So why did I go for the striped sweater with the orange detail?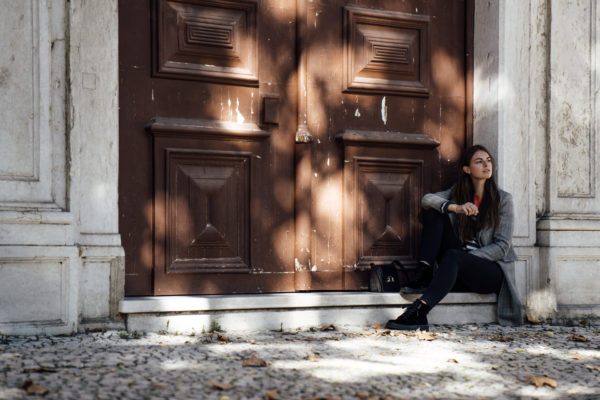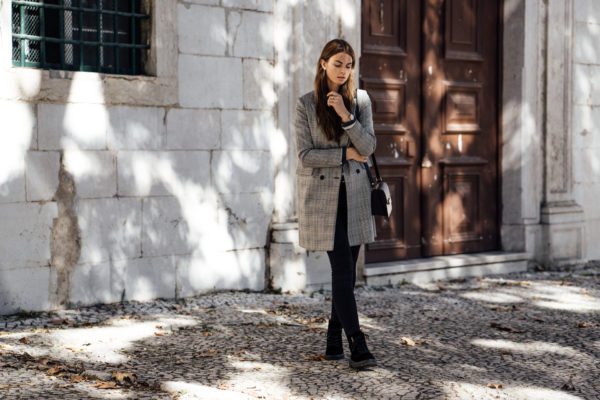 The answer is simple: I didn't have another sweater with me in Lisbon! So yes, I first wasn't quite sure what to think about this combination. But instead of taking the sweater off and wearing a black t-shirt I stick to it because I somehow really liked the look. And I still like it! It looks much more interesting and colourful, therefore it is something I should wear in Berlin on one of those gloomy days 😉 In Lisbon, I didn't need an outfit that brightens up the day.
Other than the sweater I was wearing a pair of black jeans, black boots and a black cross-body bag. So the bottom part of this outfit is super simple, and the top part is a little bit more colourful and interesting – it's the perfect mix!
The plaid trend
Plaid is one of the biggest fall trends in 2017. Everybody was wearing oversized plaid blazers, and yep, I do love them as well! But in winter it gets a little bit too cold to wear a blazer only, what we need is a coat or warm jacket. Luckily plaid is still in fashion, and many brands offer beautiful plaid coats to keep you warm during winter. I got mine at Zara, but you can find them all over the internet. In online shops such as Asos and Edited or stores such as Topshop, Zara and H&M – just to name a few examples. I will definitely keep my eyes wide open to see if I can find another nice option. Maybe something darker and a little bit warmer.
How do you like the plaid trend? Did you get a plaid blazer or plaid coat yourself? I would love to read your thoughts on this trend. 🙂