The plan was to share three outfits this week, but due to my trip to Copenhagen on Monday I didn't have the time to prepare the post I wanted to publish yesterday. That's why I am sharing it today instead of yesterday. Tomorrow I will share another outfit post, and on Friday the first Christmas gift guide will be published here on the blog. I didn't share that many gifts guide the past year because I always had too many ideas and time went by so fast, I didn't manage to get the posts done in time. But this year I teamed up with two cool brands to share some ideas with you. But that's another story to be told and shared later this week and the upcoming week.
Today it is all about a new outfit, and it finally is an outfit you can wear on these winter days in Germany and all over Europe. I know, I had my problems with getting dressed for winter and taking new outfit pictures to share new outfit ideas with you, but I got off my backside as you can see. The day we took these outfit pictures was a beautiful sunny day in Berlin, so going outside and taking new outfit pictures wasn't as hard as it would have been on a gloomy day.
Styling a military-style coat in winter
I got this military style coat a couple of weeks ago from Superdry, and it was love at first sight. I actually didn't have a black coat before and was looking for one for quite a while. I still need a classy black coat, but this one is nice as well! I love that it is different to all the classy black coats and has these interesting military details such as the buttons or the red collar.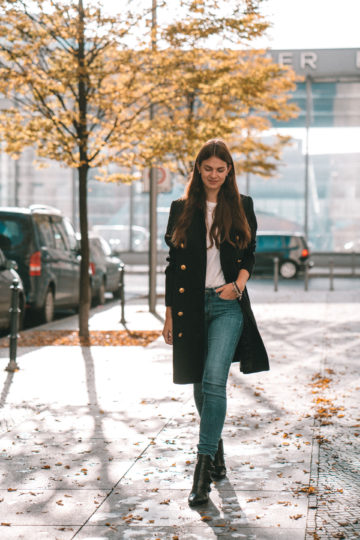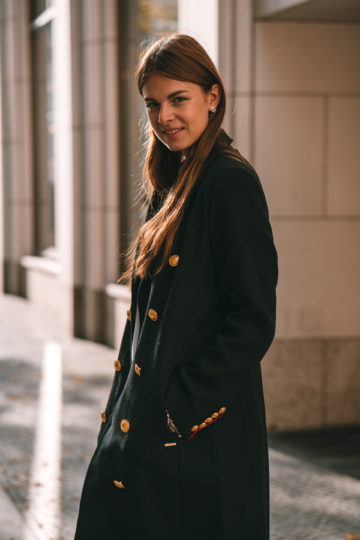 I was wearing this outfit on a day spent at the office, but I also had a meeting, so I needed something casual chic. I kept it simple and combined my new coat with a pair of blue jeans, a white t-shirt as well as black boots. I actually should have brought a sweater, but I thought it wouldn't be that cold due to the sun. Well, I still was in Bali and Lisbon mood I guess, because it actually was quite cold! So when you want to style a coat such as this military style coat in winter, make sure to put on a sweater and not only a t-shirt hahaha. Go for a white or black sweater, if you want to keep it simple. Or wear a red one to match the red collar. These three options are the ones you can never go wrong with.
Instead of blue jeans, you can also wear a pair of black or dark grey jeans. I have to admit, that I first wasn't sure whether I should combine the black coat with a pair of blue jeans, but I didn't want to wear a black one because that's what I usually do and I was a little bit bored of it. But if you want to keep it even more simple and need to put together something chicer, you should definitely go with a black or dark grey jeans. Combine it with a black or white sweater or put on a white button-down shirt for an even chicer look. You can definitely still go for a pair of heeled boots, but a pair of high heels would work as well. But in winter, boots are probably the best choice 😉
So how do you like this outfit? Leave me a comment and let me know what you think, guys. xx