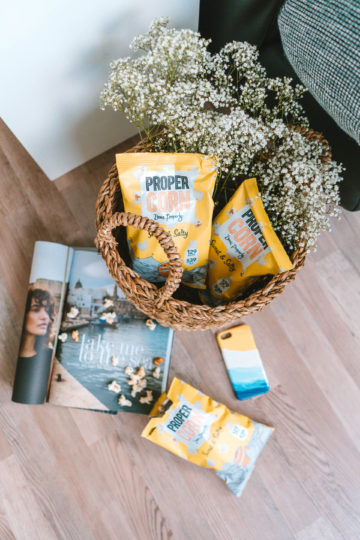 Guys, I am super excited, because I can finally talk about a project I had to keep secret for months! This summer Stilnest reached out to me and asked whether I would like to be part of their newest collaboration. Together with Propercorn, they were planning a collection inspired by Popcorn, because who doesn't love Popcorn?! I do for sure! And I do like Propercorn a lot. So, of course, I couldn't say no! I also was looking forward to this challenge, because it was my first time ever designing an iPhone case.
My iPhone case for the Stilnest #findyourflavour collection
We started working on the design this summer, but before I could think about the look and feel, I had to find my favourite Propercorn flavour. I got to try all their six flavours including Smooth Peanut & Almond, Lightly Sea Salted, Fiery Worcester Sauce & Sun-Dried Tomato, Sour Cream & Black Pepper, Sweet & Salty as well as Sweet Coconut and Vanilla. I had tried Propercorn before, but not all their flavours. Sweet Coconut & Vanilla used to be my favourite until I tried them all. I didn't think that the other flavours could be better than Sweet Coconut & Vanilla, but well, I found a flavour I like even better: Sweet & Salty.
Once I had chosen my favourite flavour, it was time to think about the design. I started off with creating a mood board on Pinterest because I already had a rough idea of what I wanted my design to look like. The relation to Propercorn had to be visible, but I also wanted it to look like it was designed by me. Sweet and Salty are all about contrasts. And I do love contrasts as you know. Another thing I love is summer, the ocean and beaches. So yes, my design definitely had to make you dream of summer and your next getaway!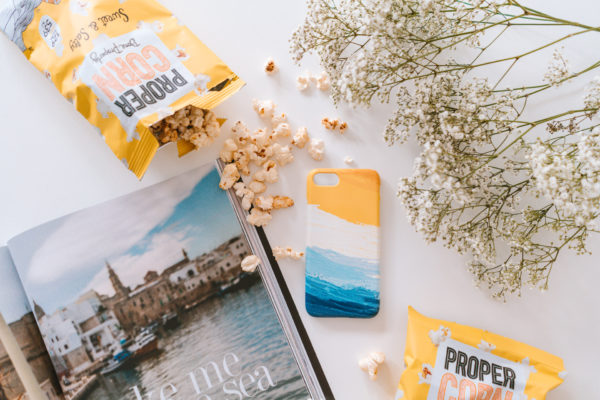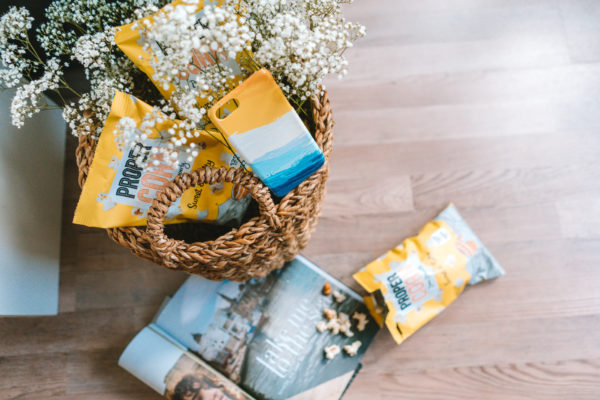 But how to combine a popcorn with the ocean and beaches? That's actually quite simple: the earth is the sweet part and the water the salty part. Something I didn't know is that this is part of the Chinese Nutrition Therapy. They match five flavours (sweet, salty, spicy, sour and bitter) with the elements wood, fire, earth, metal and water. And they say, that the earth is sweet and water is salty.
It wasn't a big challenge for me to put everything together and I had a clear vision of the design right from the beginning. And I am more than happy that the final result is so close to what I was thinking of, I absolutely love it! Not only the contrasts, as well as the sweet and salty flavour of the Propercorn, are visible, but we also included the yellow of the Propercorn packaging. How do you like it? 🙂
If you want to have a closer look at the collection and the other designs, make sure to head over to Stilnest.
Find you favourite Propercorn flavour and win a month's supply of Propercorn!
Last but not least I want to share this amazing giveaway with you I am running on my Instagram right now! Taking part is super easy, you just have to tell me what is your favourite Propercorn flavour or which one you think would taste best, follow Propercorn and Whaelse and tag at least one friend. You can find the post for more information here. Don't miss it; you can take part until the 9th of December 2017! xx