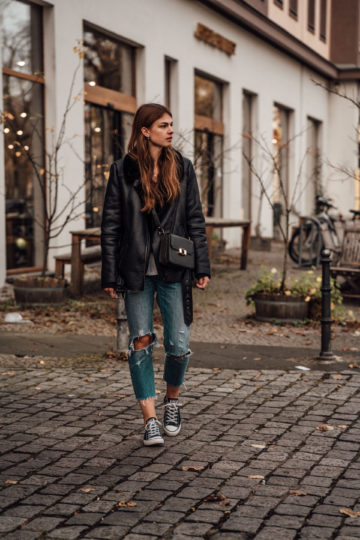 It got so cold in Berlin, going outside without a very warm jacket is almost impossible if you don't want to freeze to death. Oh, I really don't like those cold temperatures, but there is nothing I can do about it right now, so I better stop complaining and start making the best of it.
Luckily I got some warm jackets I can wear these cold days, and today I want to show you one of them. I got this jacket months ago when it was way too warm to wear it. And even though I really enjoyed summer time and the warmer temperatures, I couldn't wait to wear this shearling jacket finally. As soon as we came back from Lisbon almost four weeks ago, I got it out of my closet and put it on. After being in Bali for two weeks and then Lisbon for one week, the temperatures in Berlin felt even colder than they actually wear. So yep, I needed one of the warmest jackets I have.
How to wear a shearling jacket in winter
It actually wasn't that cold the day I was wearing this outfit as you can tell by my destroyed jeans and the black sneakers I was wearing. But as I mentioned before, the felt air temperature definitely was colder. So why did I went for a pair of destroyed jeans and sneakers? I wasn't ready for winter clothes yet, AND most of my shoes are still packed in boxes, I didn't have much of choice. I could have put on warmer socks, but I always wear my sneakers with footlets – not the smartest choice, but still better than wearing no socks at all 😉
I also could have chosen a pair of jeans without holes and longer legs, but this one is the most comfortable pair of jeans I have in my closet. I really didn't want to wear another pair! I also like it in combination with the jacket. Underneath the jacket, I was wearing a dark grey sweater as well as a white tank top, nothing fancy at all.
So generally speaking you can say, that you should combine a shearling jacket with a pair of skinny jeans if you don't want to go wrong. But it also works in combination with mom or boyfriend jeans. I also tried what the combination of an entirely different kind of pants looks like, and I will share the result pretty soon with you here on the blog. But for now, I will leave you with this simple outfit combination and the first way to wear a shearling jacket this winter. How do you like this outfit? And what do you think about shearling jackets in general?
I will soon also take some pictures with the other jackets I am wearing during winter in Germany. The only issue is that I can't take all my outfit pictures with these jackets on. Why? Because when I am wearing this jacket while we are taking the pictures, you don't get a good look at the outfit I am wearing underneath, and most outfit would look quite similar. That's why I will try to find locations where I can take outfit pictures without jackets to show you what I am wearing "underneath" 😉