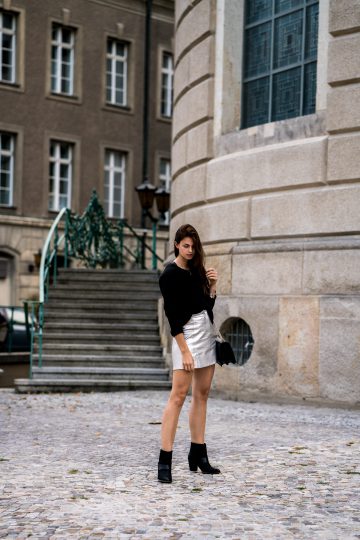 It is a new week, and I am kicking it off with a new outfit post here in the blog. I know, the weather in Germany hasn't been the best lately. It was raining a lot and cold, and this outfit actually isn't something we can wear here at the moment. BUT it is supposed to get better at the end of the week, and that's the reason why I wanted to share this outfit with you anyways. And maybe you are fortunate and not in Germany right now. Perhaps you are somewhere where the weather is much better, and you can still wear this kind of outfits. It is neither a summer or an autumn outfit; it is an outfit for the transition period. Therefore you can find summer clothes as well as autumn and even winter clothes in it. Not to put too fine a point on it, let's get straight to the main topic of this post: the silver skirt and how to wear it.
Silver skirt combined with a black sweater and black boots
You might not be used to see me wearing flashy clothes such as this silver skirt, and I have to admit, I didn't see me wearing it either. I saw it online at Traffic People (it's sponsored), and I don't know why, but I just fell in love with the idea of wearing this skirt. I had no idea how I would combine it; I just knew that it would be a very simple and casual outfit combination. There are many ways to combine a silver skirt, some of them are very flashy and nothing I would wear. But there are also casual ways to combine it. One combination that always works is the one with black pieces. In this case, I opted for a black sweater, black boots, and a black bag. It is nothing fancy, but it does the trick.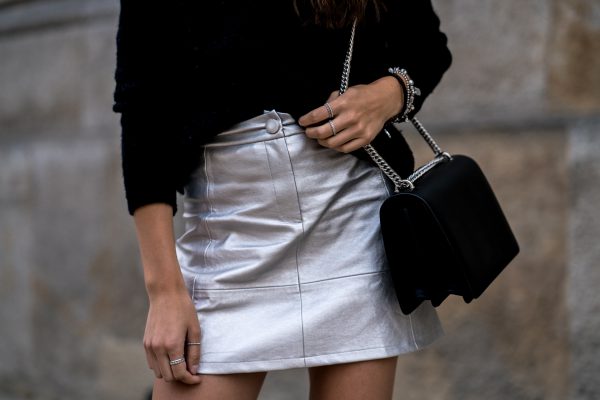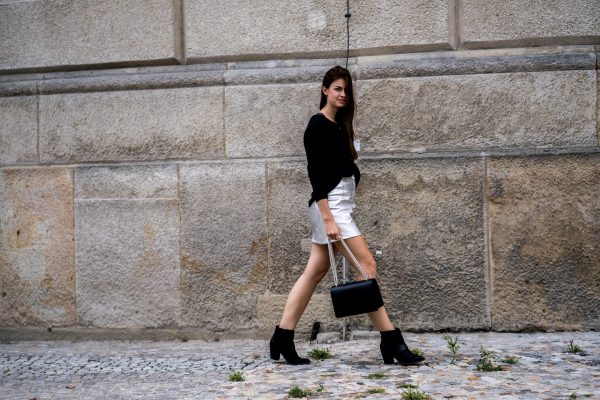 I really like this outfit, and due to the combination of black, the silver skirt doesn't look too loud or flashy. But I also have to admit, that I have no other idea how to combine it. Maybe it would also work with a white t-shirt and white sneakers, but the whole outfit might look a little bit pale, colorless. Maybe that's only an option when you're tanned.
Maybe I will try to combine it with dark gray pieces next time; I think this will work very well. But it has to be a dark gray, nothing too light. Something that might also work, but wouldn't be an option for me is the combination of bright colors such as pink, lilac or blue. It can look super nice, but it would be too flashy for me and you know, that I prefer simple outfit combinations. So yep, nothing for me, but maybe a nice option for you 🙂
Yes, you can wear a silver skirt!
Everybody can wear silver or other metallic pieces of clothing even when you usually keep it simple and only wear muted colors. As always, it is all about the combination you choose. If you want to keep it simple, combine the metallic piece of clothing with muted and darker colors. If you don't mind to stand out, go for bold colors! Be creative; there are no limits!
How do you like this outfit? Would you wear a silver skirt or do you think it is a no-go? I would love to hear your thoughts, so don't hesitate and leave me a comment. xx