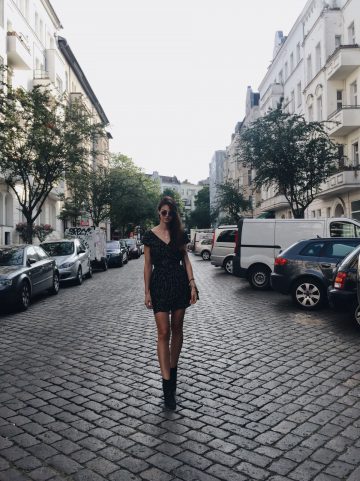 Happy Sunday y'all! I hope you had a fantastic week and are enjoying your Sunday to the fullest. For me, it is going to be a very calm day, because I am feeling a little bit under the weather and want to take it easy today. So while I am lying on my sofa, probably watching Netflix and drinking coffee or tea, you can read everything about my past week here on the blog. As every week, I will start with the past weekend, so here you go:
As you already know, I was at the B&&B here in Berlin together with Fossil on Friday. The day ended with a Live-Gig by Felix Jaehn, and I was super late in bed. Due to that I slept in on Saturday, woke up around noon and had only two hours before it was time to head to the B&&B again, this time together with Lee. But I also had a shooting together with Fleek and an interview with Zalando that day. I also met up with Hannah (hannahliza), a girl from Bremen I only knew from Instagram. She was in Berlin for B&&B, and since we had contact on Instagram, we thought why not meeting up in "real life." 🙂 We had a great time together, but unfortunately, I couldn't stay that long. We spent the evening at a friend's place, who's birthday it was on Sunday. And yep, I was late in bed again! The problem: I had to get up at 7 am on Sunday because I attended the Wanderlust 108 event here in Berlin together with Adidas. I already told you everything about the event in my last post, so make sure to read it, if you want to know what the event was like.
You might already guess it, and you are right: I spent most of the time at the office from Monday until Friday. I still have so much work to get done, and it just doesn't get less. Whenever I finish one task, at least one new pops up and there are still so many tasks I haven't even started yet – argh. I love being busy; it's so much better than being bored. But I hate it when I just don't finish my tasks, not matter how much I work. And since we want to travel for three weeks in October, I really have to work harder and get more things done. The problem this week was, that I wasn't very productive. I don't know why, maybe because I didn't really have a relaxed weekend and suffered from being on the run all the time. Maybe I am getting old hahahaha.
I also didn't have the time (well, didn't make the time) to go for a run or to the gym… and as you might remember, that is something I really wanted to do. I did so well the week before, was at the gym two times and had the Wanderlust event on Sunday. But this week I didn't do anything at all, and I only ate unhealthy stuff and lots of sweets. Damn it. Let's hope next week will be better and I can finally stick to my plan to be more active and sporty.
I also went to a Shiseido event last week, met up with a friend I haven't seen in a long time (almost a year) and I met up with my family. I spent some time with my boyfriend and made plans for the upcoming weeks. Overall it was a nice week even though it wasn't one of the best I had in a long time. Yep, I felt a little bit under the weather, and I still do, and yep, I wasn't as productive as I wanted to be neither at the office or the gym. But it could be so much worse, and there is actually nothing I could complain about.