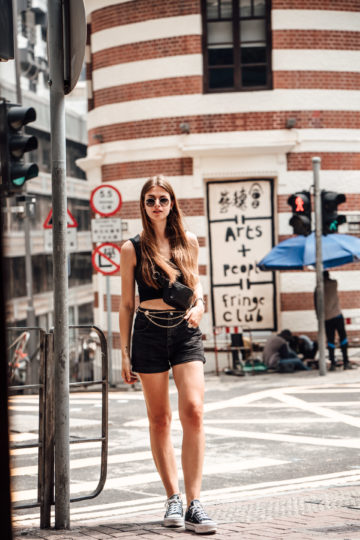 Guys, updating the blog has never been this hard. First I got sick just before our flight to Hong Kong, then I had a hectic time in HK, and now I am on a tiny island in Indonesia without wifi. All I have here is our prepaid SIM card we got on the airport on our way here, and that's what I am trying to work with here. But I really don't want to complain, as I've had a fantastic time in Hong Kong and Indonesia so far and I am enjoying our days here to the fullest. But, of course, I also want to keep you updated on the blog and start sharing all the pictures we took.
So today I am finally sharing the first outfit pictures from Hong Kong. I also tried to capture the atmosphere of the city a little bit, but to be honest, the pictures don't even come close to reality. Hong Kong is such an impressive city and capturing this was a challenge. If you have been there, you probably know what I am talking about. If you haven't, you definitely should put it on your bucket list.
Central Hong Kong
When we were in Hong Kong, we stayed on Hong Kong Island, in Wan Chai to be exact. Wan Chai is only two MTR stations from Central Hong Kong, so we also spent a lot of time there. Central Hong Kong actually is the place we spent most time at as well as the areas around. It is the area where most Europeans are staying, that's why it's influenced by them a lot. You will find a lot of European restaurants and bars in Central Hong Kong, and when going out there, you won't feel as if you are in Hong Kong. It actually could be any big city in the world.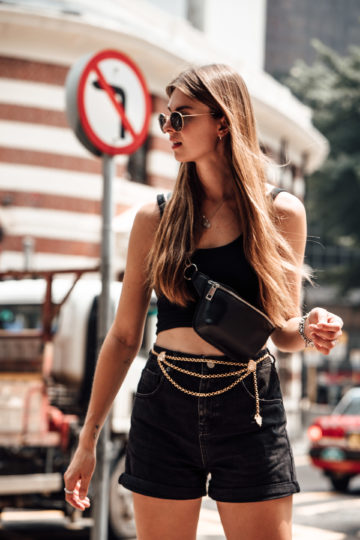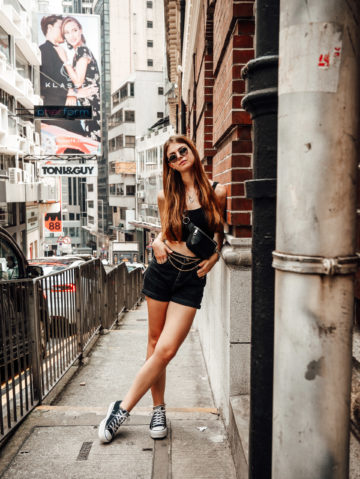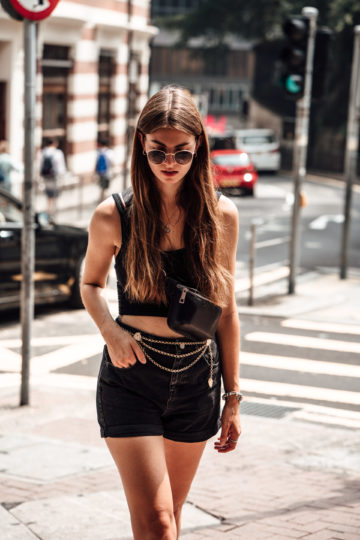 For Europeans, it definitely is the best area, but it doesn't mean that the others aren't worth a visit. It's just much easier to find something to eat and most people speak English. Also, you will see a lot of great bars, and shopping centres in Central Hong Kong and the tram to the Peak leaves close to this district as well just in case you also want to do some touristy things. 🙂 If you have more questions about Central Hong Kong, don't hesitate to leave a comment and ask.
Wearing all black in Hong Kong
The weather in Hong Kong wasn't the best meaning that it was very hot and humid while we were there. It was almost impossible for us to be outside as we started to sweat a lot once we left the air-conditioned buildings haha. Getting dressed for this weather was super hard. I actually didn't want to wear anything at all, but on the other hand, we spent a lot of time inside restaurants, cafés, stores and shopping malls and they are all air-conditioned, and the difference of the temperatures inside and outside was huge. So with the outfit, you can see me wearing here, I was actually freezing when we were somewhere inside… But on our last day, we wanted to walk around a little bit, so I thought we wouldn't spend that much time inside and this outfit would be the right choice: an all black summer outfit.
I was wearing a pair of black shorts, a black crop top and black platform sneakers. As these three pieces don't make an interesting outfit, I also added a chain belt and a black belt bag worn cross-body. Due to these two details, the outfits look way more interesting, don't you think? Let me know how you like this Hong Kong travel outfit. xx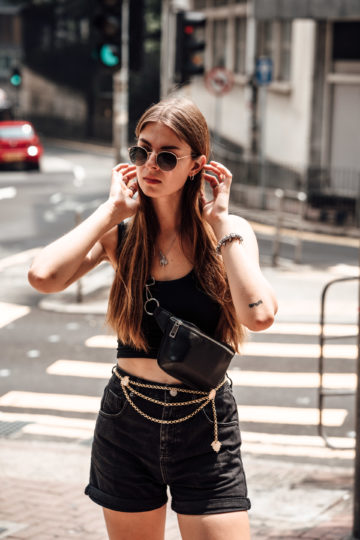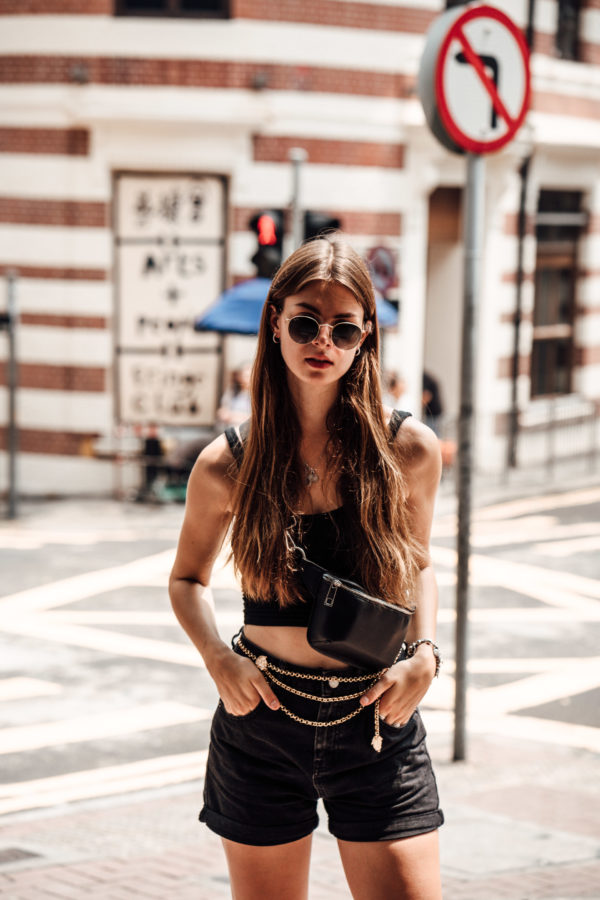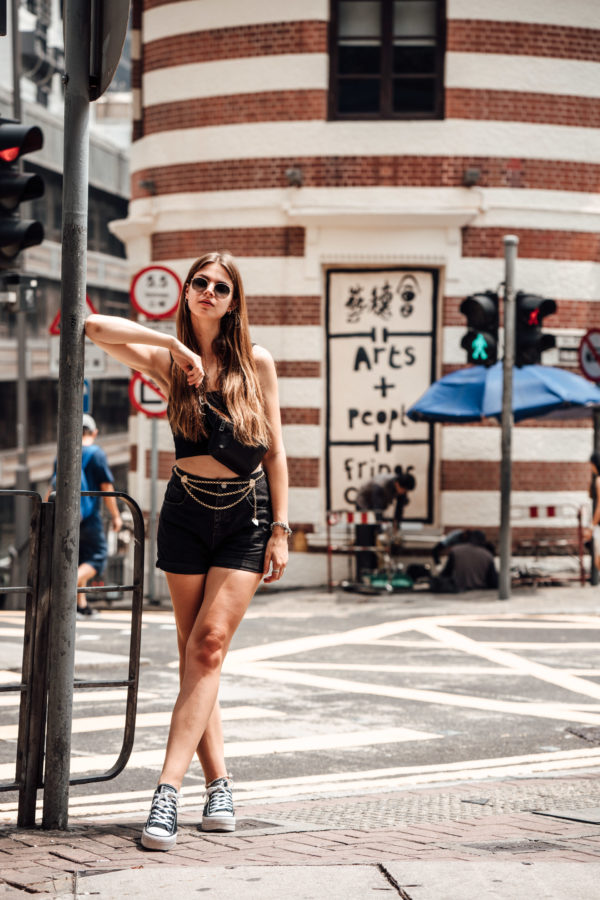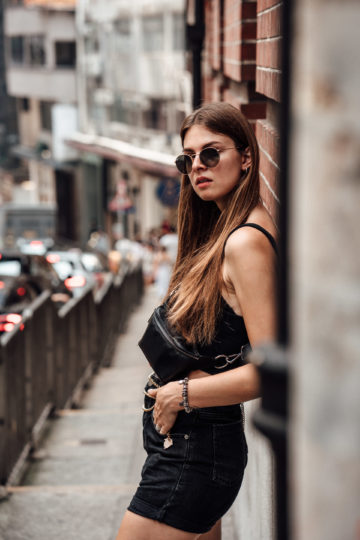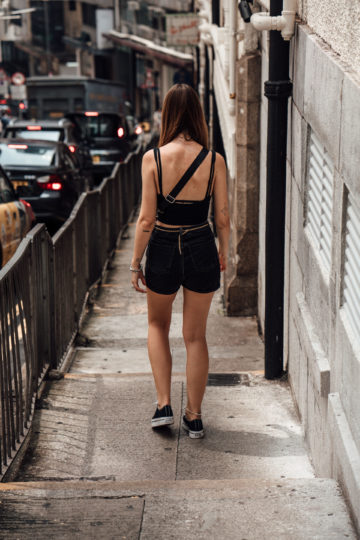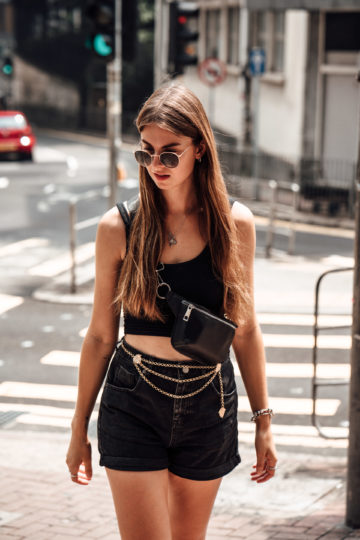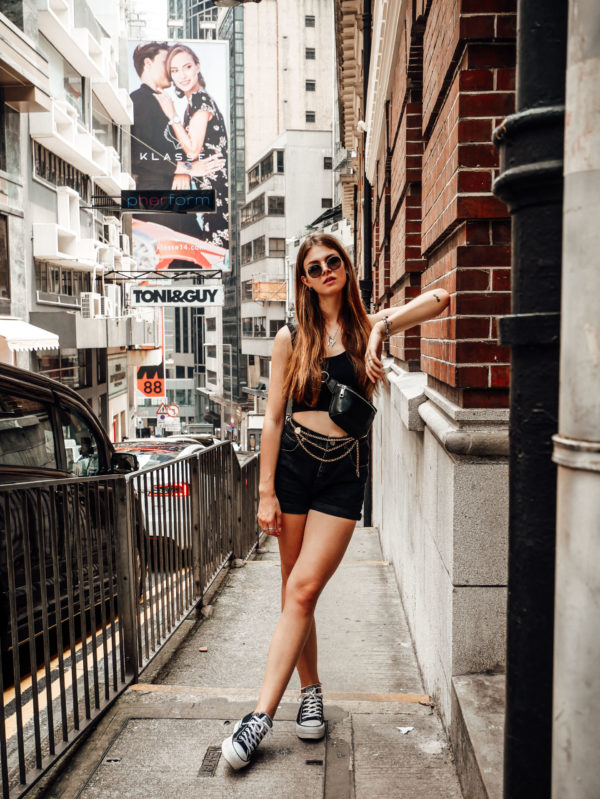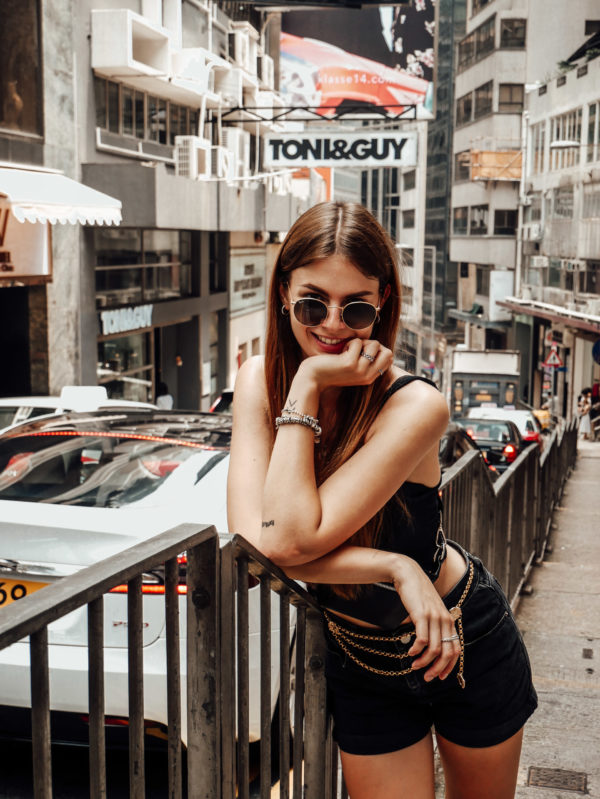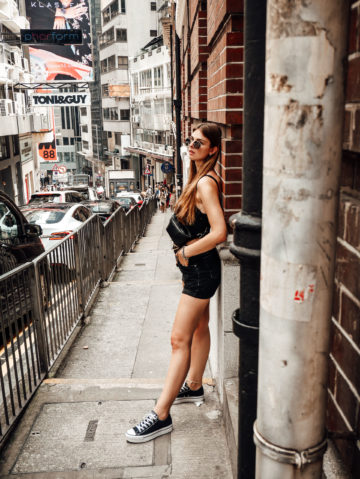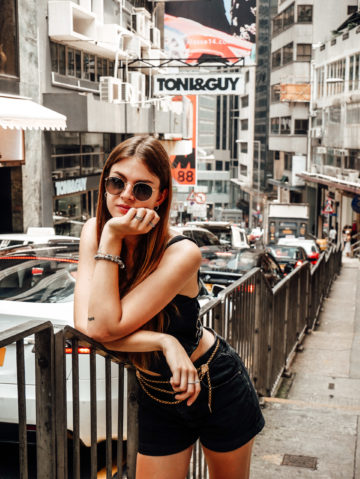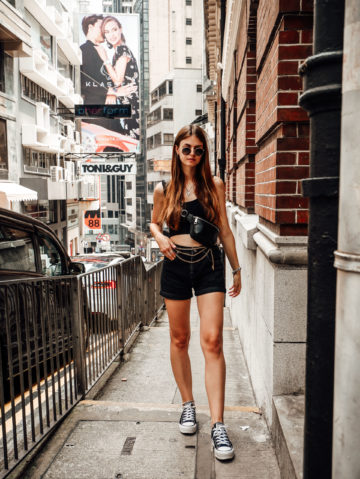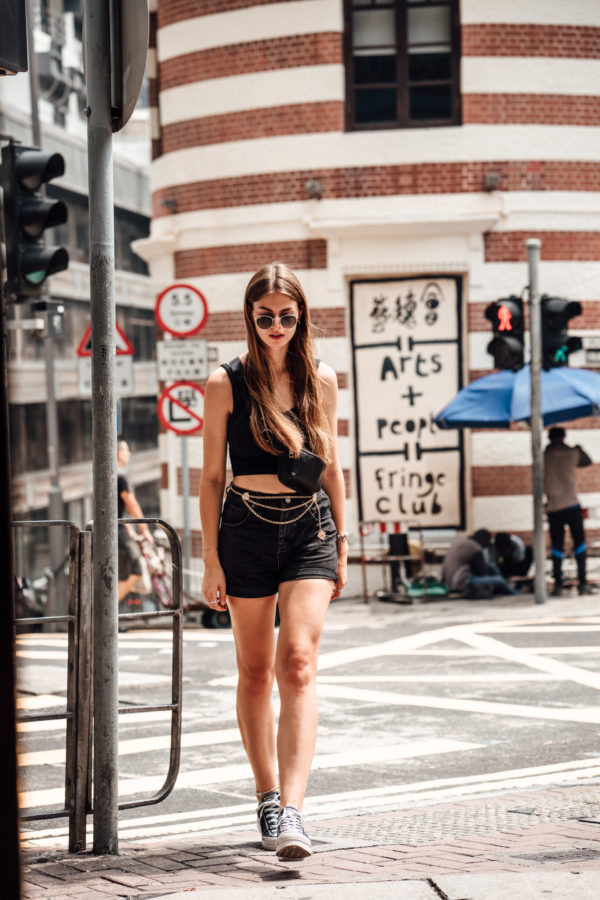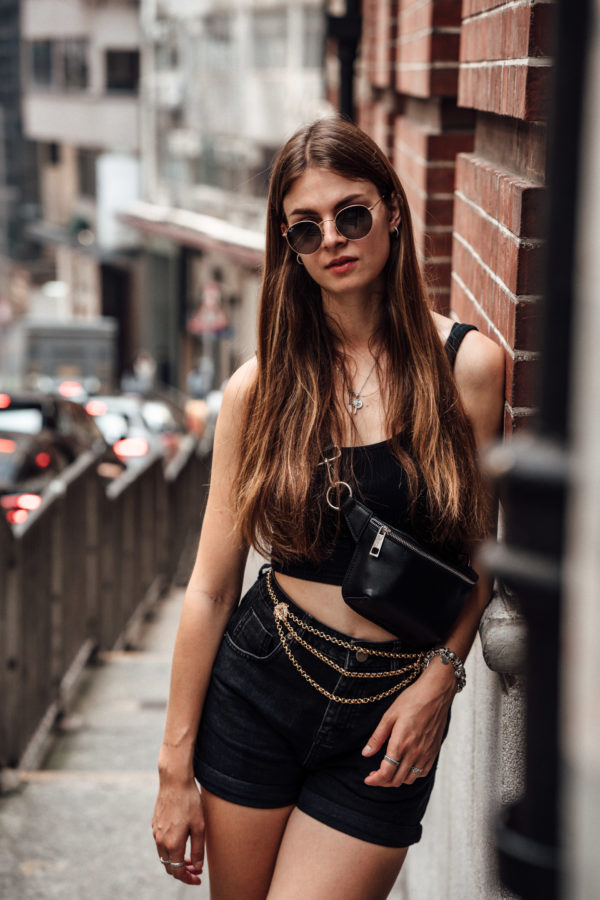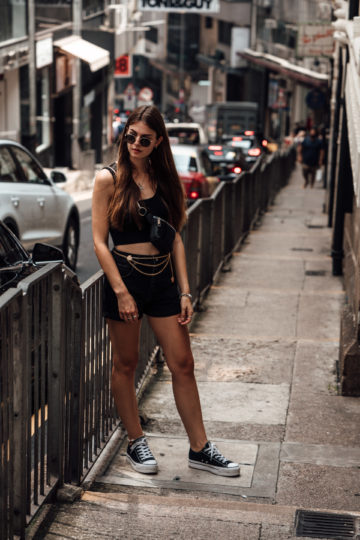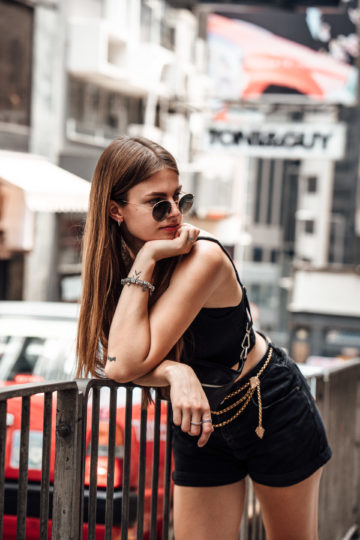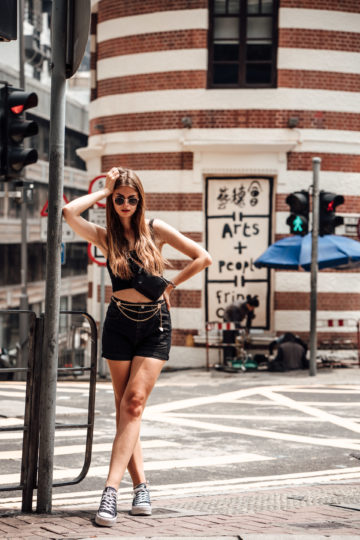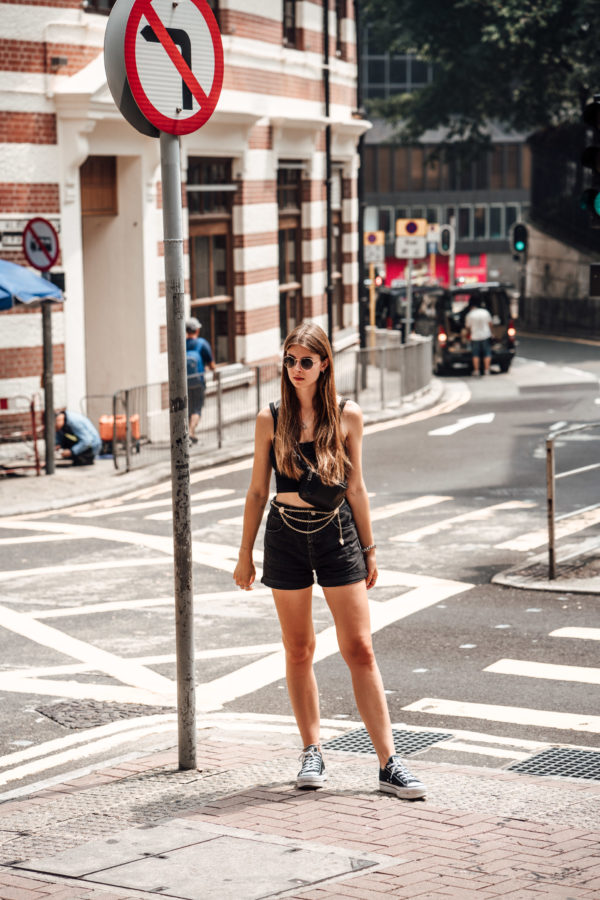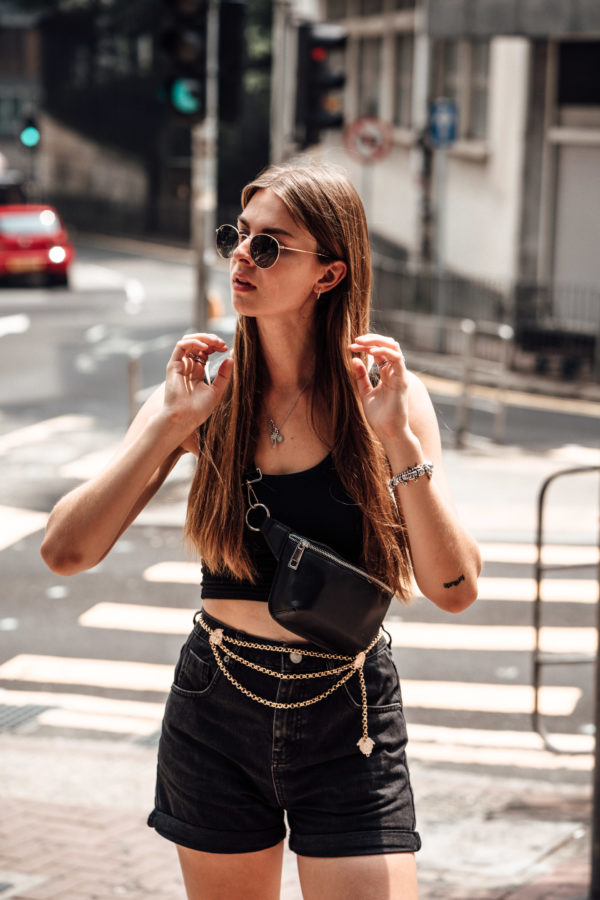 *Ad, brands named – Urban Outfitters Top || Asos Shorts || Converse Sneakers || Bershka Belt Bag || Ray Ban Sunglasses || Deluxe Chokers Chain Belt