Happy Friday guys! It's time to share the second outfit from Hong Kong and also a little bit more information about the district our hotel was located at. Before I start, have you already seen the first outfit and the information about Central Hong Kong I shared? If not, make sure to have a look to see the difference between the districts and also to see what else I was wearing in Hong Kong.
Wan Chai District in Hong Kong
The hotel we stayed at is located in Wan Chai district on Hong Kong Island. For us, it definitely was the best decision to stay at a hotel there, because getting around was very easy as there was an MTR station only a five to ten minutes walk away. From Wan Chai station, it is only two stations to Central Hong Kong or two stations to TST. These three districts are the ones we spent most time at, and I would say, that you should always stay in one of these three to make the most of your trip to HK.
Wan Chai has a little bit less to offer than Central, but you still would find everything you need. You will also find more food stalls with things such as egg waffles there, which you probably won't find in Central. There are also malls in Wan Chai, but not as many as in Central or TST (or I just didn't see them haha). Instead, you will find some smaller stores and boutiques there. But, of course, bigger brands such as Adidas have their stores in Wan Chai as well.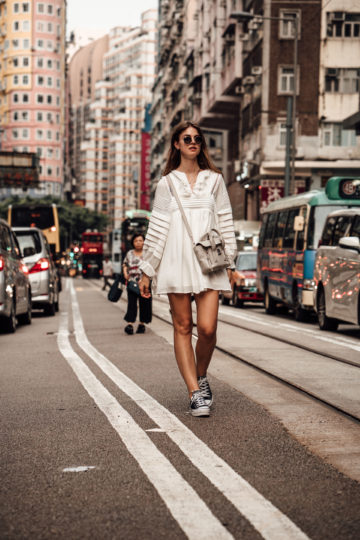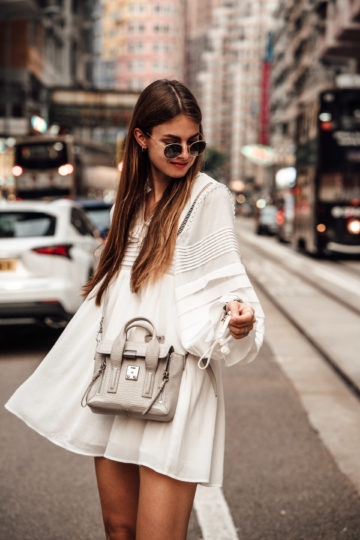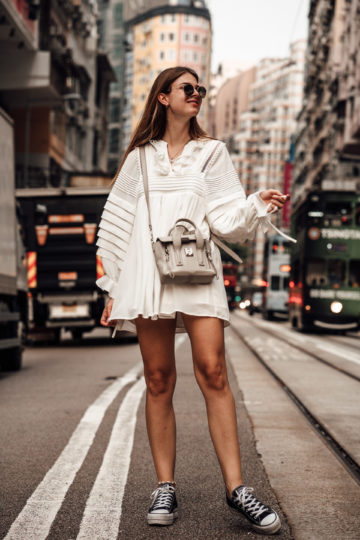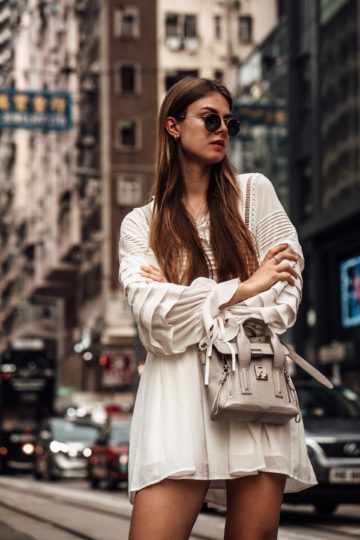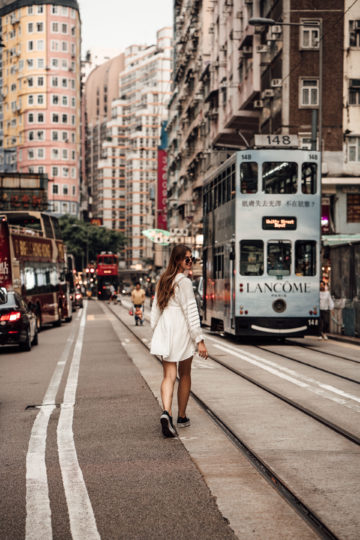 What I liked in Wan Chai was the a bit less touristy atmosphere and, of course, the gg waffles I got to try there 😉 Unfortunately we didn't do a lot in Wan Chai but walking along Johnston Street to get to the MTR, getting some snacks on our way to the hotel or sneaking into the smaller stores. But nevertheless, I really liked staying in this district and would definitely do it again.
Combining a white dress with black sneakers in Hong Kong
As I mentioned in my first Hong Kong post, the weather wasn't the best for a city trip as it was very hot and humid. So yes, actually I was sweating a lot in this dress. But we spent most of the time in meeting rooms and malls, so I rather wanted to wear this white dress with its long sleeves than shorts and tops. The malls and meeting rooms were all air-conditioned, and with the dress, I was wearing I was freezing a little bit from time to time. You see, it was a real challenge to get dressed for a day in Hong Kong.
This white dress is something I brought with me for our days in Bali as I think, it is just perfect for a tropical location. But I couldn't wait to wear it, so I decided to wear it a bit earlier, And I have to say, that I do like the contrast between the dress and the city. I combined it with a pair of black sneakers and a cross-body bag and nothing more. It's a very simple look that worked perfectly for a long and hectic day in Hong Kong. How do you like it?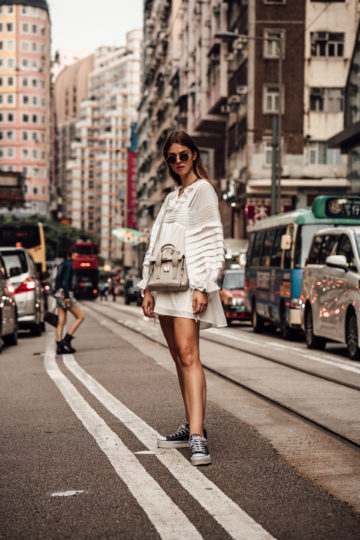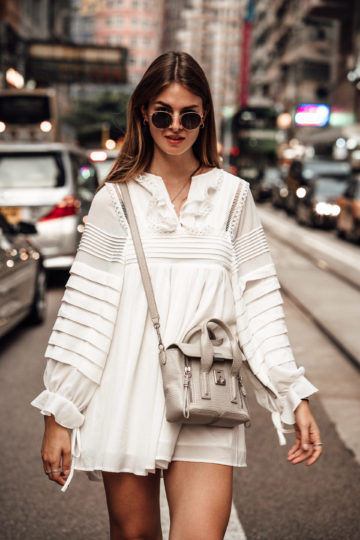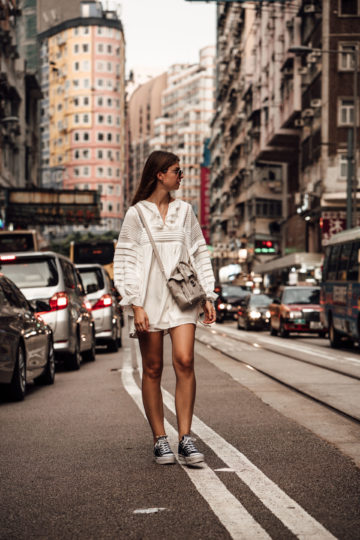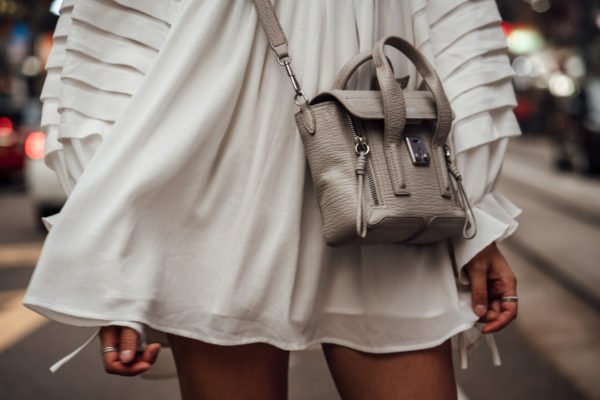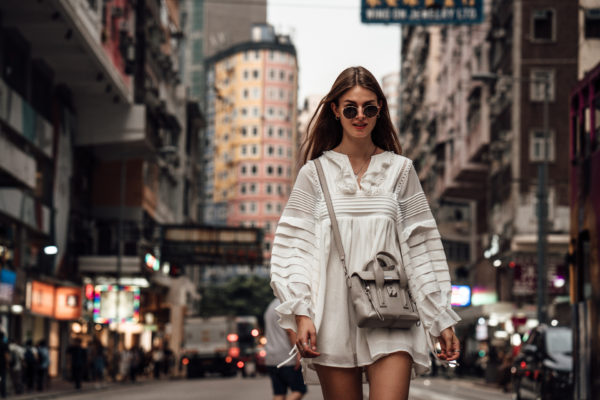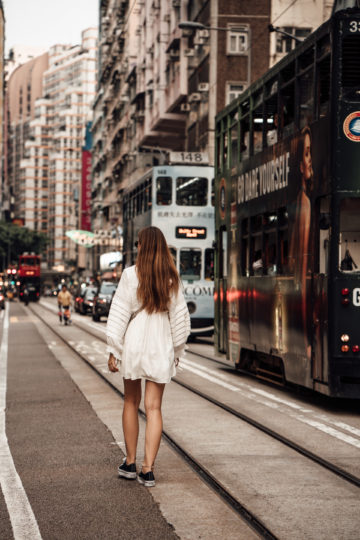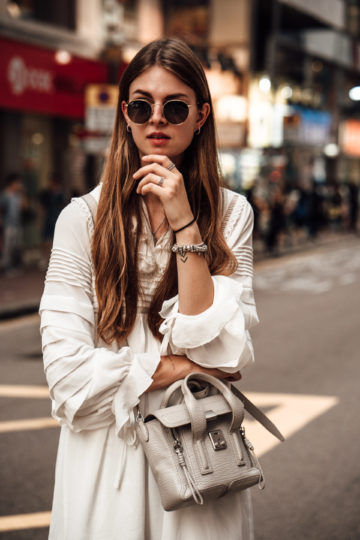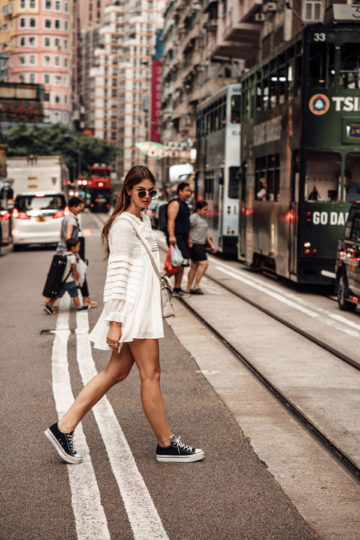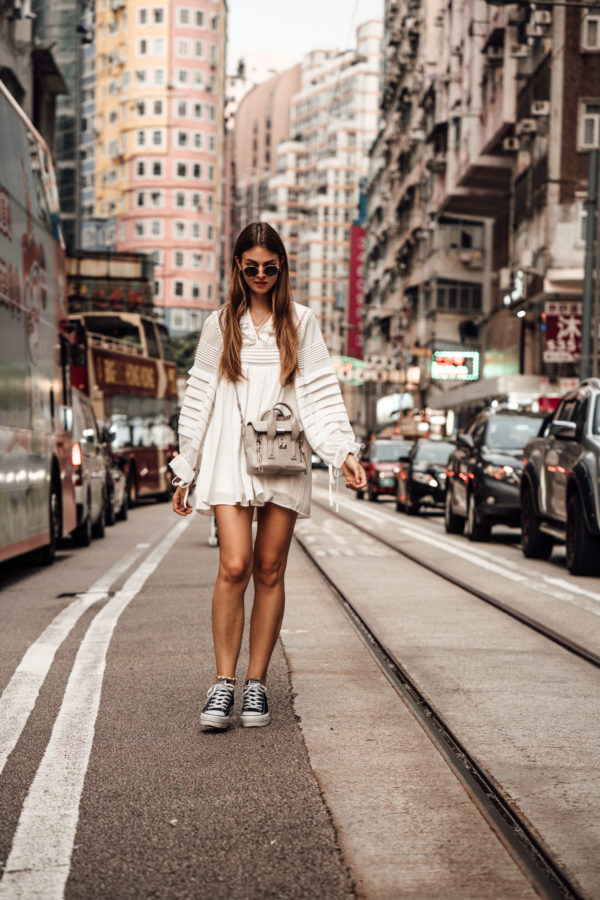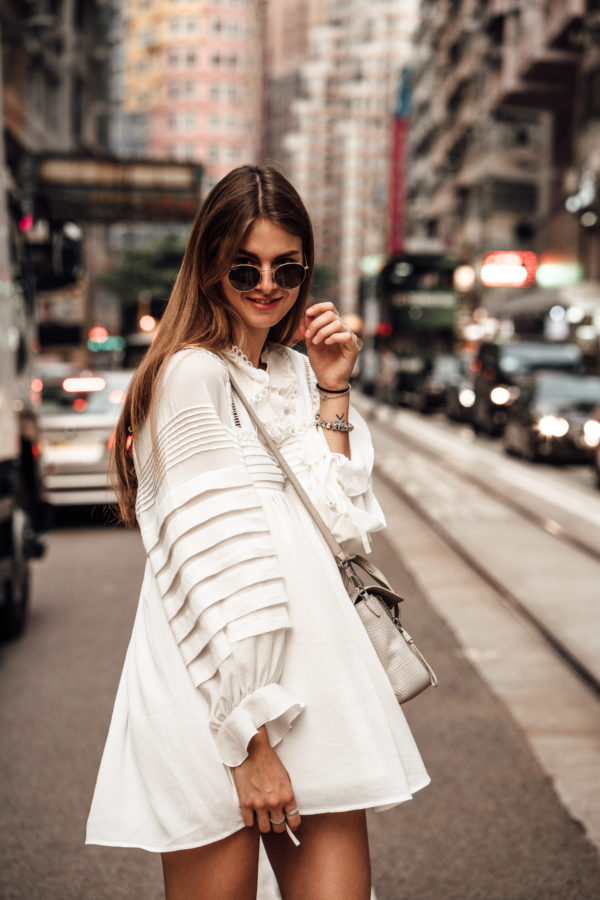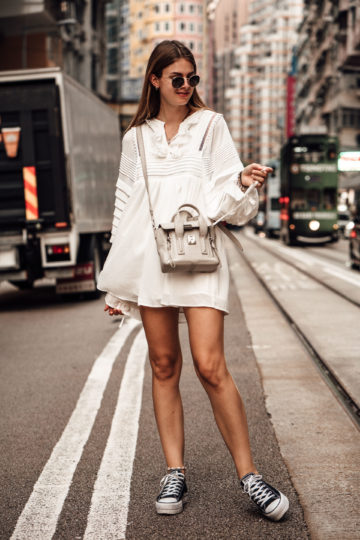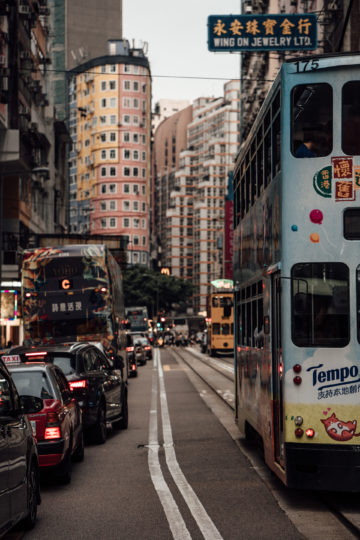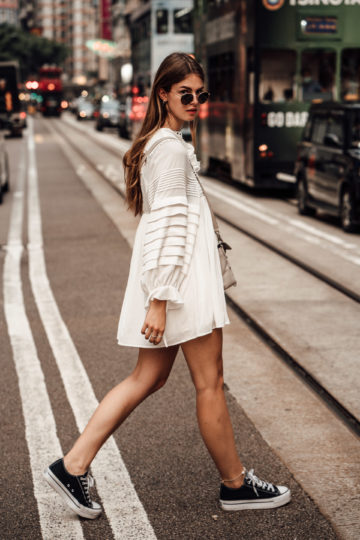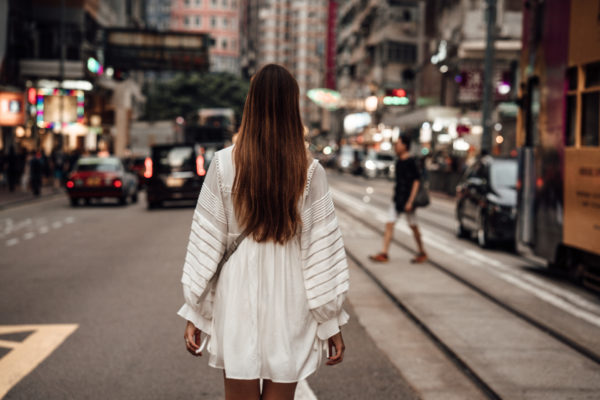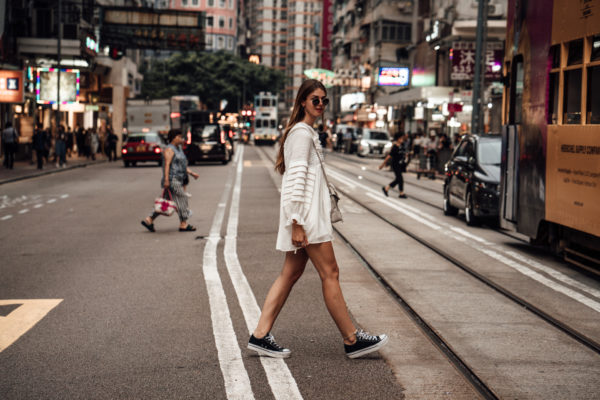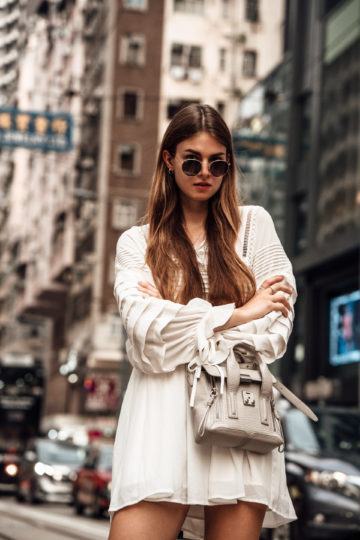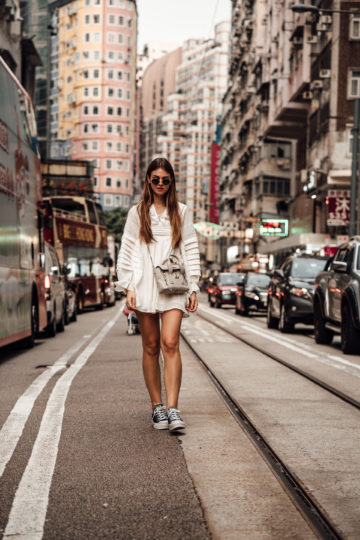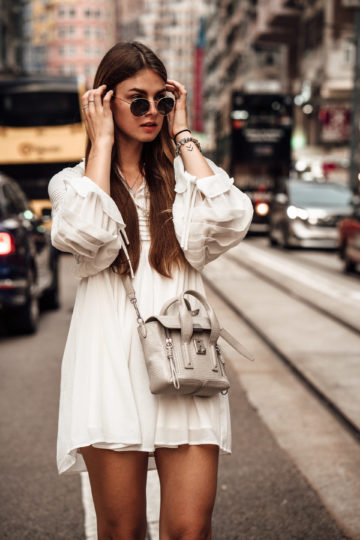 *Ad, brands named – Mossman dress || Converse sneakers || Ray Ban sunglasses || 3.1 Phillip Lim bag