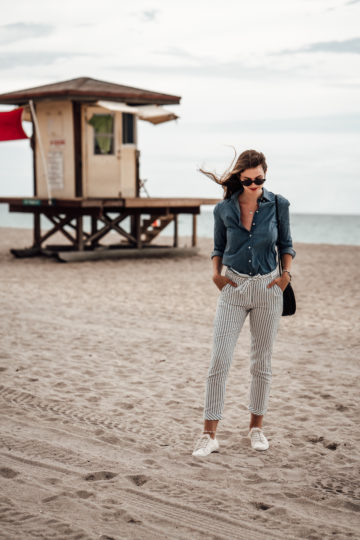 You know how much I like to travel and that most of my travels go to places by the ocean. I would even say that I feel most at home by the ocean. We've been around a lot, and as beautiful as all the places are, one thing I've always noticed negatively was the pollution of our oceans.
I recently noticed it when I was in Bali and Lombok. On some beaches where so much plastic on the beach and inside the water, we couldn't go inside the water or stay on the beach. And unfortunately Bali and Lombok aren't the only places with this problem, it exists worldwide. It always makes me so sad, when I have to see how we destroy our beautiful planet, how we take some of the beauty of the most beautiful places our world has to offer. And with "we" I don't talk about anyone in particular, with "we" I am talking about us humans.
The GANT Beacons Project
Under the motto "Never Stop Learning", GANT has made every effort to make our planet a little bit better. And their new Beacons Project is part of this mission. When I first heard about the Beacons Project, I was absolutely thrilled, and I still am! It deals with the plastic in our oceans and how sustainable things can be done against it.
Did you know, that around 165 million tons of plastic are floating in the oceans of our earth? These are 165,000 1-kilogram Nutella jars or about 110 VW Golf. To put it simply: it's a way too much plastic. But what can we do about all this plastic?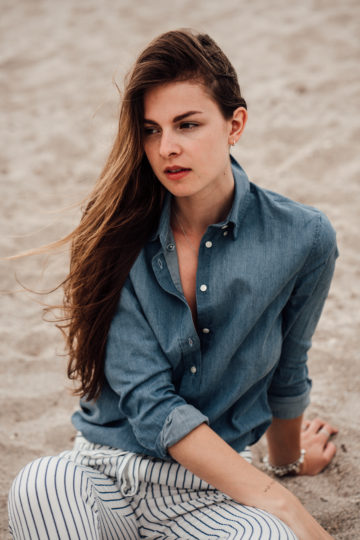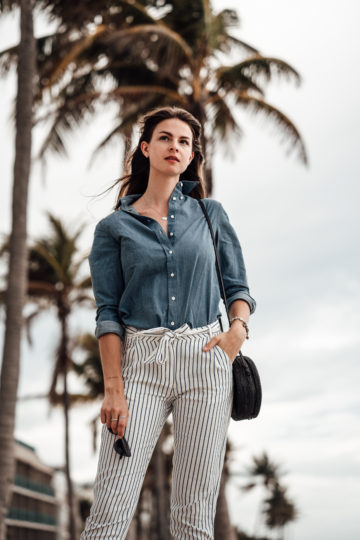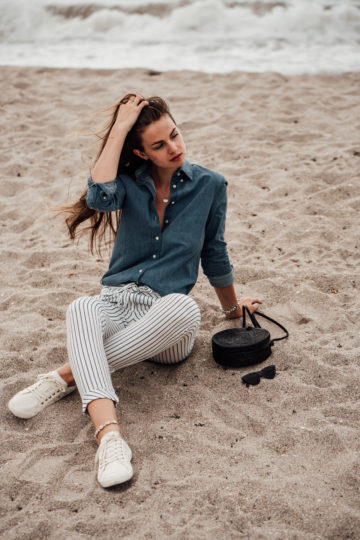 How about a fashion collection, for example? That was the idea of ​​GANT. And to realise this idea, they teamed up with fishers in the Mediterranean. The fishermen get the plastic from the oceans and GANT then processes it directly and makes it part of a complete fashion collection. And that's still not it. They also use less water for the production of this collection than it is used in conventional production processes. Sounds good in any case, right? But can a fashion collection partly made of plastic look good too?
Shirts and blouses made of plastic that look good
Part of the GANT Beacons Spring/ Summer collection 2018 are shirts and blouses, such as the one you can see me wearing here. At first glance, you do not even notice that it's made of plastic. And you probably wonder, where exactly the plastic GANT took from the oceans was used for the blouses and shirts. On the one hand the buttons are made of recycled plastic, and on the other hand, the fabrics of Tech Prep ™ contain recycled plastic. Also, the packaging also consists of recycled materials. So no new plastic is produced, but old reused and reworked.
And although plastic from the oceans was used in the collection, it still looks very chic and offers a great wearing comfort. The blouse I am wearing here feels incredibly light and was just right for one of the mellow evenings here in Miami. Combined with a pair of loose linen trousers and white sneakers, it was the perfect look for a walk on the beach. How do you like it? And what do you think about the Beacons project by GANT?
More information about the project and a detailed look at all parts of the Beacons collection can be found at GANT. Have a closer look at the collection and maybe one of the blouses or shirts will find its way into your wardrobe and help to free the oceans a little bit more from all the plastic.