Happy Friday everyone! After sharing an autumn outfit as well as an outfit for the interim period the last days, it is time for another summer outfit. Summer is coming to an end, but we still have some very warm and sunny days on which we can wear our summer dresses without freezing. I also still have some summer outfits I haven't published on the blog so far, because I simply didn't have the time or wanted to talk about other topics first. So today as well as the next week, you will see not only more autumnal outfits but also some summer outfits. And I actually enjoy sharing these summer outfits, because this way I can keep summer up a little bit longer – I don't want it to come to an end 🙁 What about you?
We are also planning our trip to Indonesia in October at the moment and guys, I can't wait! I want to leave so badly even though summer isn't over yet. But as you know, the summer here in Germany wasn't the best, if you can even call it summer… but that's something I've talked about often enough. So let's move on and talk about this outfit I was wearing a couple of weeks ago (it was the last July weekend to be exact).
Floral Summer Dress combined with Black Sneakers
You know how much I enjoy wearing casual chic outfits, especially when they are a combination of cute summer dresses and sneakers. The day I was wearing this outfit, was a very hot day with more than 30°C in Berlin. I spent the morning and noontime at the Adidas Runbase together with Sophia (lovelygirlyrosy), we had breakfast and joined a yoga class.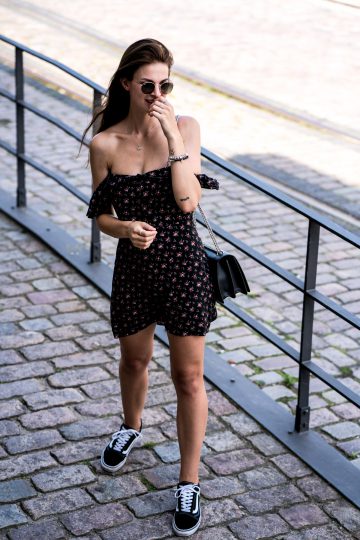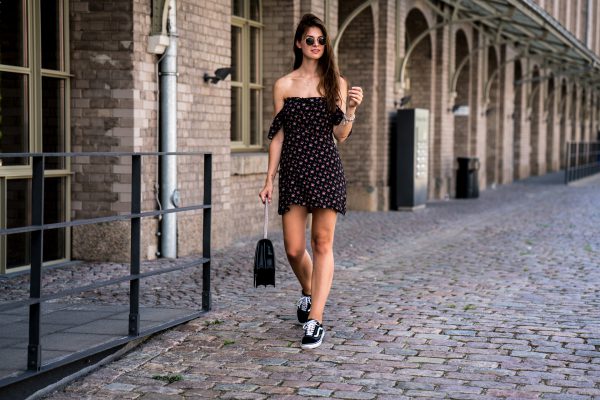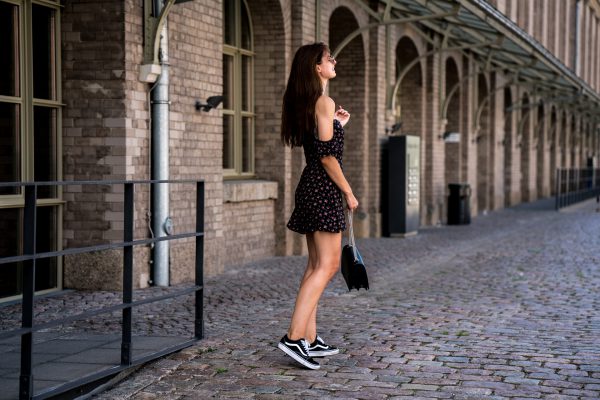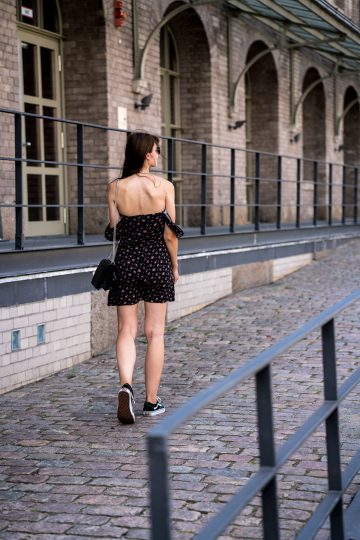 But I already told you about this weekend a while ago. After spending some hours at the Runbase, we refreshed ourselves and got changed, because we wanted to take some outfit pictures together. Taking pictures on a day like this isn't my favourite, but it still is much better than taking pictures outside when it is freezing!
That day I needed an outfit that is airy, casual and comfortable! I opted for this off-shoulder dress you've seen before, because it is perfect for hot summer days. Wearing off the shoulder clothes in summer is something I like a lot. I like it when less skin is covered with fabric. But off shoulder clothes also have their downside: if it doesn't fit perfectly, you are always worried it will slip. And the one I am wearing here is a little too wide, to be honest. I already tried to tighten it a little bit, but I didn't stitch down enough – definitely have to do it before I wear it again. So as much as I like this dress, I always feel a little bit uncomfortable, because I know it slips if I don't take care of it…
But let's not talk about this kind of problems. Let's speak of the outfit combination. I combined this off shoulder summer dress with a pair of black sneakers, my Vans Old Skool sneakers. They are one of my favourites, and I could wear them every single day – even though I first wasn't sure whether they would suit me or not. And since it was a very warm day in Berlin, I didn't add a lot of accessories. All I added were my round sunglasses from Ray-Ban, some pieces of jewellery and my Agneel bag. How do you like this casual chic summer outfit? And how do you like the combination of the summer dress and my black sneakers?