I am back in Berlin and finally back to work. Well, I just arrived, because my flight was at 8.30 am this morning. Those who follow me on Instagram know what I am talking about, those who don't might not know it. So let's start from the beginning. My brother turned 21 on Monday, and he wanted to celebrate his birthday in Amsterdam. Since his friends either didn't have the time or not the money to join him, he asked my sister and me, if we wanted to travel to Amsterdam together with him and we said "yes". So on Tuesday morning, we left for Amsterdam. Even though it was my first time in this city, I was looking forward to being there again. We had two days in this beautiful city, because as you already know: this morning I had to catch the flight back to Berlin. I could have stayed longer, but a friend of mine is turning 30 today, and we want to celebrate. Additionally, I have so much work to get done; I really need today to catch up on a few things.
But enough about that. I will soon tell you more about our Amsterdam trip because I filmed a lot and I also took some pictures. But for today I will leave you with another outfit we took pictures of in Berlin a few weeks (yep, already a few weeks) ago while I am plunging into work. It is one of my favourite looks from the past weeks, and I hope you will like it as well.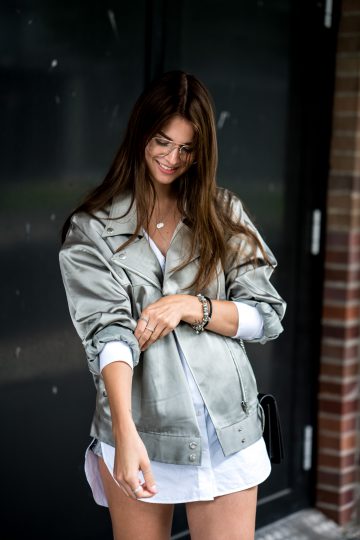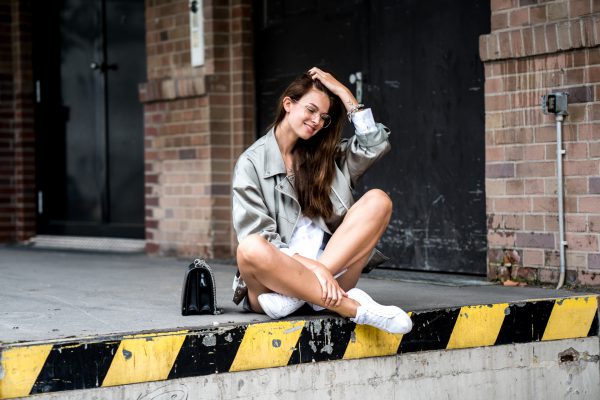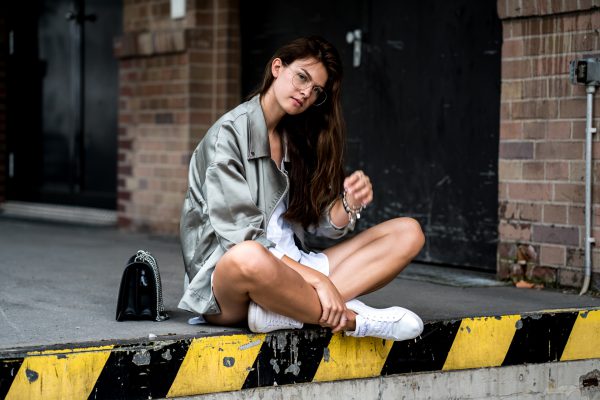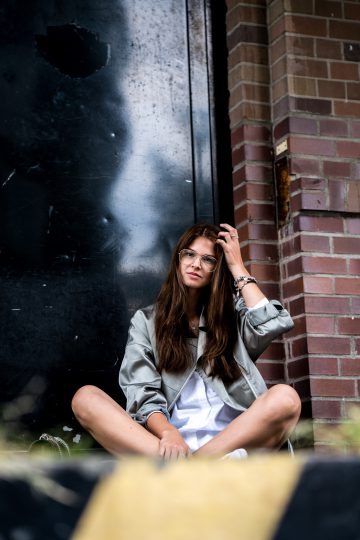 How to combine a white shirt dress
I had this outfit in mind for quite a while, but it was either too hot or too cold to wear it. A few weeks ago, the temperatures dropped, and it was a little bit gloomy. It actually wasn't that warm outside, but I thought this outfit would work anyway. Well, it did most of the time, but it was a little bit windy, and whenever the wind blew I froze a little bit. But for the most part, this outfit was a perfect choice. And I actually couldn't have been wearing it on another day… the next day it was even colder, and then it only got warmer, too warm for this kind of outfit.
But that doesn't matter and isn't interesting for today's post at all. All you need to know is that this outfit is perfect for the interim period between summer and autumn. So what was I wearing? The key piece of this outfit definitely is the bomber jacket even though I talk about the shirt dress in the title of this post. I got it on sale a few weeks ago, and I couldn't wait to wear it. I was thinking of many, many possible combinations but they were either too boring or simply not suitable for the interim period and those colder summer days.
As you can see, I ended up with combining it with a white shirt dress and white sneakers. And don't worry: I was wearing shorts underneath as you can see in some of the pictures. I also added some accessories such as my fake glasses to make this outfit look even cooler. It's the kind of outfit I could wear every single day (as long as the weather plays along) and I will for sure create more outfits like this one before it gets too cold in Berlin. This combination will work with any kind of bomber jacket, with oversized leather or denim jackets and you can also exchange the white shirt dress and wear a black dress or any other dress you have in your wardrobe.