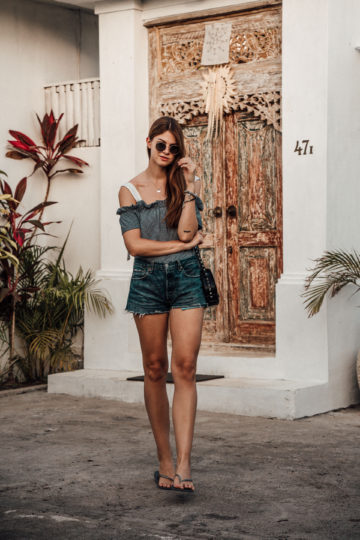 Last Wednesday was our first full day in Bali and today we are already leaving this island. No worries, we will be gone for a couple of days only, because we didn't just want to see Bali, we also wanted to see Lombok. So today we are taking a boat to Lombok and stay on that island for three nights. We still haven't figured out what we will do after Lombok if we will return to Bali or spend two nights on another island so that we will see. And since the first few days in Bali are over, I do not only want to share the first pictures we took here with you guys; I also want to share my first Bali impressions. How has the time been here so far? What did I like and what didn't I like? Where did I enjoy it the most? Read everything about it in the following:
Canggu or Seminyak? Which part of Bali is better?
We spent the first three nights here in Bali in a private villa in Canggu and the other three nights in a private villa in Seminyak. The accommodations themselves were both amazingly beautiful, but that isn't relevant at this point. Lovely accommodations can be found everywhere independently from their location. It is more of what the area has to offer, and how crowded and loud it is that makes me decide whether I like a place or not. When I travel, I am not looking for crowded and touristy places; I don't want to party or spend all day at a beach club. When I am traveling, I am looking for quiet areas, areas that are not too touristy, calmer and with a "local touch." Of course, I do want to have a good choice of restaurants, and I do want to be able to communicate with others (especially locals) in English. But don't we travel to see new places, to experience new things and to learn more about other cultures? If I were looking for touristy places and a party scene, I could also stay in Berlin or fly over to Mallorca or Ibiza…
Now you have an idea of what is important to me when I travel. Let's get back to the central question: Canggu or Seminyak? I can't say anything about other places in Bali, but I spent three nights in Canggu and three nights in Seminyak, and it's super easy to make a decision here. I would always choose Cangguu over Seminyak if I had to.
Why I like Canggu
Canggu is a town north of Seminyak, and it is quite small. Nevertheless, it has a lot to offer. A lot of great restaurants are located in Canggu, and so are many local brands and Australian brands. Canggu has a western touch, but still, it's local charm. It reminds me a little bit of Byron Bay even though it is so different to it. You don't even see a lot of surfers in Canggu, what doesn't mean that you can't surf there. Echo Beach is located in Canggu, and it is well-known for its excellent reef breaks as well as beautiful sunsets and amazing seafood cafés. You do see a lot of surfers once you are down at Echo Beach, but they just don't seem to spend a lot of time on the streets of Canggu.
To put it straight: when traveling to Canggu, you will find lots of cute cafés, great restaurants, fields, and lots of palm trees in between houses, small alleys as well as a black sand beach full of surfers and those who just want to enjoy a beautiful sunset.