Guys, I am so sorry for the lack of posts here on the blog. The days in Bali and Lombok went by so fast, and I just didn't have the time to update the blog and share all my impressions and the pictures we took. But I am currently sitting at the airport, waiting for our flight from Lombok to Bali and since we still have an hour before boarding, I wanted to take advantage of this hour and work on a new blog post.
And today I would like to share another outfit with you I was wearing in Bali about a week ago and talk about what to wear in Bali. This post won't be a general guide about what to wear; it will be more about what I packed and what I've been enjoying wearing here most so far. 😉 And I chose this outfit to share the pictures with this topic because it is one of the looks I felt most comfortable in.
What I am wearing here in Bali most of the time
Let's be honest: some days it is super hot in Bali, so hot I don't want to wear anything but a bikini and spend all day at the pool or in an air-conditioned room. And I am wearing a bikini most time of the day, but I can't do that when we are going out to eat or sitting on the scooter.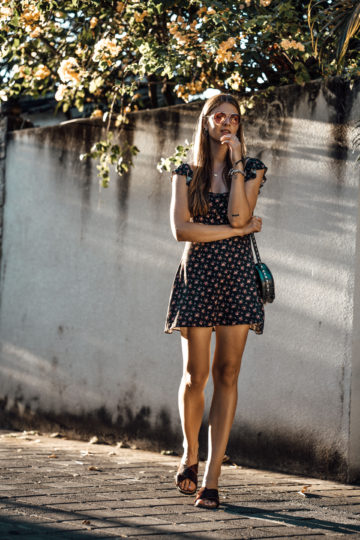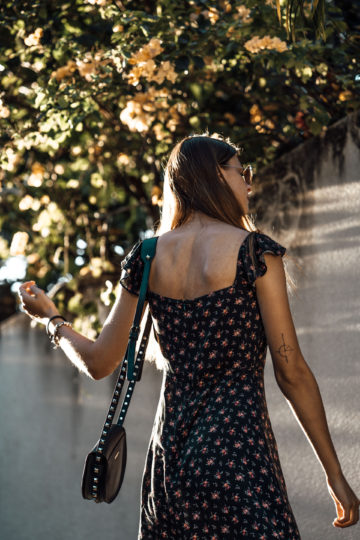 I didn't pack a lot of clothes. Well, I didn't pack enough for the hot temperatures here in Bali. I thought I could wear the clothes at least twice, but I actually already ran out of t-shirts and tops haha. I wish I had packed more dresses because they need less space in the suitcase. I packed three pairs of Levi's shorts, and even though they are my favorites, I don't feel like wearing them. And now guess what the one piece of clothing I feel more comfortable in is! Of course, dresses! The one thing I didn't bring enough of hahaha.
Dresses are airier, not as thick as denim shorts are. And you don't have to combine them with anything else but a pair of shoes and some accessories. I was wearing this pretty dress the other day, and you have seen me wearing it before in Berlin. Last time I was wearing it off-shoulder, but in Bali, I tried another way of wearing it as you can see 🙂 Wearing it off the shoulder wouldn't have been suitable for driving the scooter, and I actually like it a lot like this. Due to the flower print, I didn't have to add any more details. So I just put on a pair of slippers, pink sunglasses, some pieces of jewelry and that's it. I was also wearing my Rebecca Minkoff bag, the only bag I brought with me. I didn't want to pack any bags because I knew I wouldn't need them. A small bag like this one seemed to be perfect for the trip. Everything I need when heading out for breakfast, lunch or dinner fits in here perfectly.
What to pack when travelling to Bali?
To sum up, I can say that you should bring a lot of airy and light clothes to Bali. Pack some nice dresses instead of too many denim shorts and pack at least twice as many tops and t-shirts as you think you will need. 😉 You will also need a lot of swimwear; I would bring at least three different styles to make sure, you always have one dry bikini or swimsuit. I brought one bikini for every day, but you don't need that many bikinis! I just couldn't decide what to bring…
When you are traveling to Bali during the rainy season make sure to bring at least one sweater or jacket. It might get a little bit chilly when it's raining, and you don't want to get sick, do you? And even when it's not rainy season in Bali, I would recommend bringing something to put over because of the air conditioning. I got a cold due to air conditioning, and yep, it is annoying!