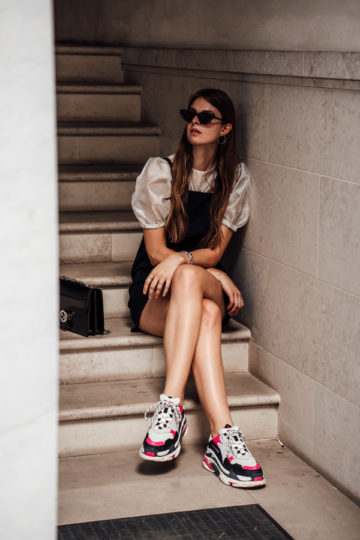 I really focused on the blog this week, because I wanted to share a little bit more with you than just two new outfit posts. So instead of two new outfit posts, you got to see three new outfit posts, and even though it is only one more post, it makes a big difference for me. 🙂 The past weeks I barely had time to update the blog as often as I wanted to and I hate that I had to lower the number of posts this year. But that's for a good reason, and great things are coming very soon.
But enough about that, let's get straight to the third Fashion Week outfit I want to share with you today. It is not the outfit I was wearing on the third day of Berlin Fashion Week; it actually is the one I was wearing on day four. But I couldn't wait to share the first outfit with my new Balenciaga Triple S sneakers, so here you go. Read everything about my new shoes and this Fashion Week outfit in the following:
Trend Sneakers: Balenciaga Triple S
You will either love or hate these sneakers, that's just how it is. I was sceptical myself when I first saw them, and I usually don't like going with the trend when it is as expensive as this one. Believe me, I thought about it a lot, and as you can see, I ended up buying the Balenciaga Triple S sneakers. Why? Because I do like them a lot! Yes, they are chunky and not what I would call a beautiful sneaker, but they are so cool and easy to combine!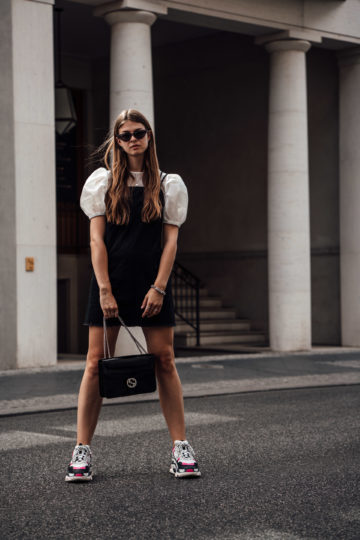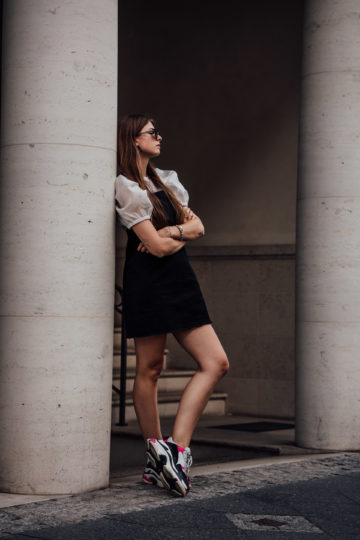 They are an eyecatcher, which means that you don't need any other clothes that are rich in details. You can wear these sneakers with a pair of jeans and a white t-shirt, and your outfit would still look cool and everything but dull. And that's the main reason why I decided to buy them. Additionally, they are super comfortable, and that's a plus as big as the variety in outfit combinations.
Combining my Balenciaga Triple S sneakers with a black dress and see-through shirt
For the fourth day of Berlin Fashion Week, I combined my Balenciaga Triple S sneakers with a black dress and a see-through shirt. I had this look in mind since I was thinking about buying these sneakers and now I finally got to wear it. And guess what? I do like it a lot.
I do like the contrasts between the chunky sneakers and the simple dress as well as the white see-through shirt. The upper part of this outfit looks very girly and maybe even a little bit chic while the lower part is super sporty and casual. How do you like this outfit combination? And what do you think about the Balenciaga Triple S sneakers in general?
P.S.: another outfit with my new sneakers will be published next week, and I do have many more outfits in mind. I can't wait to wear them and take outfit pictures I can share on the blog with you guys.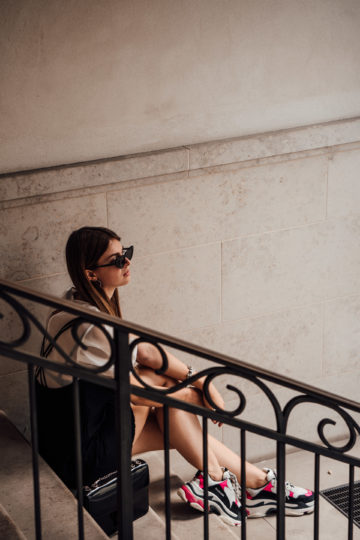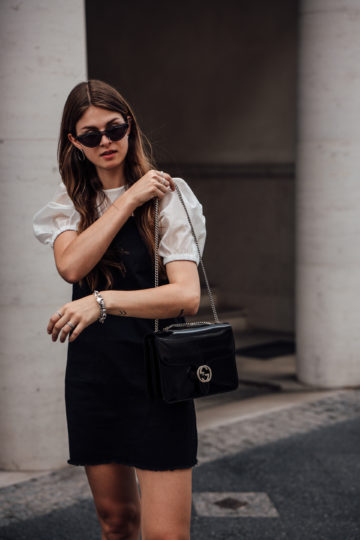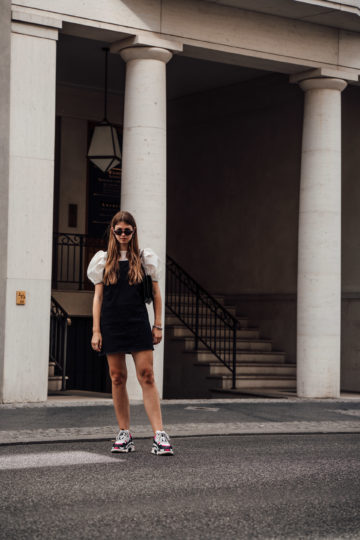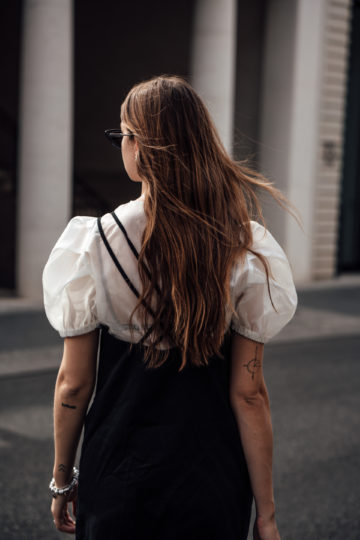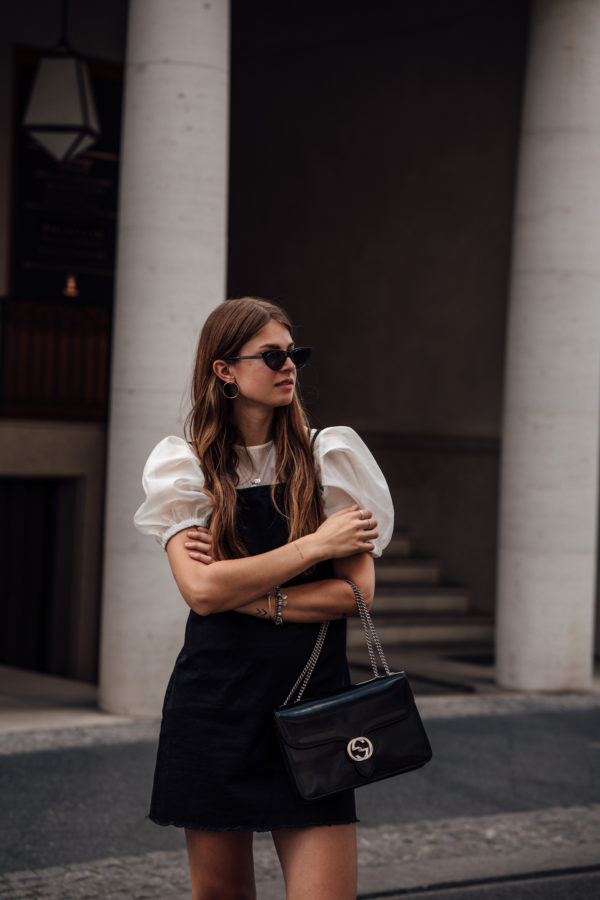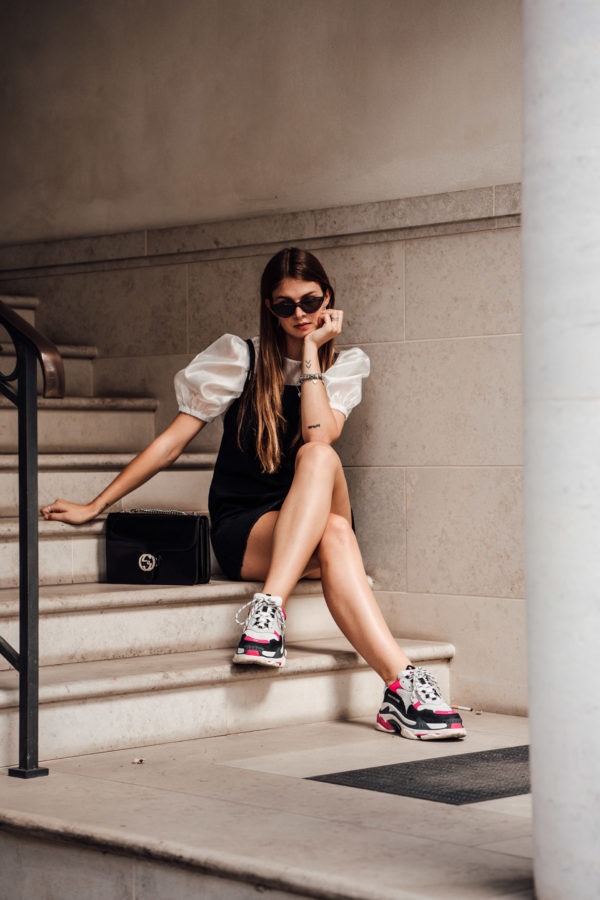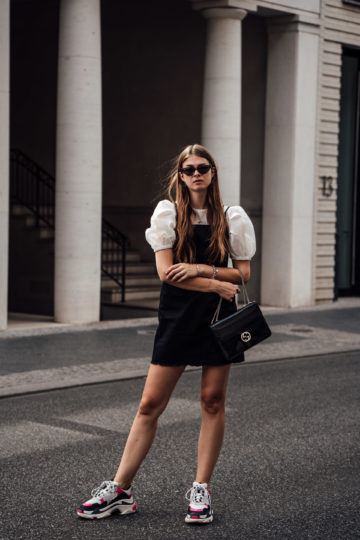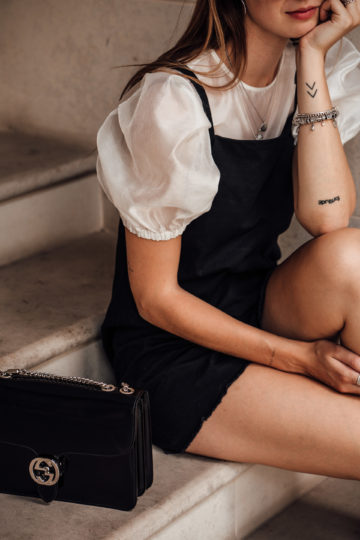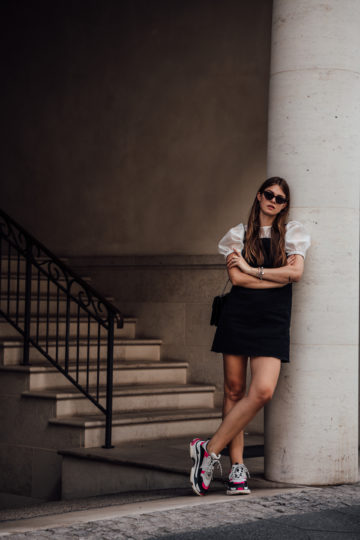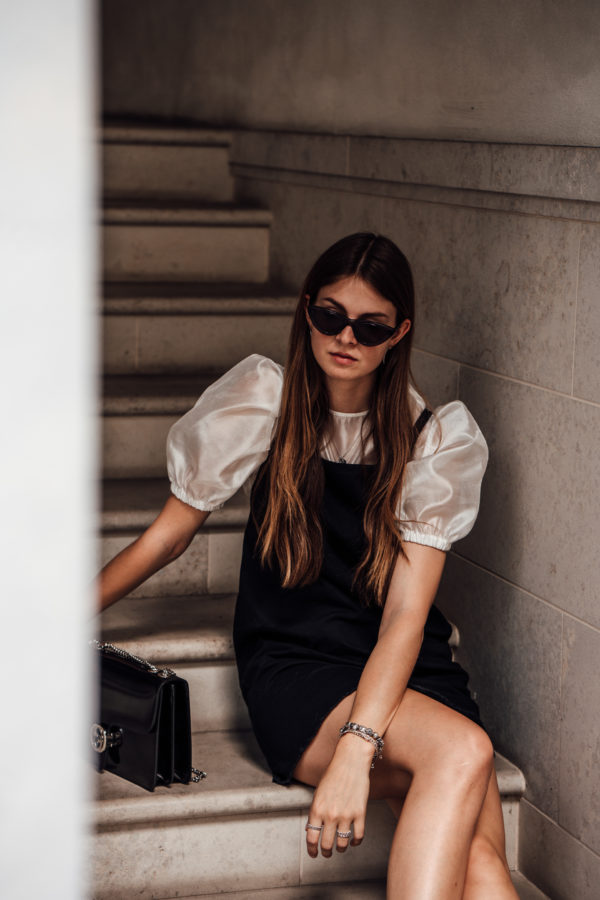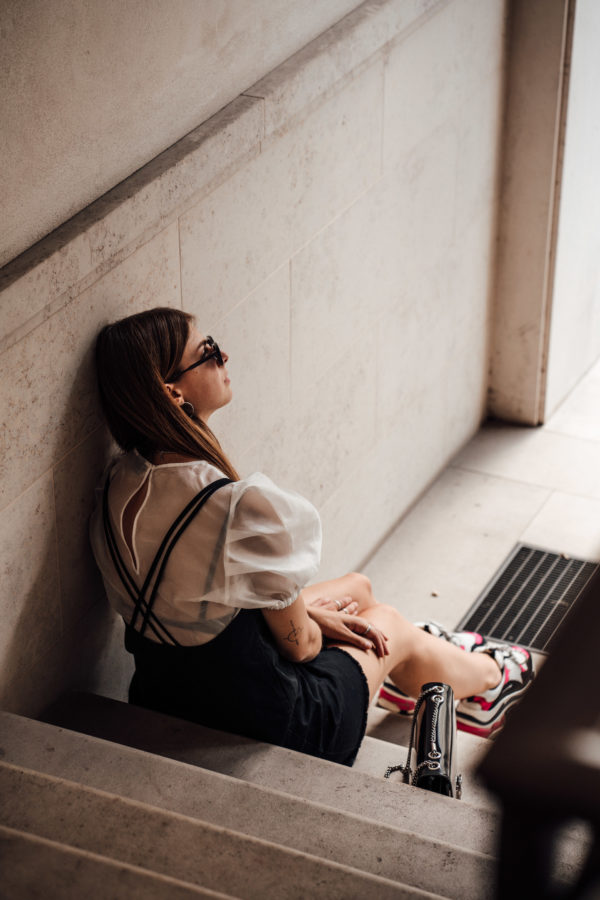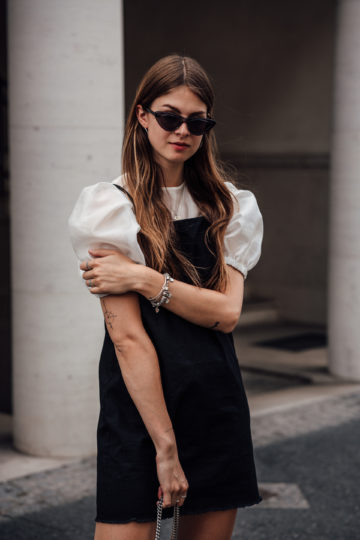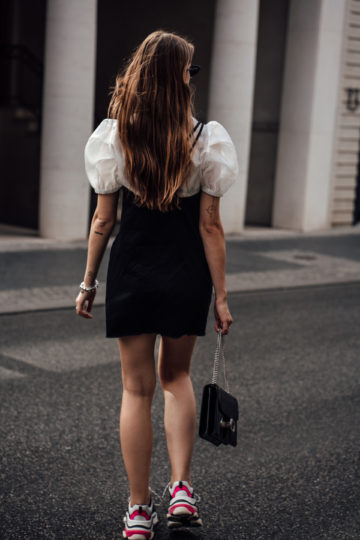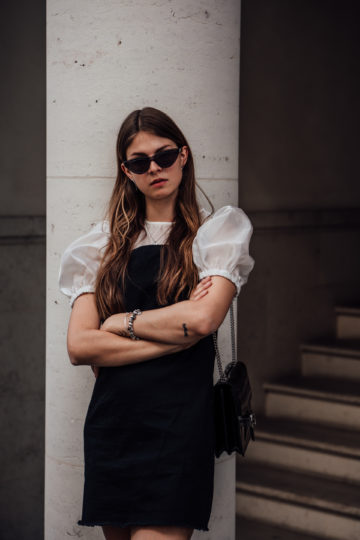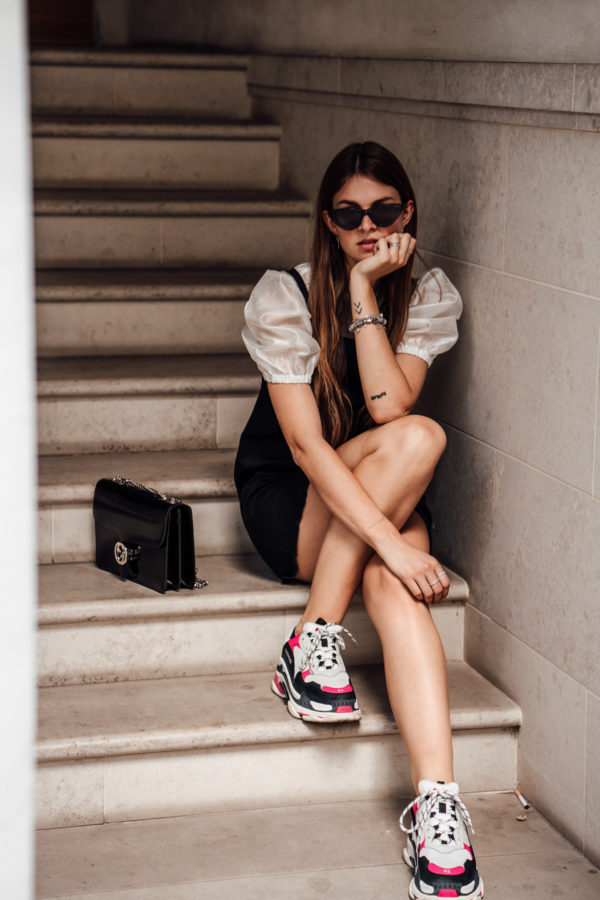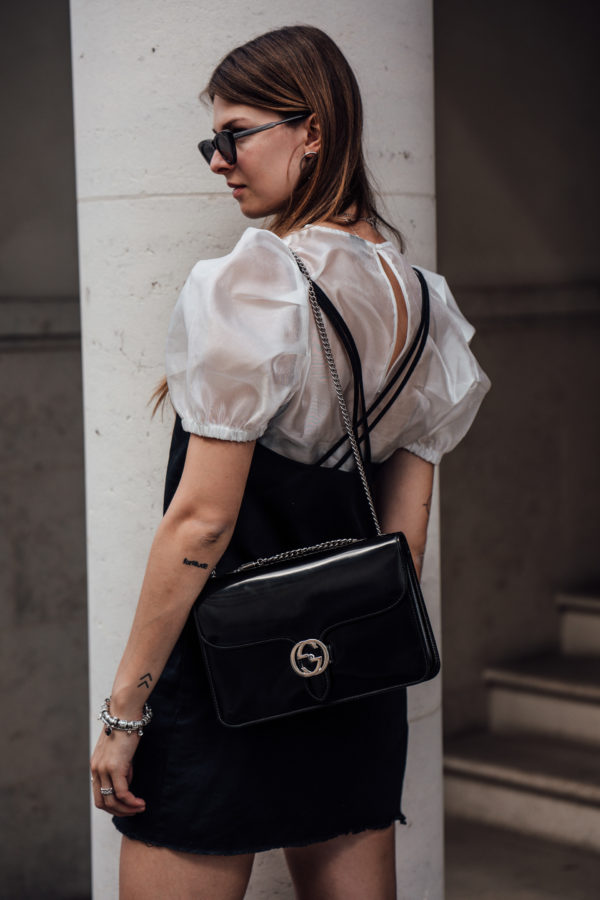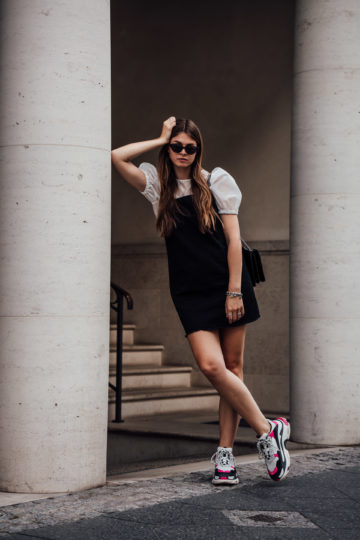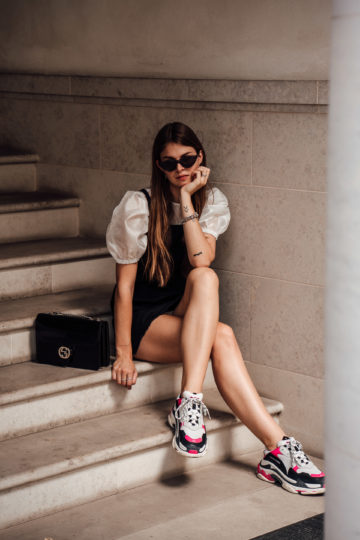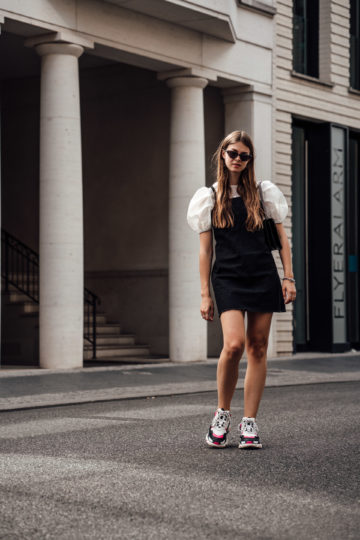 *Ad, PR Samples – Gina Tricot Shirt || Edited Dress || Balenciaga Triple S Sneakers || Gucci Bag || Chimi Sunglasses