Vest fashion trend for the autumn 2022 season
We have already detailed this year's trend in transitional jackets. This year's trends include the classic trench coat, the ever-popular bomber jacket, leather jackets in motorbike style, gloomy grunge look jackets, and blazers in bright colours.

And, of course, in addition to the jackets, vests must not be missing in autumn because they are convincing, not least because of their versatility. And what exactly is new in this fashion trend for autumn 2022, what to look out for and how best to combine these items? Read more about it here!
Vests in autumn – an absolute all-rounder
Vests are particularly practical when you need to throw on something warm for a moment. You can slip into them quickly and easily, and they keep your upper body nice and cozy. But that's not all, of course. Often worn for gardening in the past, now they are an absolute it-piece that rounds up every outfit. A sense of style should not be missing here. After all, you also want to show your best side when going out for a quick coffee with your best friend, walking the dog, or on your way to the supermarket. And why not? Besides, you never know who you'll meet while shopping or going for a walk – maybe you'll meet the love of your life today! And with the right outfit, including a fashionable vest, you are well equipped for all eventualities.
A vest completes the look with a skirt and boots, as well as just with some simple jeans and trainers. The vest keeps you warm in the most comfortable way – what more could you want? Vests are simply unbeatable for the perfect everyday outfit!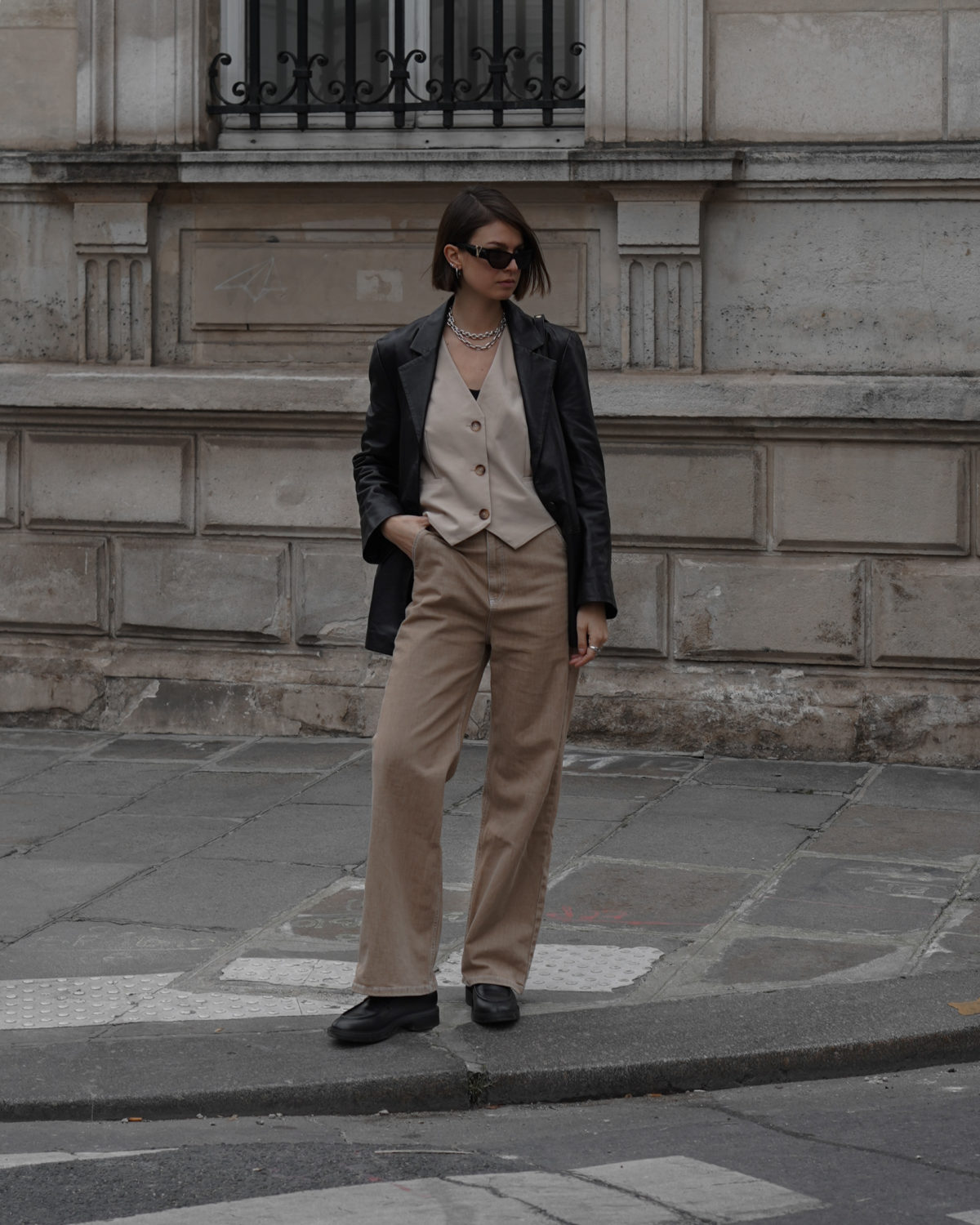 Business look vests
For men, the vest is already an integral part of the suit – now, the ladies diligently follow suit in business. The vest is worn to the office with suit trousers and a blazer. That is guaranteed to upgrade any business outfit. And since this season, style breaks are essential, preferably a suit in a trendy oversized look. That is how Hollywood actress Marlene Dietrich liked it best in the 1930s. And since she was already considered a style icon back then, this style is still firmly associated with her. But this casually elegant look is also too good to be true because it looks cool and wonderfully comfortable to wear.
But the vest can also be combined casually in a business look. For example, a T-shirt underneath and combined with jeans or a pair of loose trousers.
Vests in winter – cozy, warm, and soft
A vest is a perfect add-on to any look, even in the icy season. They come with a soft inside material, trimmed with down, or warming fur hoods. The same goes for this: outfits with a dress or skirt, elegant tights, and boots look absolutely elegant and wonderfully stylish. On the other hand, the same vest combined with jeans and rugged boots can look very sporty. In other words: the ultimate vest outfit – this fashion piece is so wonderfully adaptable and, at the same time, dressy, and in the autumn/winter 2022/2023 season, it is totally in line with this year's trend!
Colourful in autumn 2022
Besides the eye-catching trend with XXL-like, mega-wide trousers and blazers, equally stunning colors are absolutely IN this season and must be part of the game. The bright colors in pink, orange, or red are particularly effective for a business look. What could be better than combining the outfit with a different-colored vest? And, in fact, anything goes. A bright green vest with an orange suit, perhaps? Why not! Or a combination of a suit in Barbie pink and a vest in Bordeaux red? Of course, and in any case! Especially with vests, this year's trend for contrasting colors allows you to vary and combine as much as you like.
Denim vests – two trends in one
An absolute must-have this season is the denim vest. Either worn plain with denim trousers and a denim jacket or a denim coat or combined with other materials. The style break in this year's trend offers unimagined possibilities for entirely new looks and sets no limits. You can combine vests with anything you like. A tight turtleneck jumper paired with a pencil skirt is just as much an eye-catcher in streetwear as an ultra-wide cardigan in XXL style combined with pants, tights, and riding boots – or, in windy weather, with the ever-popular rubber boots.
Leather vests
This season, the grunge look is just a part of it as the western style or the biker look. For these different styles, leather vests complement the respective outfits perfectly! Whether long or short, loose or tight-fitting, sequined or fringed – a vest is as versatile as it is multifaceted.
intage vests as an autumn trend 2022
Whether vests are made of leather or other materials – they can be combined almost without hindrance and thus reinvent themselves repeatedly. And they have always been around, so you can find them in the current collections and virtually any vintage shop. It doesn't always have to be the latest model because it's often the vintage pieces that make the look special.
The vintage vest can be combined with leather trousers made of smooth black leather, a belt with a unique buckle, shoes with a snakeskin look, and a simple T-shirt. Social networks are showing the way, and you can find the right pieces for the street style look at the brands and vintage shops.
Vests as the autumn trend 2022 – at home on the catwalks
In the past, they were sometimes considered not quite stylish, but now they are in trend once again – vests in their most beautiful form. They have become an essential piece of clothing and are enjoying the most outstanding possible popularity this season. They do present themselves at their best, peppered with new details and in bright colors. And it cannot be emphasized enough: Breaking styles and stunning contrasts are top of the list this season. A vest is always ideal because it is the perfect add-on, the so-called icing on the cake.