Fashion trends for autumn 2022 – pure excitement!
What are this year's fashion trends for autumn 2022? All fashion enthusiasts are already excited and eagerly waiting for the new trends. What will the new trend pieces look like? What colours are coming and how will the latest cuts and patterns be presented? It is always immense fun to follow the trends and styles of the big fashion houses and the fashion managers anew every season. Because one thing is certain: the fashionistas always come up with something revolutionary that you absolutely want to have.
The trend for autumn – the transitional jackets you need to have
Summer is coming to an end, and the days are getting shorter again. The weather is still warm and pleasant, but you already like to put on a thinner jacket in the evenings.
To make sure you are well equipped for the cooler season, we present the transitional jackets that you should definitely have in your wardrobe. Bomber jackets are very important this autumn and can be wonderfully combined. With the right outfit, they can look just sporty or even sporty and elegant. They come in different styles: cropped, with puffed sleeves, and in an oversized look.

The blazers come either in XXL style or very figure-hugging – and often in flashy colors. The eternally trendy trench coat is also back at the forefront this season and shows its best side. The denim-style denim jackets are the perfect companion for the cooler temperatures in autumn and can be combined absolutely fantastically with almost any outfit. On the other hand, waistcoats are perfect for quick layering and are, of course, a must-have in the trends for the 2022 autumn season. They come in bright colors, softly lined or loose and casual.
Autumn 2022 – Fashion Trend Leather Jacket
Leather jackets are a must-have this autumn. They represent the ultimate street style and emphasize the casualness of any outfit. Either in black or different shades of brown, with or without a collar, they give the outfit that very special something. Or how about a leather blouson in motorbike style with an oversized look? The street style stars show how it's done in fashion magazines. Wide and infinitely cozy, this leather jacket fashion trend can be worn and combined with wide baggy jeans and rough boots to create a really cool look. And of course, the extra-wide leather jacket can also be stolen from the wardrobe of your male partner if necessary. Whether it's made of real leather or imitation leather is up to you. In any case, they look ultra cool.
Or how about a leather jacket in the style of a bomber jacket? Followers of the grunge look are also enjoying a new take on leather jackets and wearing them in an extra-wide style.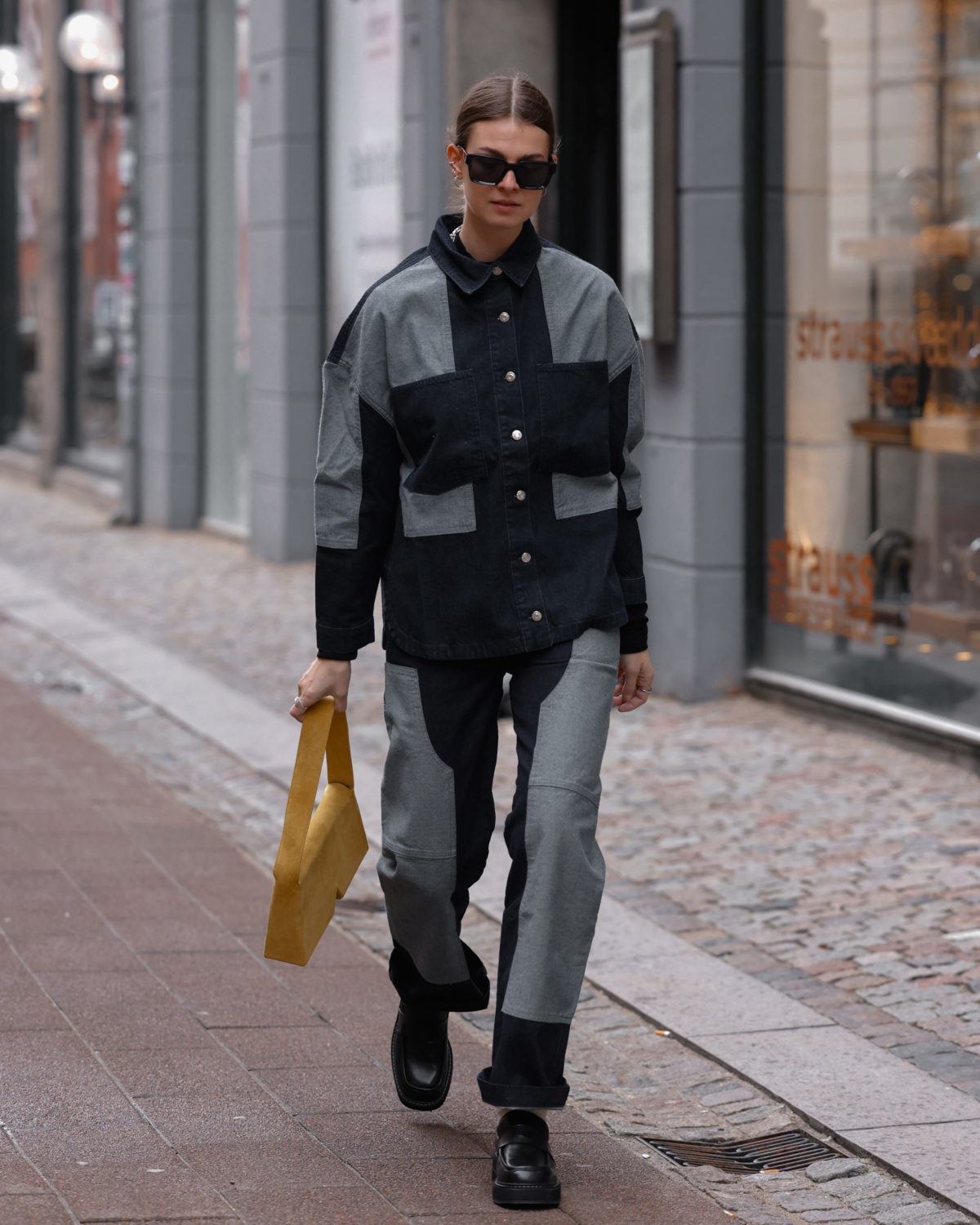 Autumn Fashion 2022 – Fashion Trend Jeans Jackets
Denim jackets are also a must this season. With their various designs and styles, they are the transitional jacket par excellence. Quickly thrown on on cooler days, and the outfit looks completely different. This season, the denim jacket fashion trend convinces you with absolutely timeless and wonderfully changeable styles. And there is definitely something for every taste.
For the very brave, the denim jacket is available in a belly-baring version that highlights the narrow waist. This not only looks sexy but also dresses up enormously. Otherwise, the tried-and-tested classic is available in pretty much every wash, from dark to light shades. For those who like it a little more simple, there are also cool denim jackets in black or light grey. No matter which version you choose, everyone should have one of these trend pieces in their wardrobe.
One thing is certain: the jeans jacket fashion trend is one of the most popular transitional jackets of all and has been for years.
The blazer – for a real office feeling
After so many months of home office and sweatpants during the pandemic, everyone is noticeably in the mood for chicer in their outfits. The women's blazer is just the right thing for this. Whether or not you actually wear it to the office doesn't matter at all. The important thing is to feel good about it. And you will definitely get that with the fashion trends for autumn 2022. Whether in a classic style or in a wide XXL style is, of course, up to you.
And of course, you will also find the women's blazers in the beautifully bright colors of this season. They are presented in an oversized look and with wide shoulders. This makes them an excellent combination for a casual street style with wide jeans and thick boots. In contrast to this, the women's blazer can also be seen in an elegant office look this season, where it can be combined with a chic skirt or dress for the perfect appearance at the professional level.
Autumn 2022 will see the addition of another design: the women's blazer in a smooth leather version. In classic black or brown, it is a real eye-catcher – in the style of the 1990s.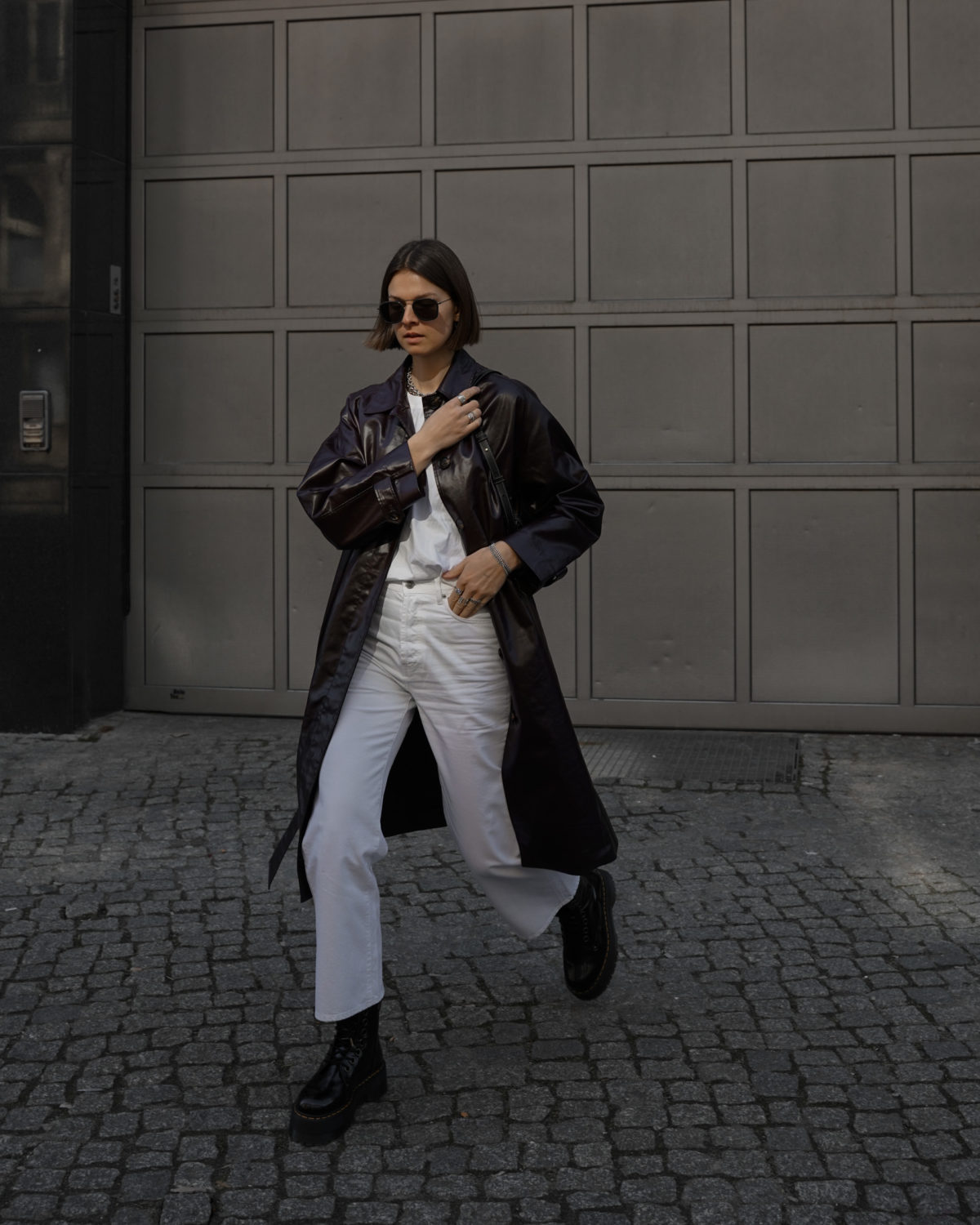 Fashion trend trench coat – the ultimate classic among transitional jackets
This garment is as popular as it is tried and tested and is once again one of the absolute favorite pieces this autumn. With the trench coat, you definitely make a real statement. This season, the beige classic is equipped with lots of eye-catching details and sophisticated extras. The coat features pretty floral appliqués, sexy lacing, and a contrasting black and beige style. Exciting cut-outs and integrated corsets give the tried-and-tested basic a real update and skillfully set the scene. The waist is adorned with wide belts with elegant buckles and the usual knotted belts. This refreshing outfit gives the trench coat a new look and is perfect as a transitional jacket for this year's autumn. Combined with high boots or sporty-elegant footwear, it's a real must-have!
And last but not least – waistcoats as transitional jackets for autumn 2022
A waistcoat is absolutely perfect for the cooler temperatures in autumn and is therefore very suitable as a transitional jacket. Not only is it ultra cozy and keeps you nice and warm, but it also completes the outfit all along the line. This season you can find waistcoats with hoods, down, and (fake) fur collars in the shops. They are made of light cotton, denim, or jersey and adorned with pretty appliqués such as feathers, studs, or (fake) fur. Whether short or long is not decisive, but it is always the occasion for which it is to be worn. The sleeveless jacket, or waistcoat, is the ideal complement to a fine-knitted jumper or blouse. A waistcoat is also possible for the office look, worn with a pencil skirt and chic boots. The street outfit can be created with rough boots or even riding boots. And for the ultimate outdoor variation, the tried-and-tested rubber boots are also back in style.
Goodbye home office!
After so many months of sitting on the couch at home in a jumper and sweatpants, most people can't wait to go shopping again. The range is huge, and the selection invites you to shop extensively. When it comes to transitional jackets, you'll definitely find exactly what you're looking for, and the classics like jeans or leather jackets as well as waistcoats and trench coats belong in every wardrobe anyway. The combination possibilities with these jackets are almost limitless and are a lot of fun!
You can find some outfit ideas in this post already. If you want to see more trending looks, you can head over to our Fashion Looks section for plenty of inspiration.