Happy Tuesday from Amsterdam guys! Today is my second day in this beautiful city, as you might know, but I won't share pictures from here today. Instead, I prepared two outfit posts – one for today and one for tomorrow -, so it won't get boring here on the blog while I am once again walking through the streets of Amsterdam, probably having a great time together with Hannah and getting a few more tattoos tomorrow. I probably have a lot to write about on Sunday, but for now, I will leave you with a new outfit post.
I was wearing this outfit a while ago, but I never shared it. Why? I don't really know, but I just didn't feel like sharing it and wanted to publish other outfits first. That doesn't mean, that I don't like it. I actually do like it a lot. In the following, I will tell you more about the outfit details and why I like it. And I would love to read your thoughts once you've read everything and had a closer look at the pictures.
How to wear denim pieces with a button down detail
My favourite piece of this outfit? Definitely the denim piece with the button down detail on the side of the leg. I do like jeans, in general, a lot and I am wearing them almost every day. Currently, I am wearing a lot of mom jeans because they are super comfortable. So the fact that these jeans here are mom jeans is another reason why I like them a lot. It also isn't a secret, that I have a thing for clothes with special details, so this pair of mom jeans with the button down detail on the side seems to be the perfect pair of jeans for me. I haven't been wearing them quite often since I received them, but I definitely will wear them more often as soon as it is a little bit warmer outside.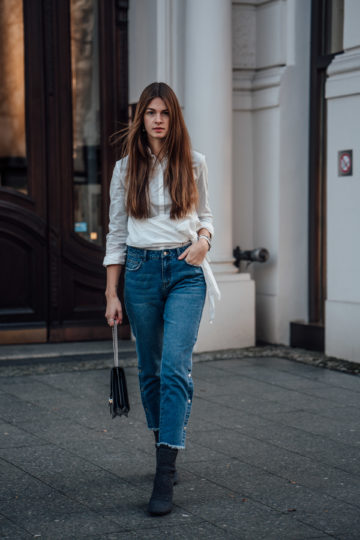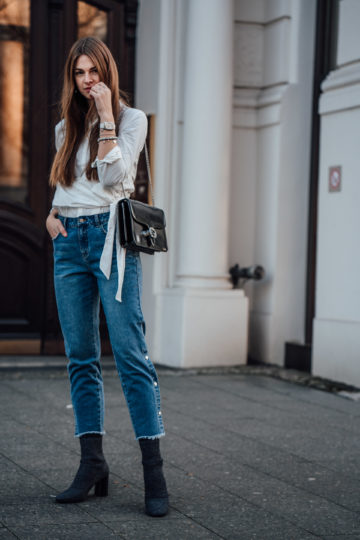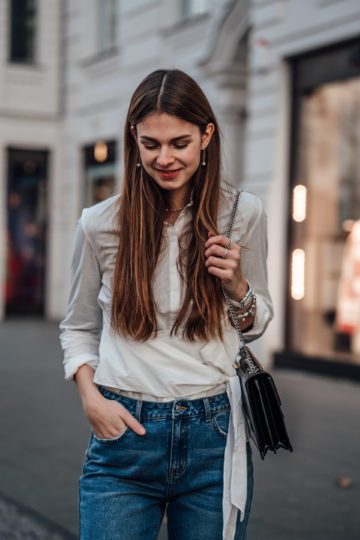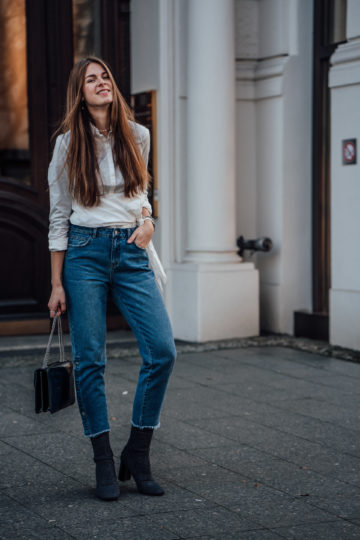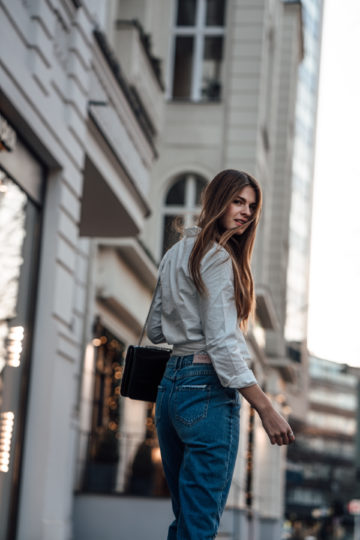 To answer the question I asked in the caption: you can wear denim pieces with a button down detail with almost everything. They are as versatile as a pair of skinny jeans or any other jeans style. Do you want to know how I combined them that one time I've been wearing them so far?
Denim combined with a wrap blouse
I opted for a casual chic outfit the day I was wearing my new jeans with the button down detail for the first time. Mom jeans are very casual but combined with the right pieces of clothing; it isn't a challenge to create a casual chic outfit with them. And as you can see, I opted for a white blouse. A white blouse is one of those classics you can never go wrong with when you need to put together a chic outfit. But I did not choose an ordinary white blouse; I chose a white wrap blouse. Or better said a white blouse with a wrapping detail?! However you want to call it, that's the chic piece of clothing I combined with my new mom jeans. I also added a pair of heeled boots to elongate my legs and make the outfit appear even chicer. Heeled shoes always work, when you want to make yourself look taller (not that I have to do that with my 1,80m) or when you want to make the outfit appear chicer. How do you like this outfit combination? And what do you think about the denim piece with the button down detail on the side of the leg? I am looking forward to reading your comments. xx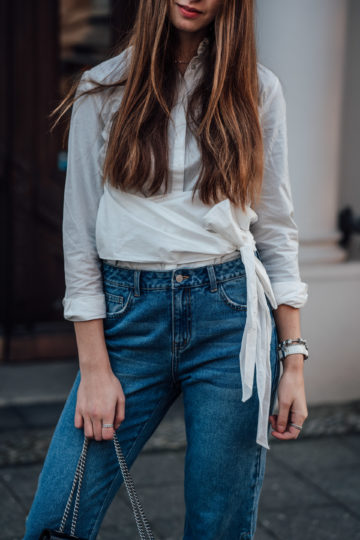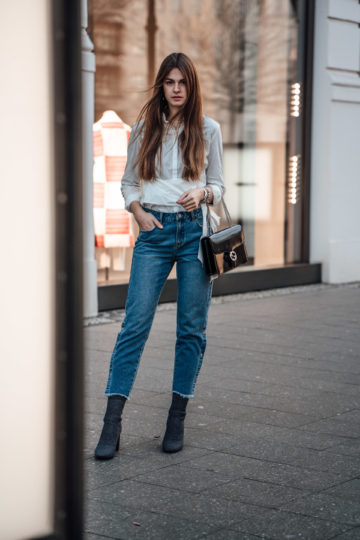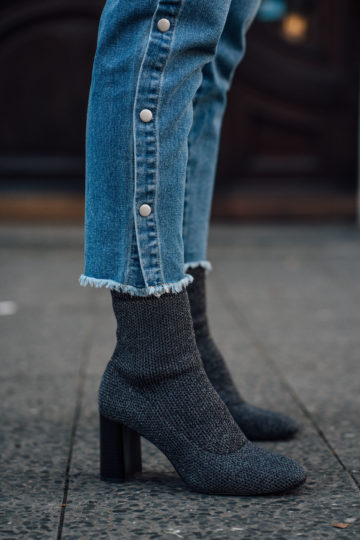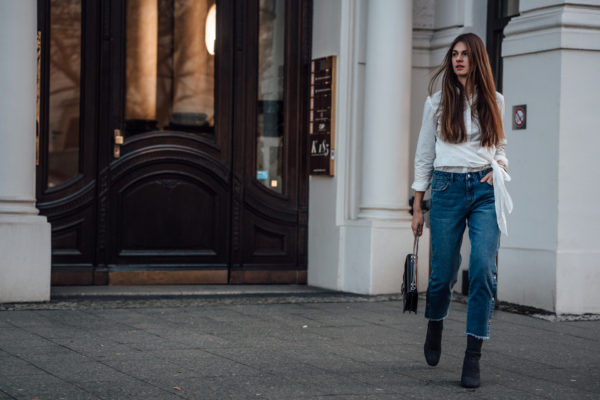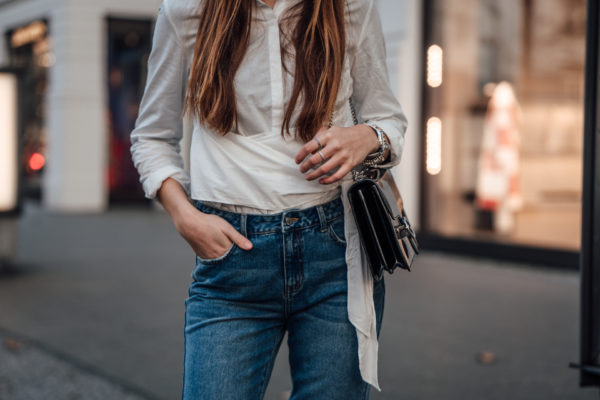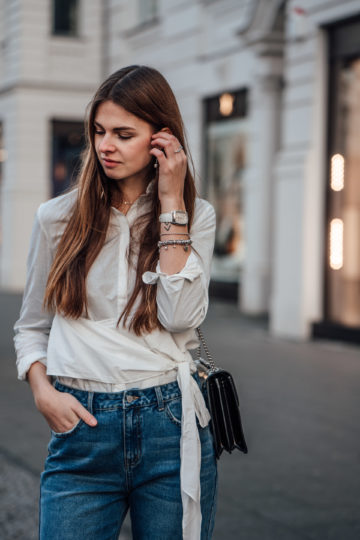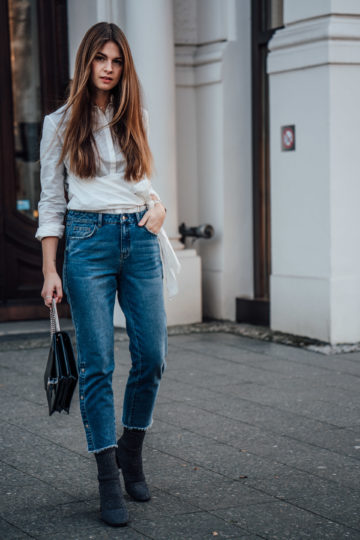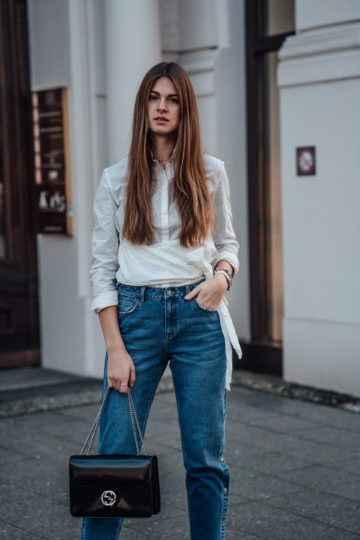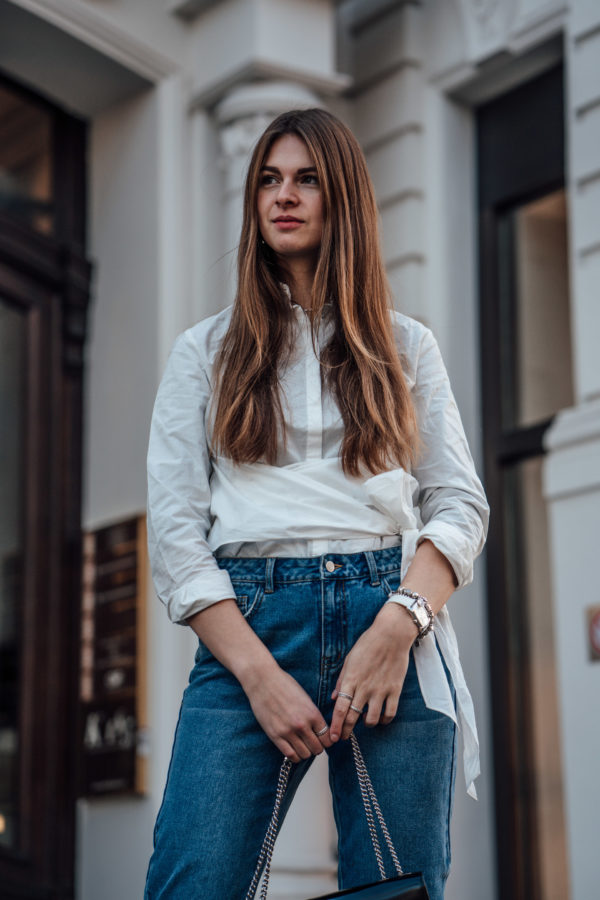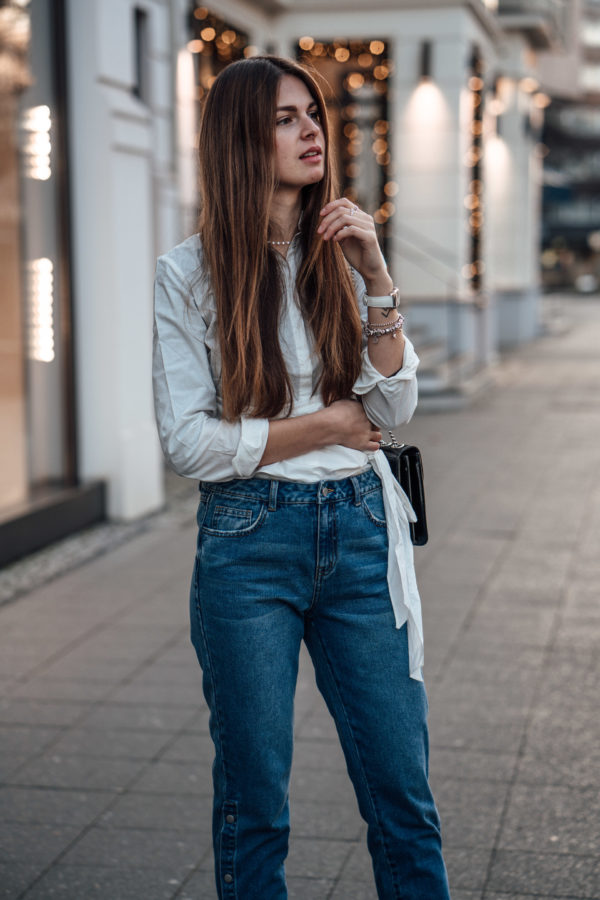 *PR Samples contained – Vila jeans || Vila shirt || Zara boots || Gucci bag