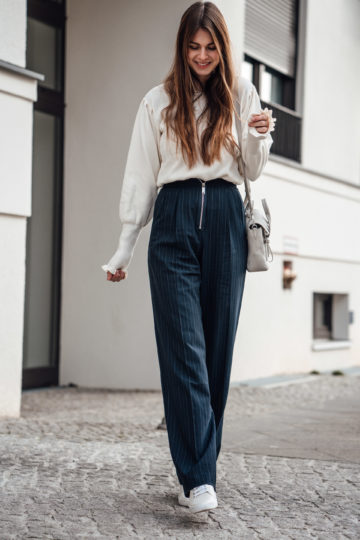 Today is the day I am finally getting new tattoos here in Amsterdam. I always have a lot of ideas in mind, and whenever I get a new tattoo, I am already planning the next one. I got the last tattoo more than six months ago, so at this point, I have plenty ideas, and I don't know which I will get made today. If you want to follow along, you should check my Instagram story 😉 I will also share a post about all my tattoos very soon here on the blog, but for now, no more tattoo talk. Because today I want to share another outfit I was wearing in Berlin a while ago.
Due to the lack of time and the fact that I wanted to concentrate on other tasks but outfit posts, I haven't shared this outfit earlier. I was wearing it weeks ago when it was quite lovely in Berlin. We had around 10°C, it wasn't windy, and the sun came out from time to time. It was one of those days I could put together a spring look and take outfit pictures without wearing a jacket. Once again it is a casual chic outfit, you can wear to the office or when running errands and many other occasions. Have a closer look, check the details and decide when you would wear this outfit.
The perfect pants: wide leg, pinstripes and zipper detail
The main focus is on the pinstripe pants I got at the beginning of the year. I actually was wearing it before, when I was in Oslo to be exact, but back there we didn't have the time to take outfit pictures. So once I was back in Berlin, I couldn't wait to wear them again and take some outfit pictures I could share with you guys.
I wanted to share them so badly because those pants are the perfect pants and something all of you need in this years spring wardrobe. Why they are so perfect to me? Because of all the details: the wide leg, the pinstripes as well as the zipper in the front of the pants. Those pants look very chic, but never boring due to all the details – that's what makes them perfect.
How to combine pinstripe pants
The day I was wearing these pants in Berlin wasn't a warm spring day, it still was quite cold with only 10°C. That's why I combined my pinstripe pants with a white sweater, white sneakers as well as my favourite Phillip Lim bag. The pants are quite chic, but I opted for casual pieces for the rest of the outfit. I needed something comfortable for a long day at the office, and this combination served the purpose.
I have to admit, that the sweater didn't work very well tucked in the pants. The pants fit perfectly without anything tucked in, and the sweater was slightly too big, that's why the zipper didn't want to close completely haha. I could have fixed it with a safety pin but, of course, I didn't have on with me. So next time I am wearing these pinstripe pants, I won't tuck anything in or at least I will wear something not as big as a sweater. Hopefully, I can soon combine it with tops and t-shirts.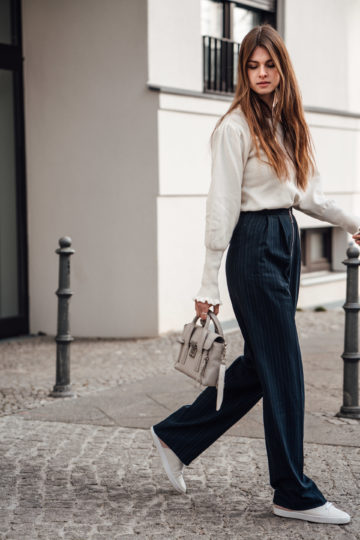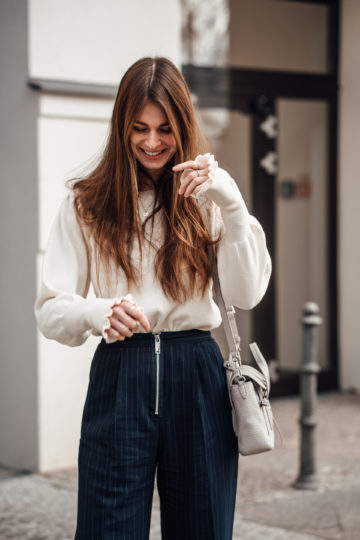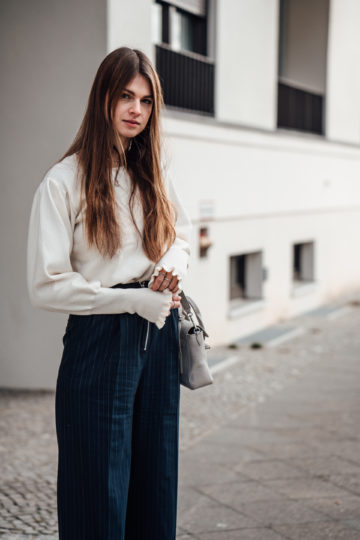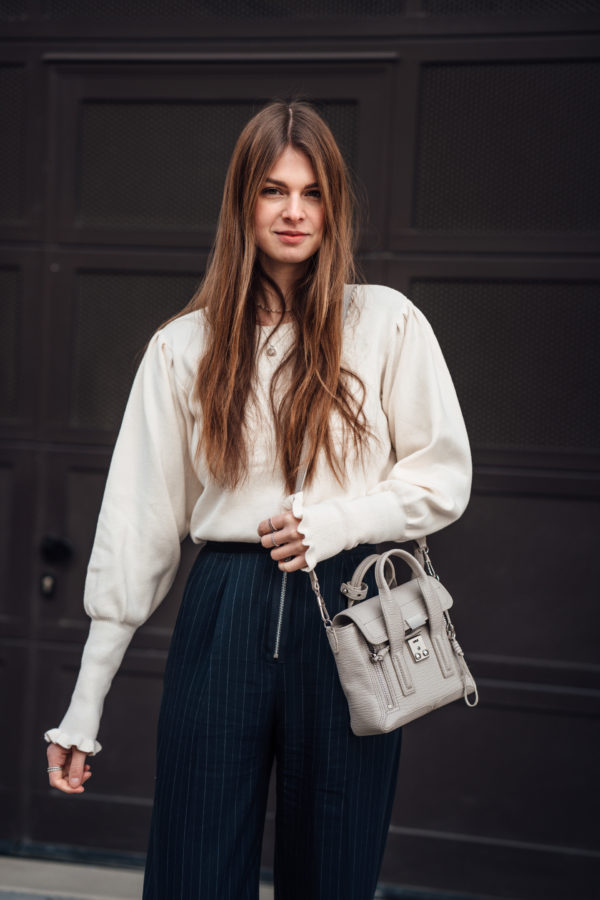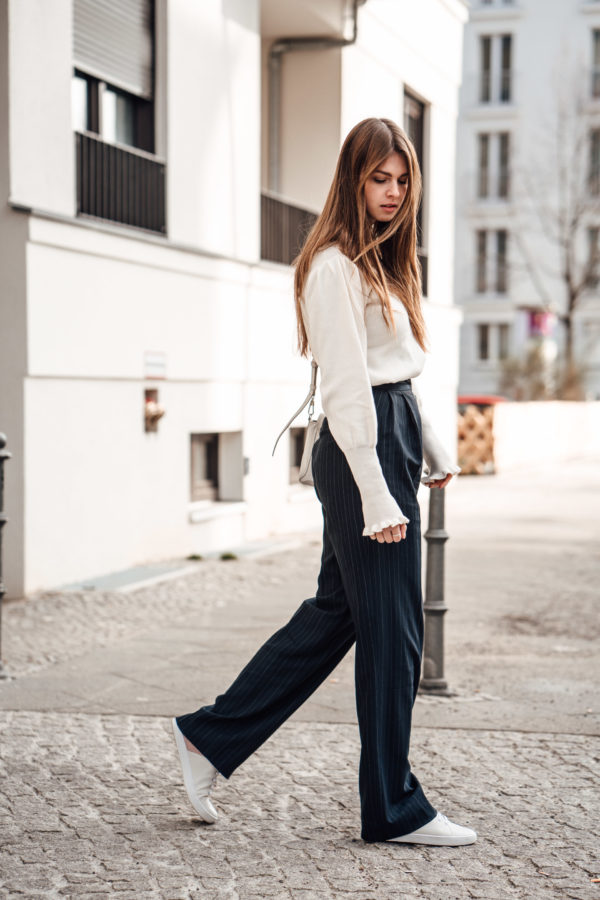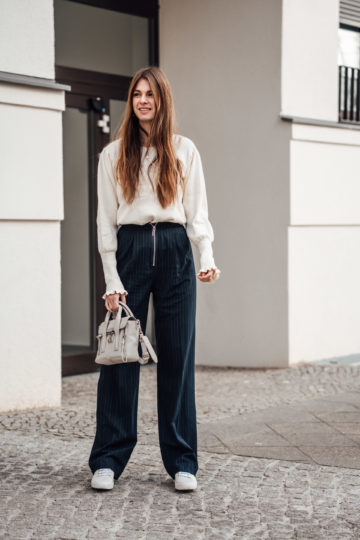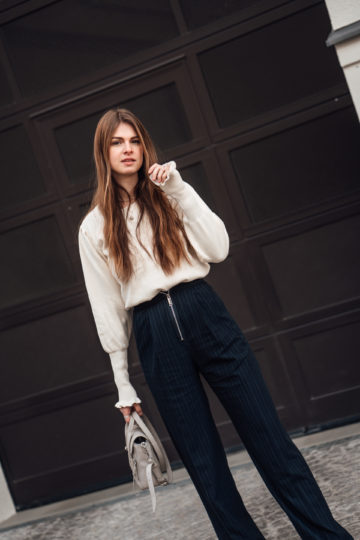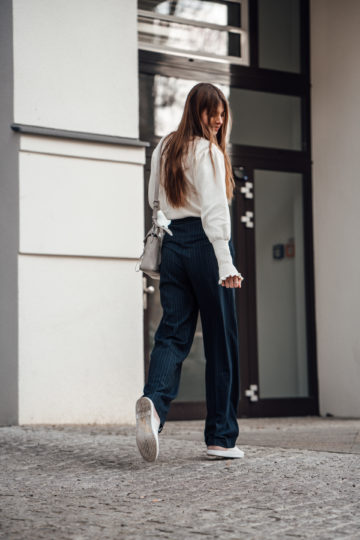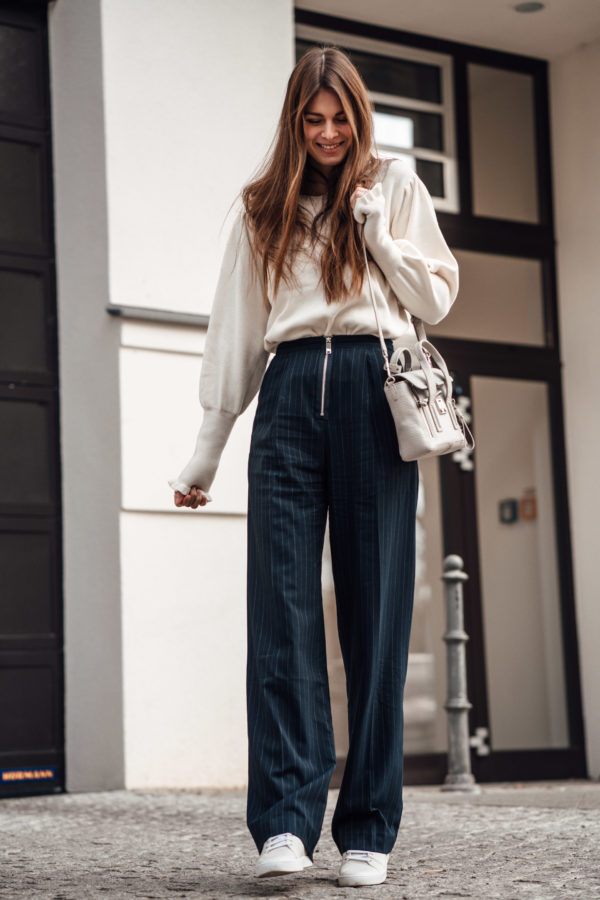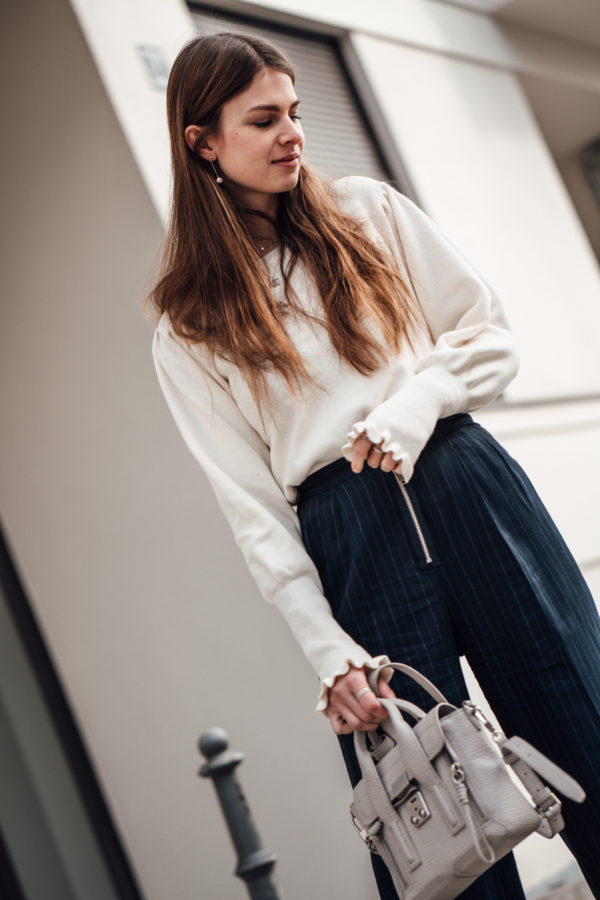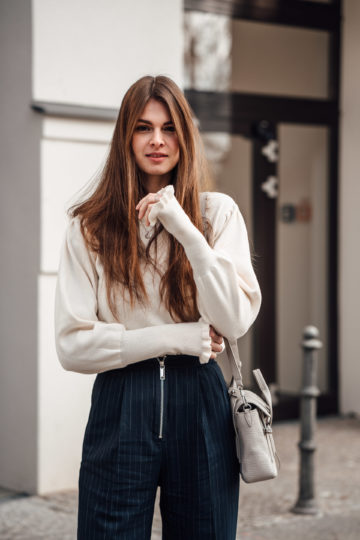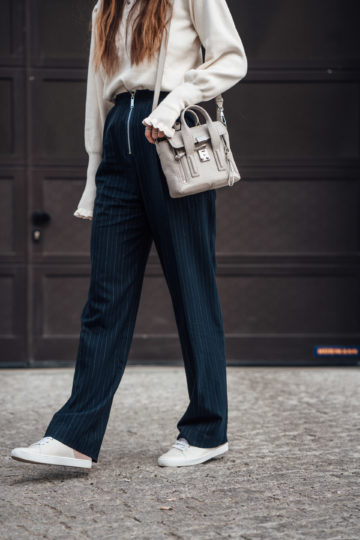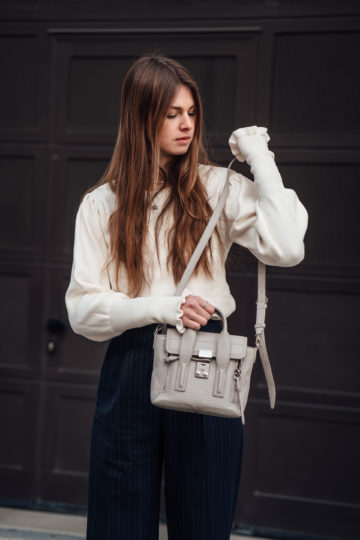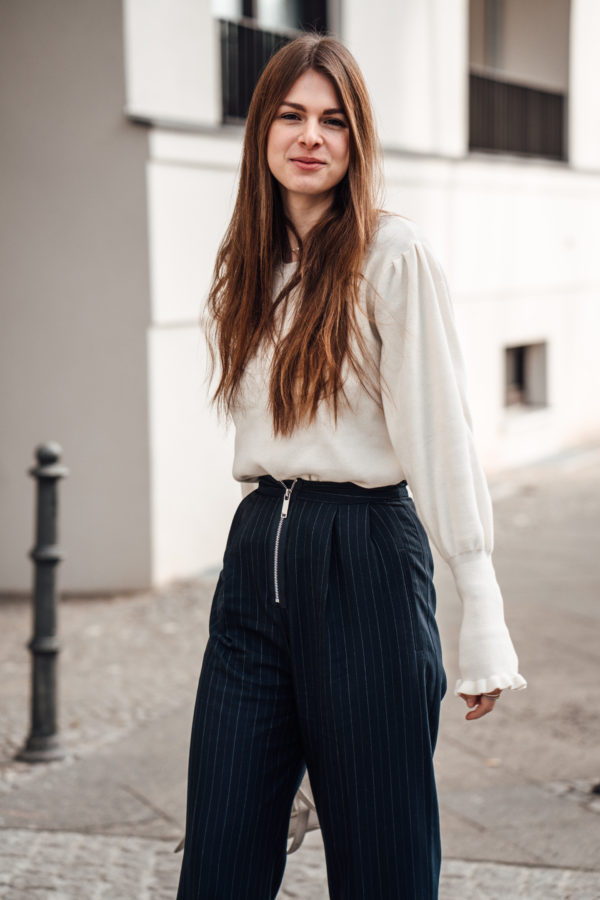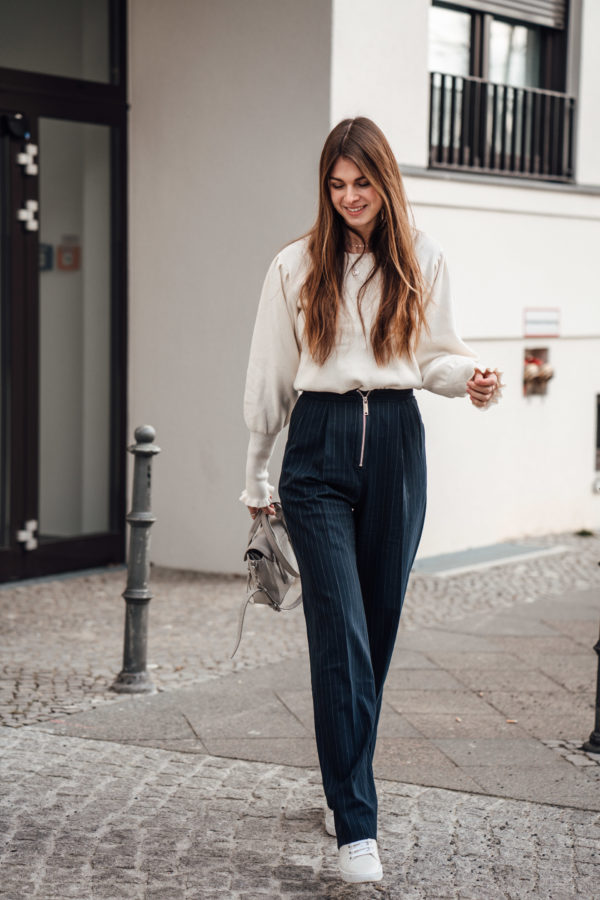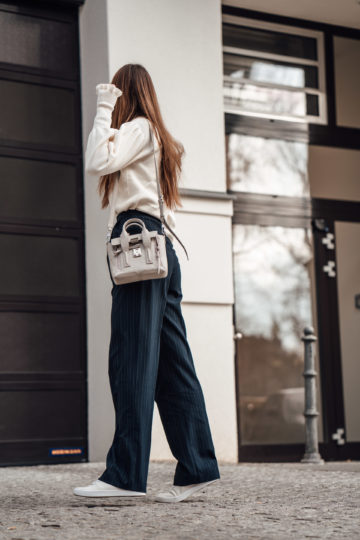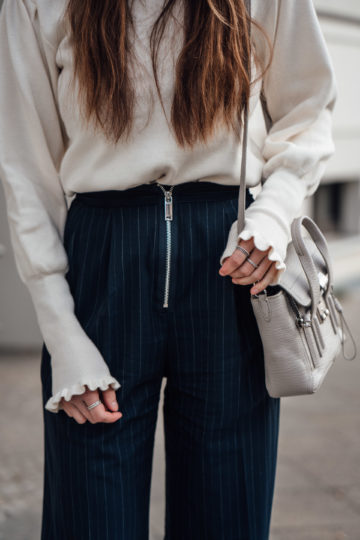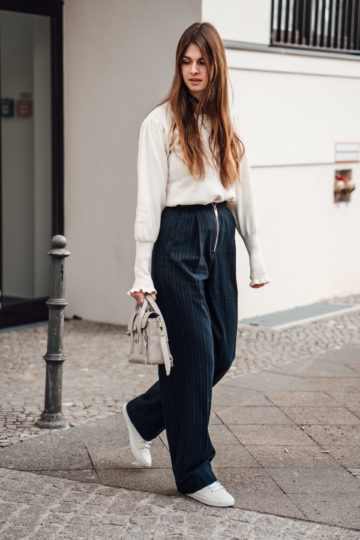 *PR Samples contained – Asos pants || Minimum sweater || Phillip Lim bag || Shoes of Prey sneakers