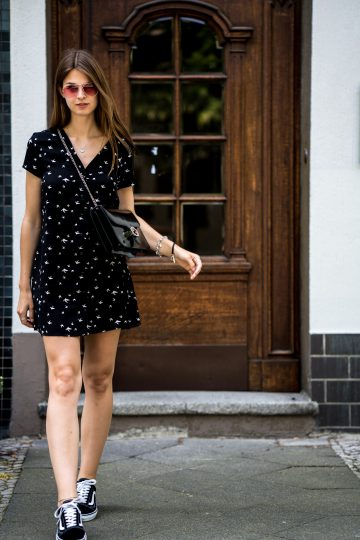 And it's Friday again. Wait, what?! This week went by pretty fast – again! I have so much work to get done at the moment, and so many things are happening, one week feels like a couple of days only. Not that I want to complain about that, because I love having a lot of work and events. I always prefer being busy than sitting at home and being bored… the only thing is, that I wish the day had some more hours and the week some more days.
But enough about that. As you might know, I am in Vienna right now and today is te second and already the last day in this city. I wasn't sure how busy the trip would be, so I prepared today's outfit post in advance, and I hope you don't mind! On Sunday I will tell you more about the trip to Vienna, but today I am only sharing a summer outfit I was wearing in Berlin last week. It was super hot in Berlin that day and to be honest; I didn't want to wear anything at all haha. But I had to work that day, and I also had a meeting, so wearing nothing or at least a bikini, unfortunately, wasn't an option 😉 In the following, you can see what I was wearing instead:
Dress with Bird Print and Vans Sneakers
So what to wear when it is freaking hot outside, and you actually don't want to wear anything at all?! I usually would opt for a bikini and lay down somewhere by the water. Unfortunately, that's not always possible (especially when you're having a job and work to get done).
That day I spent a lot of time at the office and had a couple of appointments I couldn't wear a bikini to, so I chose a light summer dress! The airier the clothes you wear on a hot summer day, the better. If you don't like dresses, you could wear a pair of shorts or a skirt instead and combine it with a light top. Even though a dress is arier than shorts or skirts, some people feel more comfortable in this kind of clothes. I used to feel more comfortable when wearing shorts, but I got used to dresses and skirts and enjoy wearing them not only on hot summer days.
I found the dress I was wearing that day on sale at Asos the other day. I really like the bird print as well as the lightly cut and the button-down front! The fabric is very light and perfect for summer, and even though it is a very simple dress, it isn't boring due to all the small details. That's why I didn't have to add a lot of accessories or more details. I only combined it with my Vans sneakers, my favourite Gucci bag as well as my everyday jewellery. The only eye-catching accessory I added to this look are the pink shades. That day I felt like wearing at least one pop of colour and the easiest way to add this pop of colour was by wearing my pink shades 🙂 You might remember, that I first wasn't sure whether I like them or not, but getting them turned out to be one of the best choices I made the past weeks. I wore them twice already, and I know that I will wear them more often this summer. Probably not all of you like these colourful sunglasses, opinions are divided for sure. Are you team "Pro-Pink-Shades" or team "Contra-Pink-Shades"?