Good morning guys! While you are reading this I am either getting ready for two days in Vienna, I am on my way to Vienna, or I am already in Vienna 😉 I got invited to this trip quite spontaneous last week, but I couldn't say no. They planned everything right down to the last detail, and it just sounded so good. I am super excited for this trip and can't wait to tell you more about it and, of course, to share the first pictures of you on Instagram. It also is my very first time in Vienna, and since it is one of the cities I've always wanted to travel to, I am even more excited. But since I can't share anything more about this trip at this point, I want to share another summer outfit with you instead. It is another outfit I was wearing last week, and as you might notice, I was wearing it on a not so hot day here in Berlin.
Gingham Shirt and Black Denim Skirt
It's no secret that I really like the gingham trend, and since you see and get it everywhere right now, my collection keeps on growing and growing 😉 I have no idea how many pieces with the gingham print I have in my closet, but I have a few. The one you can see in these pictures is the latest find from Missguided. I received it a couple of days ago but had to wait for cooler weather to wear it. The long sleeves are actually not suitable for really warm summer days… but as you know, the weather here in Berlin is very moody, so I didn't have to wait long for one of those cooler summer days.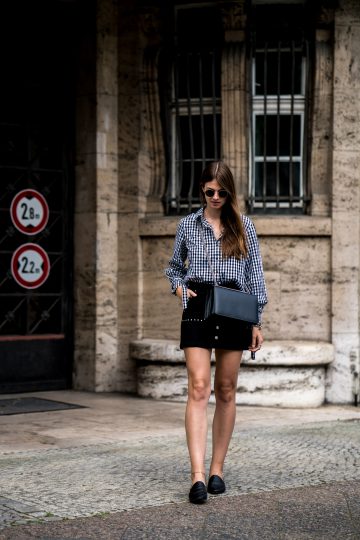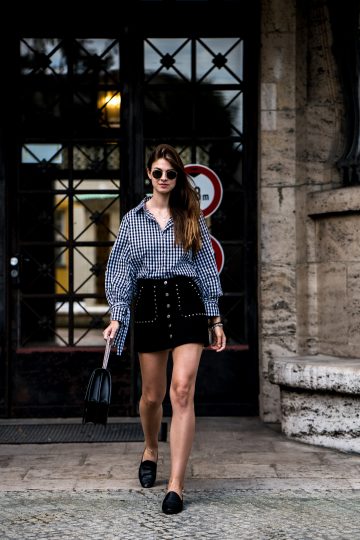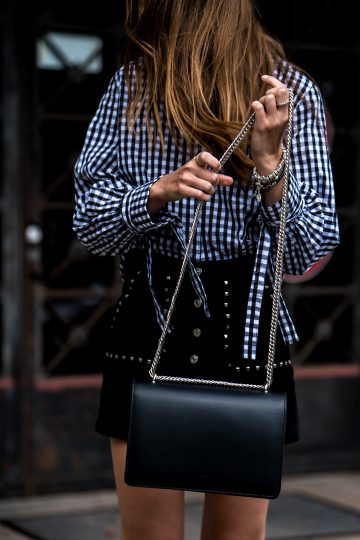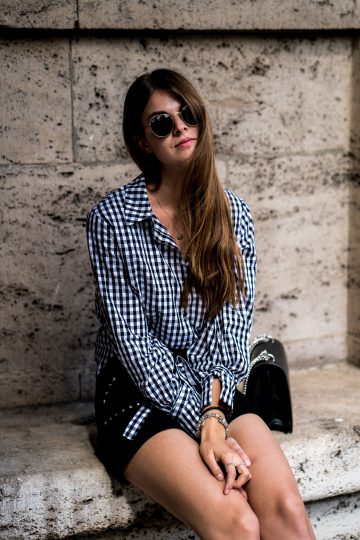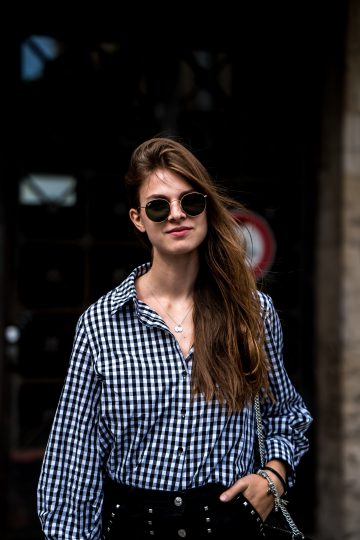 That day I was sitting at the office most of the time, that's why the outfit had to be as comfortable and chic at the same time as possible 😉 I combined my new gingham shirt with a black denim skirt, black shoes and my black Agneel bag. I was also wearing my round Ray Ban sunglasses – yep, after not wearing them for a couple of days, I have been wearing them every single day again… – and the pieces of jewellery I am wearing every day.
I first wasn't quite sure how to combine this shirt, because I didn't feel like wearing shorts that day. So I tried on different skirts I have in my closet and somehow remained with this one. I love the studs on this skirt (even though some of them are already fell off…) as well as the button down detail. Due to these details, the skirt is such an eye catcher and works pretty much for itself. I usually would combine it with a simple white tee or shirt, but that day it was all about my new shirt. So I didn't keep it as simple as I usually do and combined two eye-catching pieces. How do you like it?
One last thing I would like to talk about are the ribbons at the sleeves. It is only a small detail, but it makes a big difference, doesn't it? The ribbons are actually the reason why I wanted to get this shirt in the first place and not the gingham print… what do you think about this small detail?